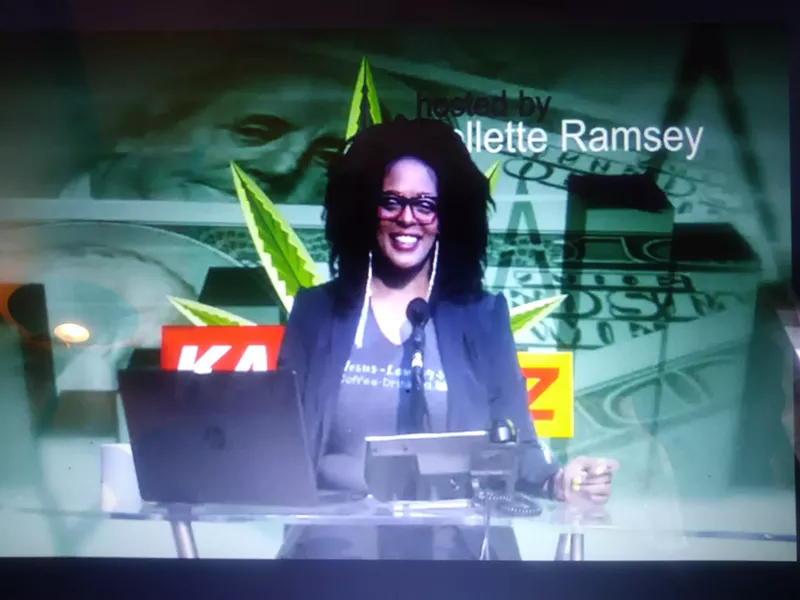 Detroiter Collette Ramsey talks fast — and she talks a lot about cannabis and the cannabis business. She talks to people about medical marijuana, recreational marijuana, and marijuana legalization. She sees how it's all connected. She talks to African-American community leaders, politicians, and ministers, but oftentimes they just don't want to talk about it.
"I'm a cannabis conversationalist," Ramsey says. "Religious leaders say, 'You're not supposed to talk about cannabis,' but if you live in the city you know what a drug house is. You know where they are."
Now Ramsey can talk about cannabis all she wants on Kanna Biz TV, her new station she launched on April 20. There, one finds numerous video links to all kinds of stuff about marijuana. There's one with Fab 5 Freddie talking about his film about pot's racist history,
Grass Is Greener.
Another discusses the difference between THC and CBD, and another is about European bankers and the cannabis business. There is all kinds of information about numerous aspects of marijuana. That includes the first of Ramsey's own weekly programs,
Cannabis, A Lost History
.
"From the black community it's always a no-no," Ramsey says. "I can't make them talk about it. Maybe I can take the platform and just give them the information and maybe they can decide what to do with it."
Ramsey is the founder and owner of Kanna Biz LLC, an example of what she promotes: getting into the business. She belongs to the Minority Cannabis Business Association, a national nonprofit group, though few folks in the Detroit area are part of it.
"They said 'no' for medicinal but then it passed," Ramsey says. "They said 'no' for recreational, but then it passed. What do you say to people when the opportunities are coming along?"
According to information at Kanna Biz TV, you show folks how to grow cannabis, deliver it, finance it, legislate it, medicate with it, analyze it... and legalize it.
More information about the project can be found at
Kannabiz.tv
.
It's a new era for marijuana in Michigan. Sign up for our weekly weed newsletter, delivered every Tuesday at 4:20 p.m.