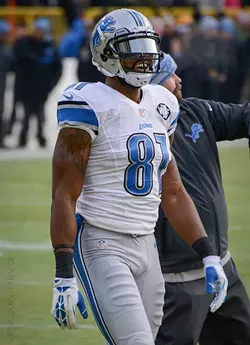 Two former Detroit Lions players had their marijuana venture plans squashed Friday, just a day after the state-wide legalization of recreational marijuana went into effect.
Calvin Johnson and Rob Sims received grim news that all four of their preliminary license applications, which included licensing for growing facilities, a processing center, and a provisioning retail location had been denied by the Michigan Medical Licensing Board. The reason? Johnson's outstanding traffic violations and Sims certification issues regarding a Dearborn property owned by the former Detroit guard.
Johnson's spokesman, John Truscott, told
MLive
that the record-breaking wide receiver resolved the four reported violations ranging from driving without a license to failure to maintain a lane, all of which were accrued while Johnson was attending training camp in Atlanta.
"When it was brought up, [Johnson] flew to Atlanta in early October," Truscott told
MLive
. "They're resolved; the board has the documentation from the court in Atlanta."
Truscott also says that Sims has rectified the building citations which impacted the board's decision to deny their application, saying that the property in question now has a certificate of occupancy and the appropriate documentation has been submitted to the board.
Board member Donald Bailey told
Freep
that though Johnson's infractions and warrants are "minor" and "maybe even meaningless" the new regulations are strict and that he and the board were disappointed in their reaction.
We're entering this highly regulated market," Bailey said. "And if this is their response, that's a problem for me."
This week the board reportedly reviewed dozens of applications. In order to obtain licenses to sell or grow marijuana in the state of Michigan on a commercial level, the board must extensively review the applicants' finances and criminal backgrounds.
Sim's told the
Freep
that the denial is "kind of ridiculous."
"We've done everything by the book. But just like football, we've had some hard times, but we'll get back up."
Both Johnson and Sims plan to appeal the board's decision.
Stay on top of Detroit news and views. Sign up for our weekly issue newsletter delivered each Wednesday.