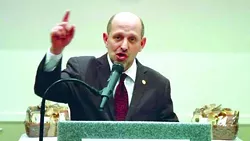 The best chance to change the current atmosphere in Michigan surrounding medical marijuana lies in the state legislature, where Rep. Mike Callton's Medical Marijuana Provisioning Center Regulation Act (HB4271) sits in the Judiciary Committee. The bill, first introduced in February 2013, has been stuck in committee ever since; some observers believe it will die there, but not every observer. Robin Schneider, a legislative liaison for the National Patients Rights Association (NPRA), thinks it will not only come up for a vote — it will pass.
"The legislative process is long and slow," says Schneider, a mother of four who lives in the Lansing area. "It's a lot of work, changing minds one at a time. Two years ago, most legislators didn't want to talk about it; now we have support. Some of it has come from those whose friends and family members have had to use medical marijuana.
"It's a validation of the work we've done the last couple of years to see the tone change," Schneider continues. "I'm seeing very little opposition from the representatives on the bill. We've seen support for the issue grow as we educate the legislators. I believe we have the votes that we need."
"Provisioning Centers" is a kinder, gentler way of referring to marijuana dispensaries, which the state Supreme Court has ruled are not allowed under the Michigan Medical Marihuana Act of 2008. In the five years since the MMMA was passed, some of the biggest legal dramas have been around how a patient can get marijuana.
After the act first passed, hundreds of dispensaries opened across the state. State attorney general Bill Schuette led the charge against them, and some county prosecutors and sheriffs provided the boots on the ground — making arrests and pressing charges against facilities where unsuspecting owners believed they were in compliance with state law.
Some of those facilities had been operating both with local permits and after police inspections. That was the case for Clinical Relief in Ferndale when state police raided it in August 2010. Police later raided the homes of some of the workers and charged them with drug violations, although they were certified medical marijuana patients.
Under the MMMA, the legal ways medical marijuana patients can obtain their medication are by growing it themselves or having a certified caregiver grow it for them. Setting up and operating a high-quality, indoor grow room is an expensive and time-consuming project that can be an onerous undertaking for people suffering from some of the plant's qualifying conditions.
Outdoor gardens must be covered on all sides, including on top — and locked. Finding and maintaining a relationship with a caregiver can also be difficult, particularly for someone who has no previous experience with marijuana.
Also, there is no process for patients to get seeds or plants to grow in their gardens. Even patient-to-patient transfers where no money is exchanged have been ruled foul play.
It's not hard to get an infestation or disease in an indoor garden, either, and a power outage for a few of days can easily destroy a crop; when it takes three or four months to bring a crop to maturity, there is stress on patients to maintain a steady supply. That's why it's so important for HB4271 to be passed.
Having a medical marijuana law without places to buy it is just ridiculous. Particularly when that's pretty much the only way folks who want to regulate this industry can really do it. (By the way, it's also a pretty good way for the state to collect taxes on an industry that is already well developed underground and grosses untold millions of dollars each year.) Washington state's independent Office of Financial Management estimates the state will collect $295 million in tax revenue from selling legal recreational marijuana in 2014. Collecting taxes from state dispensaries in Michigan could be lucrative. And there are other benefits too.
"If they regulate the distribution of marijuana," Schneider says, "not only do patients get immediate relief and a persistent supply, it also makes the community safer. Law enforcement can know and monitor what's going on. It's better for the whole community."
Community concerns are a key aspect of HB4271. It leaves the decision of whether or not to allow provisioning centers up to local municipalities. A provision in the bill calling for standardized testing for molds and pesticides is currently being discussed by legislators.
Schneider works with lobbyist Kevin McKinney, also hired by NPRA, at the Capitol. She goes to legislative meetings, organizes patient testimony in front of legislators and "memorizes a lot of talking points." Her work around Lansing is, in part, a tribute to Greg Starks, a marijuana activist who died from cancer in September 2012.
"My best friend died from cancer a year ago," Schneider says. "Greg … had a tracheotomy and a feeding tube. He had to struggle to get access to non-smokeable forms of marijuana. He was one of the first who pushed to legalize and regulate dispensaries. I wake up every morning and think about Greg Starks and I know we have to keep fighting until it's done. It's kind of haunting when you watch someone dying from cancer."
Schneider says three other friends have died in the past year. Actually, Schneider may have joined them had it not been for another activist. On Sept. 7, she was driving when she got a call from Charmie Gholson, founder of pro-cannabis group Michigan Moms United.
During their conversation, Gholson noticed that Schneider was slurring some of her words and, at one point, Schneider mentioned that she couldn't feel the right side of her body.
Gholson said she thought it sounded like symptoms of a stroke, but Schneider is 35 years old and that was too young. She ultimately convinced Schneider to pull over and call for help; Schneider called 911 and subsequently passed out.
She woke up in the hospital unable to move her right side. She had indeed had a stroke. In a strange coincidence it was the anniversary of Starks' death. Adding a little irony to the coincidence, it was Gholson who had introduced Schneider and Starks.
However, if HB4271 passes, it will be no coincidence. It will be because of the hard work Starks, Schneider, Gholson, McKinney and many others have put in to get a new law passed.
"It literally does take years to pass a law," says Schneider, who has regained mobility and is back on the job now. "It takes some discipline, dedication and commitment to stay the course for the long road."
Cancer Killer
The results of a preclinical study at Saint George's, University of London and published in the journal Anticancer Research have shown that three cannabinoids found in marijuana — cannabidiol, cannabigerol and cannabigevarin — demonstrated "synergistic anti-cancer activity" in human leukaemia.
Wai Lui, the lead writer, noted: "These agents are able to interfere with the development of cancerous cells, stopping them in their tracks and preventing them from growing.
Larry Gabriel is a writer, musician and former editor of Metro Times. Send comments to [email protected]