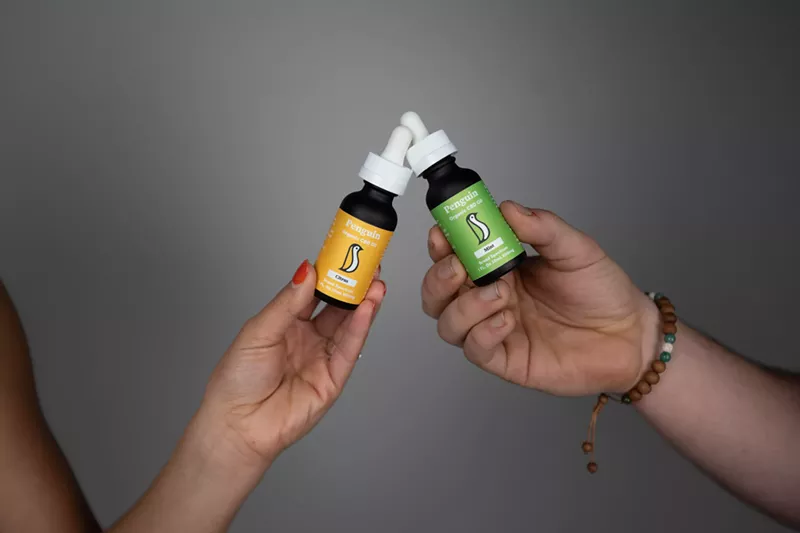 As the number of CBD users surges, it seems like new CBD companies are popping up every day. Unfortunately, not all of them are delivering what they promise. Studies have found that labeling problems are common. Users may be absorbing much more or less CBD (or other cannabinoids, such as THC) than they realize. What's even more alarming is that studies are finding pesticides, heavy metals and other dangerous substances in commercial cannabis products.
Regulation of CBD products is virtually nonexistent, which means consumers have to do most of the research themselves. Thankfully, many CBD companies contract with third-party labs to test their products to ensure they're making a safe, accurately labeled product. There's also a community of other CBD users, publications, industry consultants and other stakeholders that can help newcomers make informed decisions.
One of the most popular ways to take CBD is through a tincture, which suspends CBD distilled from the cannabis plant in an oil that users can mix with other food and drink. The tincture drops can also be taken sublingually for quicker absorption. Tinctures are a low-stress, beginner-friendly way to start taking CBD, and producers can mix it with other flavors, essences and carrier oils that amp up user enjoyment while facilitating faster, more predictable absorption.
Are you overwhelmed by the range of CBD tinctures out there? You're not alone. Luckily, some CBD brands have proven to be reliable options for newcomers and old hands alike. Here are 15 of the top CBD tinctures available.
1. Penguin CBD
Penguin CBD is a brand that has earned their high reputation. Their organic CBD oil drops are among the purest and most potent available on the market. Merry Jane, a trusted platform for cannabis-related news, declared their experience with
Penguin CBD
oil to be "spectacular."
Their CBD oil is a broad-spectrum extract, which means that it retains all of the beneficial cannabinoid properties minus the THC. Thus, you don't have to worry about any psychoactive effects. It's also sourced from American-grown hemp without the use of any pesticides or contaminating chemicals; if you want to check for yourself, third-party lab results are available right on their website.
2. CannTrust
The U.S. has come a long way with cannabis legalization and acceptance, but it's fair to say that Canada has come further. Recreational marijuana is now legal across the entire nation.
The Canadian Cannabis Awards (hosted by industry magazine Lift & Co.) acknowledges CBD excellence. Their 2018 best high-CBD oil winner, CBD Drops from CannTrust, is only available to registered Canadian patients with medical needs. That makes this product unattainable for many would-be users, but CannTrust's CBD achievements still merit attention.
3. Lazarus Naturals
Lazarus Naturals is another CBD brand that has put in the hard work to develop a superior product. Their products are on best-of lists put together by CannaHealth, Remedy Review, Ministry of Hemp, Rave and CBD Hacker.
They offer isolate and full-spectrum tinctures in a range of dosage levels, and reviewers have praised their unique flavors and scents, which are created through natural plant extracts and robust terpene profiles. Reviewers also laud their commitment to potency, purity and transparency. They offer lab results for individual batches on their website.
4. CBDistillery
Few websites take sleep more seriously than Tuck.com. So, when their 130 hours of research led them to name a tincture from CBDistillery as their Editor's Pick CBD tincture for aiding sleep, our ears perked up.
Tuck praised the brand's wide strength range, which means almost anyone can find a dosage that works for them, and their low price point. CannaInsider echoes Tuck's enthusiasm with a 4.91 rating, noting CBDistillery's effective and science-based formulation.
5. cbdMD
cbdMD was named one of the top CBD products in America by no less than venerable cannabis publication High Times. It's not hard to find accolades for this broad-spectrum brand. cbdMD grows its hemp through the Kentucky Industrial Hemp Program, which means its farmers carry out best practices and undergo rigorous quality control.
From their appealing flavors (a CBD Origin editorial review called their samples "some of the best-tasting CBD tinctures we've tried") to their reasonable price point to their "companion box" option that lets pet owners include pet products with their CBD purchase, there's a lot to love when it comes to cbdMD.
6. Verma Farms
Sporting a fun Hawaiian theme, Verma Farms is dedicated to making a difference in the world. Not only are their products made using environmentally friendly and sustainable practices, but they also donate a dose of CBD to veterans and shelter dogs with every sale.
Their oils are made from an ultra-refined CBD isolate. They come in special formulas for getting peaceful sleep (Chill), waking up in the morning (Focus) and clearing your mind and calming your nerves whenever you need it (Boost).
7. Medterra
Medterra is the top-rated CBD tincture brand on review site CannaInsider, earning a near-perfect score of 4.98 thanks to its organic Kentucky hemp fields origins and its lab-verified purity and potency.
Medterra products are CBD isolate that is more than 99 percent pure. It is obtained through CO2 distillation, which helps explain their distinctive lack of color, flavor or scent, a plus for users seeking a minimal sensory experience. Ministry of Hemp also praises Medterra, calling them one of the best CBD products available online in 2019.
8. Charlotte's Web
Charlotte's Web has gained plenty of traction, thanks in part to their origin story—their high-CBD, low-THC strain was cultivated to help a family treat their daughter Charlotte's severe seizure condition. Charlotte's story has profoundly impacted the cannabis industry, and products from the company are still popular and beloved today.
CW Hemp Oil Extract Plus is the No. 1 selling tincture on The CBD Store, and the brand has earned accolades from review sites such as Marijuana Break, whose 219 testers gave it a 9.4/10 rating.
9. Ojai Energetics
The health-oriented editors of Organic Authority scoured the CBD world to find reliable and popular CBD oil products, examining each brand's reviews and social media as well as talking to third-party labs and the brands themselves to understand each product's potency and purity.
Their No. 1 pick is Full Spectrum Hemp Elixir from Ojai Energetics, described on the brand's website as "the only full spectrum hemp oil that's water-soluble and made without synthetics or synthetically modified compounds." Water-solubility helps users absorb the tincture's CBD and other full-spectrum compounds more effectively.
10. CBDPure
Staff reviewers at cannabis buying guide HerbMighty admit they have "a bit of a crush" on CBDPure. Derived from organic Colorado hemp fields, this brand's full-spectrum CBD tinctures adhere to high standards for potency and purity, verified through third-party lab results.
HerbMighty deems them 2019's top CBD oil company thanks to their no-nonsense commitment to quality and transparency, as well as their fair price point.
11. Endoca
Shoppers at CBDOilReview.org have nothing but love for Endoca RAW Hemp Oil Drops, making it both the site's highest-rated brand (with 466 reviews averaging 4.5 stars) and its top tincture seller. Unlike many other CBD products on this list, Endoca RAW tinctures are made without any heat.
That means they contain the pre-decarboxylated form of CBD, CBDa, in addition to CBD naturally decarboxylated by the sun and over 400 other compounds distilled from the Cannabis sativa plant. Endoca embraces the whole-plant approach, but they still maintain high quality and transparency standards, with third-party lab results available on their website for every batch they produce.
12. Bluebird Botanicals
Bluebird Botanicals is another brand that shows up frequently on best-of lists. They were named the No. 1 Hemp CBD Company at the 2016 Cannabist Awards and came in first on CBD Hacker's list of 2018's top CBD oils.
CBD Hackers, CannaInsider, Remedy Review and other cannabis platforms praise Bluebird for its robust testing standards, terpene-heavy product options and excellent customer service. Their risk-free 30-day return policy for orders under $110 will reassure new customers looking for a trustworthy CBD supplier.
13. Rosebud

Rosebud is a staff favorite and editor's pick at Remedy Review, a science-oriented wellness digital platform. Remedy Review and other fans appreciate Rosebud's minimalist, clean formula, which features full-spectrum CBD grown and distilled without herbicides, pesticides or solvents and formulated without fillers, additives or any extraneous ingredients.
Like many other top CBD producers, Rosebud shares extensive lab testing results online. Rosebud is a female-founded and -led company (a big plus for anyone trying to support women in cannabis). Their chic website features recipes, interviews and beauty tips, and in 2018 they partnered with April Bloomfield's hip NYC restaurant, the Breslin, to offer a custom CBD brownie and cocktail-tasting event.
14. NuLeaf
NuLeaf is a well-reviewed and popular option for consumers seeking a clean, high-quality CBD experience. NuLeaf has made numerous appearances on best-of lists produced by Ministry of Hemp, Remedy Review, CBD Hacker, CBD For Sure, Cannahealth and CBD Oil Geek.
Their products come from organic Colorado hemp and are distilled using a "whole plant" CO2 method that preserves full-spectrum cannabinoids and terpenes. Their product line is limited and unflavored. This may be a drawback for some users, but it is a sign that the brand focuses on quality rather than flashy options.
15. Plant People
Are you a New Yorker looking to support a local company? Cannabis website Leafly recommends Plant People, a hip NYC-based brand that's received coverage in the New York Times, Cool Hunting, Brooklyn Based and Bloomberg.
The company is recommended by cannabis expert Anna Duckworthy in Well+Good and writers at cannabis publication Gossamer. Like Rosebud, it boasts a restaurant partnership: The juice bar and café chain The Butcher's Daughter sources their CBD from Plant People.