I don't know if you feel as I do, but when I walk into a place like the
Fox Theatre
or the
Detroit Film Theatre
, I'm struck with a sense of awe. It's just amazing that these places were made for film. They don't make 'em like that anymore and the multiplex just doesn't have the same character.
vs.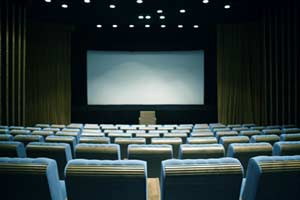 I'm such a hardcore film nerd that I've seen movies in small theaters (a converted balcony -- think four rows with your face right up against the screen) and hot theaters (a converted double-wide trailer painted black inside with broken air conditioning).
But everyday on the way to WDET I pass at least two old theaters and wonder how they used to be in their heyday... and why they can't be that way again.
Looking for information about these theaters, I found a few links on-line (because GOOGLE does know all). So, if you are like me and what to dig into the past, beyond the boarded up doors and mangled marquees check out the following links:
Water Winter Wonderland has information about theaters, drive-ins and amusement parks statewide.
Michigan Drive-Ins.com has information about, well, Michigan Drive-ins (duh!).
There is good news. On the westside, a group has been working to keep the Redford Theater running. On the eastside, a group is trying to refurbish the Alger Theater.
What are your old theater memories?