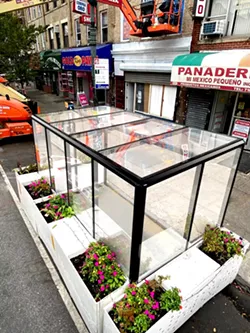 Since the beginning of the COVID-19 pandemic, the restaurant industry has been struggling to adjust to the new reality and weather the storm. According to estimates, more than 100,000 restaurants, cafes, and bars have shut down indefinitely or closed entirely. The healthcare guidance and regulations that were enforced by federal and local authorities to curb the spread of coronavirus are proving to be too difficult for many restaurants to abide by and still remain profitable.
When
indoor dining was permitted
, foodservice establishments were limited to 25 percent of seating capacity. Though a welcomed relief, not all restaurants can remain profitable under such restrictions. Many business owners and operators rightfully fear that cold weather will be another test of endurance.
Changing and Adapting

To survive, restaurant and bar owners have embraced a slew of new approaches to their day-to-day operations. Adopting a food-to-go model seems to be the dominant approach among restaurateurs. Multicourse takeout meals have also become a potent alternative revenue source.
Some venues are exploring online cooking tutorials, where customers must first buy the supplies from the vendor, and then they can watch the chef's commentary and guidance on preparation. Taking advantage of digital media is proving to be an invaluable marketing solution for restaurants, large and small.
Changing layouts and introducing physical barriers indoors is also a smart way of going forward. For many, however, investing in outdoor dining pods has turned out to be a game-changer.
Bubble and Pod Dining - Can It Be the Saving Grace?

This summer, cityscapes around the country saw a booming rise in outdoor dining. Big chain restaurants and small neighborhood eateries doubled down on patios, sidewalk seating, and outdoor dining rooms of all types. If you live in a large metropolitan area, say NYC, you have witnessed first-hand how dining pods and bubbles occupy sidewalks.
These outdoor accommodations allow people to have an experience reminiscent of conventional indoor dining while not being exposed to a large number of people at any given time. Thus, in areas where local authorities do not forbid outdoor dining, business owners can benefit from investing in dining pods and bubbles.
Pods, Bubbles, Igloos, and More - What is the Difference?

Outdoor dining bubbles, pods, and igloos are not a new thing, but they have a new role and place in a country struggling with a healthcare emergency. Let's take a look at these three outdoor dining solutions and explore why restaurateurs might consider buying them.
Bubble pods are everywhere

Outdoor bubbles come in a variety of shapes and sizes, but they can be all characterized by their semi-spherical design with a near-complete enclosure. Dining bubbles offer exceptional protection from the elements. Plus, it's easier to control the temperature inside the bubble and to keep diners comfortable.
However, bubble pods aren't a perfect solution. Seeing as they're a mostly-enclosed space, these bubbles do not offer much in the way of air ventilation. Some health experts argue that they do not differ that much from indoor settings with regards to health safety. An arguable benefit of bubble dining vs. indoor dining, though, is that people inside the bubble are not exposed to other customers and restaurant employees, aside from their server.
Igloos are cool again

Igloos, as the name implies, are also enclosed spaces with optional openings. Those used for outdoor dining aren't made from snow but rather from sturdy metal and wooden frames and glass or acrylic for windows. For customer comfort, dining igloos often have heating and air conditioning. Compared to dining bubbles, which are usually made of plastic or metal frames with see-through PVC sheets, igloos are much sturdier.
Outdoor dining pods and rooms are here to help

Outdoor pods are similar to dining bubbles in some ways, but they usually have a rectangular shape. Aluminum frames and acrylic sheets are the go-to for these outdoor installations.
While a rectangular design may not be as cozy or service-friendly as the round design of bubble pods, it is more convenient in terms of placement. It may also be more effective at air circulation.
Outdoor dining pods by McDonald Paper & Restaurant Supplies
offer a much-needed respite for foodservice establishments looking to increase their seating capacity on narrow sidewalks. Unfortunately, restaurants and bars were not created equal when it comes to having readily available outdoor space.
Can Dining Pods Make a Real Difference for Restaurants?

The short answer is that yes, dining pods can help restaurants stay afloat during the pandemic. Dining pods of any kind give restaurants additional seating capacity that they otherwise would not have due to stricter indoor dining regulations. Pods, bubbles, and igloos are easy to assemble, disassemble, and move as needed. Plus, outdoor dining rooms are easy to take care of, sanitize, and clean.
Most importantly, dining pods offer a sense of normalcy and security to customers. Cautious diners tend to prefer outdoor dining options, which are believed to have lower risks of coronavirus transmission compared to indoor dining. Thus, business owners and operators are more likely to retain their loyal customers and attract new ones by adding dining pods.
Things to Keep in Mind about Outdoor Dining Pods

Of course, despite all the benefits, dining pods are not perfect, and restaurants should consider the following factors:
• Safety:
The jury is still out there on this issue. So far, there hasn't been a comprehensive study exploring the safety of dining domes and pods with regard to air contaminants.
• Cost and Installation:
Though relatively inexpensive, outdoor dining pods and igloos are still adding to a restaurant's overall expenses. And when it comes to installation, not all companies offer free installation services.
• Regulations:
Unfortunately, even where allowed, outdoor set-ups can also be subject to strict rules. For example, in New York, restaurant and bar owners will have to provide additional safety features following the new Department of Transportation guidelines. Moreover, restaurants and bars must completely disassemble outdoor dining installations in the event of heavy snowfall.
What Can Restaurants Do to Make Dining Pods Experience Safe and Pleasant for Customers?

Restaurants who want to establish or expand outdoor dining must focus on making the outdoor dining experience as enjoyable and as safe as possible for their customers (and employees). There are several ways that dining and drinking establishments can achieve this goal:

• Proper air circulation:
Make sure that your outdoor dining areas have good air circulation. If you use dining bubbles, open them up between reservations to let in some fresh air.

• Sanitizing:
Clean all surfaces with medical-grade sanitizers and disinfectants to help prevent the spread of the coronavirus.

• Layout:
Be creative with the layout of your outdoor dining spaces. Decorate your pods and bubbles to create an inviting atmosphere. Add barriers between tables if necessary.

• Provide heating:
If the regulations in your area allow for external heaters, make sure that your dining rooms provide your guests with welcoming warmth during cold months.
Final Thoughts

Restaurant owners are no strangers to the difficulties of owning and running a sensitive business. The hospitality and foodservice industry are courageously fighting to stay afloat and offer a safe and enjoyable experience to their customers. Outdoor dining pods may be a good solution for restaurant and bar owners looking for ways to retain their revenues, keep their employees employed, and serve their customers.