Looking to mix things up a little on Valentine's Day? Grab your Valentine and whip up a Gentleman Jack Valentine's Cake with Chambord Icing!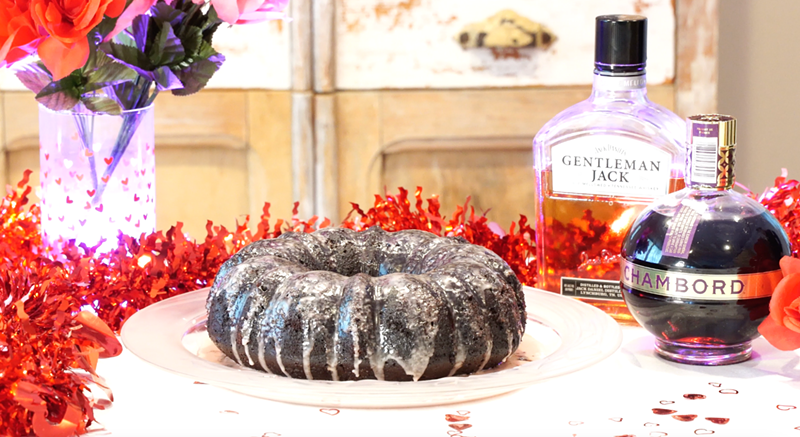 As the first double-mellowed Tennessee Whiskey out there, exceptionally smooth Gentleman Jack makes for a pretty good cocktail…and an exceptionally decadent and delicious Valentine's Day treat!
There is nothing more romantic than creating a mouthwatering dessert the two will never forget. So, grab a bottle of Gentleman Jack, your bundt pan, (we know you have one somewhere) and be prepared to delight your senses with chocolate, coffee, whiskey and of course, the delicate raspberry drizzle of Chambord on top. Make it a night to remember. Recipe below video:
Gentleman Jack Valentine's Cake w/Raspberry Chambord Icing
Ingredients
Cake
320mL of black coffee
110 grams of cocoa powder
110 mL of Gentleman Jack
Two sticks of butter
300 g of granulated sugar
Two eggs
280 g of all-purpose flour
Half a teaspoon of salt
One and a half teaspoons of baking soda
Gentleman Jack simple syrup
150 mL of Gentleman Jack
75 mL of water
80 g of granulated sugar
Icing
One and a half cups of powdered
3 tablespoons of Chambord black raspberry liqueur
Teaspoon of vanilla extract.
DIRECTIONS

Cake
Put the butter, Gentleman Jack, coffee, and cocoa powder in a saucepan.
Whisk over medium heat until the butter is melted.
Once the butter has melted, turn off the heat and add in the sugar.
Whisk together until the sugar has combined, then pour into a large bowl to cool.
Mix together the dry ingredients in a bowl.
Once the liquid has cooled down, whisk in two eggs, one at a time.
Then incorporate the flour mixture by whisking it in a bit at a time. (Be sure not to overmix because that will get you a tough cake)
Grease the Bundt pan and line with cocoa powder tapping out any extra.
Tap the pan a couple times to pop any air bubbles then bake at 325 for 45 minutes.
Tennessee Whiskey, 40% alc. by vol. (80 proof). Distilled and bottled by the JACK DANIEL DISTILLERY LYNCHBURG, TENNESSEE.
GENTLEMAN JACK is a registered trademark of Jack Daniel's Properties, Inc.
Chambord Black Raspberry Liqueur, 16.5% Alc. by Vol., Imported by Brown-Forman, Louisville, KY. Chambord is a registered trademark.
©2023 Brown-Forman. All rights reserved.
All other trademarks and trade names are properties of their respective owners.
Please Drink Responsibly. To find out more about responsible consumption, visit Responsibility.org and OurThinkingAboutDrinking.com
Please do not share or forward with anyone under the legal drinking age.