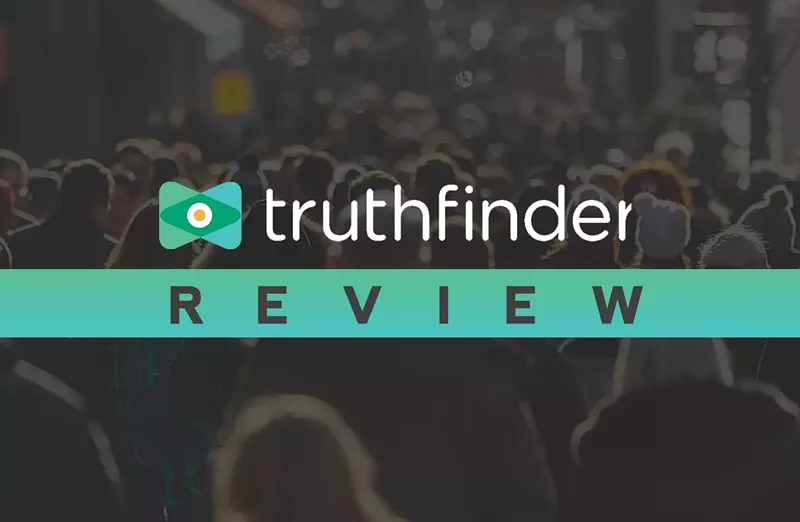 Is your gut telling you that someone is shady? If so, you could try to surf the internet and dig up some information about them. But the internet is vast and the chance of finding someone or something without the proper resources is pretty slim.
You can go through public records and search for information online, but the process is rigorous and time-consuming. That's where TruthFinder, the background check service, comes into the equation. With just a couple of clicks, TruthFinder will provide you with a well-organized and detailed report on any individual. The best part? It is completely legal, accurate, and easy to use.
In this review, we'll discuss an overview of the company, how TruthFinder works, its features, pricing, and alternative background check services to check out as well.

TruthFinder is a background check company based in San Diego, California. Founded in 2014, this company has performed hundreds of millions of background checks all over the country.
Unlike other background check service providers, TruthFinder provides its customers with access to both public records and confidential data. Plus, this background check site performs quick searches and gives you the results in a well-organized report.
According to many TruthFinder reviews left by previous customers, the platform is easy to use and the reports are highly accurate.
How Does TruthFinder Work?
TruthFinder runs through hundreds of millions of records, which include public records data, social network data, and more. The best part is that it doesn't take weeks or months for you to see your search results. In fact, it can take as little as 2 minutes for TruthFinder to run background checks and reveal everything it found.
Data access is a major component that sets TruthFinder apart from other background check companies. Its sources are not limited to public records alone. Customers get access to private and confidential information only featured on the dark web. This means that you can run a search on someone else and check whether you're a victim of identity theft on the dark web.
TruthFinder: Key Features
People Search Engine
TruthFinder offers a robust people search service. This feature is great for people who are trying to find long-lost friends or family members.
All you have to do is type in the person's name and state and TruthFinder will work to simplify the search process by sorting through thousands of directories and billions of records across the country. All information will be compiled into one easy-to-read, detailed report.
Background Check Service
TruthFinder's background check service can help you to access important background information on a person. Their detailed reports could reveal:
A criminal record
Sex offender status
Arrest records
Court records
Marital status
Secret social media accounts
Traffic records
Education history
And more
Reverse Phone Lookup Service
A reverse phone lookup, also referred to as a reverse phone number lookup, is a type of search that can identify the owner of an unknown telephone number. TruthFinder delivers the name of the unknown caller, along with an extensive report on the individual.
This feature comes in handy if you receive a lot of unknown calls. TruthFinder lets you search for the phone number and finds any name and/or aliases registered to that number. It does this by scanning through thousands of public records for the phone number. The best part is that the only information required to run this search is the number itself.
The results of a reverse phone lookup also include a list of other people who may have been linked to the phone number at some point. In some cases, you could even see photos of the person.
Dark Web Scan
A dark web scan helps to check if any of your personal information is being sold on the dark web. This feature is one of the reasons TruthFinder stands out from other types of background check services.
If you've ever been a victim of identity theft or you notice that your information has been compromised in any way, you need to try out this feature.
The more we digitize our lives and businesses, the higher the risks of being a victim of identity theft. With the TruthFinder dark web scan, you can customize results by choosing what kind of information you'd like to monitor.
The list of options includes:
Bank account numbers
Credit card information
Social security number
Membership in retail cards
Contact information
Passport number
Driver's license
TruthFinder runs this information through many servers and websites on the dark web, which helps to flag down any suspicious use of your personal information.
What Will You Find With TruthFinder?
Do you want to find public records, arrest records, and accurate information about an individual? Well, TruthFinder has the ability to reveal sensitive and important details, such as:
Personal Information
First and last name
Date of birth
Contact history
Social media profiles
Marital status
Assets
Property Tax
Lease agreements
Location History
Current and past experiences
Census data
Type of building: residential or commercial
Criminal Records
If you want background reports on someone you suspect has committed a crime, you can run a quick search through TruthFinder for detailed information about arrest records and the nature of the crime.
You could also find out:
A detailed description of the offense(s)
The date of the offense and the category of charge
Court name and case number
The location of the crime and arrest
Sex offender status
TruthFinder Pricing and Plans
TruthFinder offers its basic subscription for $28.05 per month, which includes access to most of its features. There's also a cheaper way to pay. If you pay two months in advance, it only costs $23.28 per month for the same exact service.
Phone lookups require a separate membership that cost $4.99 per month. You can decide to purchase both memberships together or separately.
If you want to download a PDF of the background check report, it costs an additional $2.99. This applies to every report you choose to download. You do, however, have the option to view the reports on the TruthFinder site without downloading them.
Considering all the services and features that this background check site provides, the prices are quite fair.
TruthFinder Pros
Up-to-date and relevant information in background check reports
Has a dark web scan feature to see if you're a victim of identity theft
Transparent about legal usage under Fair Credit Reporting Act (FCRA)
Offers an intuitive mobile app
TruthFinder Cons
Its services are restricted to people located in the US
You can't buy a single report, TruthFinder requires a monthly subscription
TruthFinders Alternatives
Instant Checkmate is another legitimate background check and people search company that allows users to perform background checks on anyone. The site provides detailed and accurate reports about searched individuals.
Instant Checkmate gathers its data from public sources, like online directories, social media websites, and other types of public records.
There are two main services offered by Instant Checkmate: People search reports and criminal records searches.
With both features, you can conduct a search on anyone in the US and get a detailed report about that person.
What will I find in the people search report?
Names and aliases
Location history and current address
Phone number(s)
Family members and possible relatives
Employment History
Liens and bankruptcies
Social media accounts
Email addresses
Civil judgments and photos
Instant Checkmate also has a newly updated feature that allows users to create a profile for searched individuals with editable characteristics like religion, race, and more.
What will I find in the criminal records search?
This is a feature that delivers detailed and accurate background reports with the criminal information of any searched individual (if such information exists).
Here's what you could find in a criminal records background check search:
Sex Offender status
Arrest records
DUI arrests
Traffic offenses
Mug shots
Misdemeanor and felony convictions
Warrants
Court records
If there's a government watch list on the person, this advanced search option will provide that information as well.
Other services provided by Instant Checkmate include reverse phone lookups, dark web scans, and sex offender checks. All types of searches offer the option to download PDF copies of reports.
Instant Checkmate Pros
Provides detailed background search reports
Mobile app available for iOS and Android devices
Great customer service
Detailed FAQ section on the website
Instant Checkmate Cons
Compared to other background check companies, the membership plans are more expensive
Check Instant Checkmate Website

Founded in 2003, Intelius is one of the longest-standing people search and background check services on the market. The company is constantly improving and updating its system so it can continue to provide detailed background reports on searched individuals. The services are reliable and the subscription prices are actually lower than both Instant Checkmate and TruthFinder.
Intelius gets its information from public records such as FBI and local crime data, social networks, commercial business records, published phone directories, lawsuit filings, and court records, along with federal, state, and county public records.
According to the Fair Credit Reporting Act (FCRA), it is considered illegal to use Intelius for hiring purposes and tenant screenings. However, it can be used for other important things like vetting a new neighbor, tracking down old friends and lost relatives, vetting individuals on dating apps, and so much more!
Intelius offers people search services, criminal records searches, and other important tools like reverse phone and address lookups, identity protection, and more.
Intelius Pros:
User-friendly interface and intuitive experience
Background reports are up-to-date and very accurate
The mobile app provides the same features as the website
Intelius Cons:
Misleading trial offer information
TruthFinder Frequently Asked Questions
Is TruthFinder legit?
Unlike some other background check websites, TruthFinder is legitimate. The background reports are accurate, relevant, and up-to-date. Thousands of previous users have agreed to that. Additionally, the website is transparent about how to use the information it provides.
How can TruthFinder improve your life?
TruthFinder puts your worries to rest. With this people search website, you can find long-lost relatives and old friends. You could also vet potential dates, suspicious neighbors, and more.
You can find criminal statuses, contact information, and addresses of anyone you're looking to find. This is all done in the comfort of your home and it's completely legal.
Is TruthFinder worth the price?
TruthFinder is worth the price. This TruthFinder review article has done the research and compared the features and membership plans of multiple background check companies.
TruthFinder offers more features and charges less than other background websites. The site provides unlimited searches, advanced search options, unlimited report filters for members, and plenty of support for TruthFinder customers.
Is TruthFinder safe and legal?
Yes, TruthFinder is safe. The website has multiple safety measures put in place to protect your personal information as well as searched information. The person you want to run a background search on will not know that they are being searched.
The TruthFinder website is also legal. But it also depends on what you do with the information you get. If it's for personal use and not business use (i.e., employment purposes and tenant screenings) then it is completely legal. Plus, the website provides clear information on how best to use its information.
TruthFinder Review: Key Takeaways
Through this in-depth TruthFinder review, we found that the people search website is a popular, reliable, and legal platform. You can use it to search for people online like old friends, long-lost family members, relatives, etc.
You can also conduct dark web scans to check if your personal information is being sold on the dark web or if your identity has been stolen.
The membership plan is fair compared to competitors and the features are highly intuitive. Overall, TruthFinder is trustworthy, legal, and safe to use.