Sponsored by WayoLeaf.com
Cannabidiol, more commonly known as CBD, has become one of the biggest health trends over the past few years. It is a non-intoxicating component of cannabis plants and is usually extracted from industrial hemp, making it legal in the majority of states.
There is an ever-growing number of CBD brands and products to choose from, and finding the right one can be overwhelming. This list features five of the best CBD brands available and explains how to pick the right one for you.
What Are the Top 5 CBD Companies?
Buying CBD oil can be a confusing process, especially if you're doing it for the first time. With so many CBD brands available, how do you decide which best meets your personal needs?
In an unregulated market, not all companies are equal in terms of quality, potency, or price. And almost every CBD user has unique requirements, making it even more of a challenge to know where to start.
This CBD brand review aims to break things down and make choosing the right product for you a breeze. It includes the top brands for quality, taste, potency, and affordability. It also reveals the CBD brand with the highest customer rating, what to look for, and what to avoid.
Best Quality CBD Brand – PureKana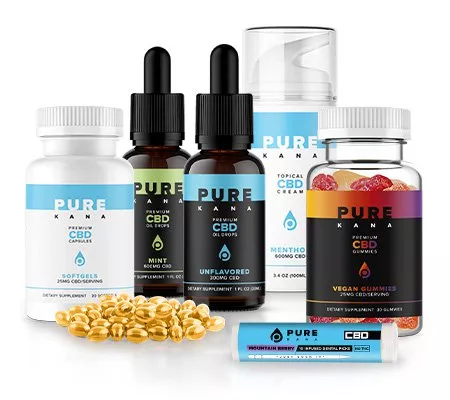 PureKana is an Arizona-based brand that is renowned for its high-quality CBD products. It makes its products using hemp grown in Kentucky, one of the prime hemp-growing regions in the USA. It only uses crops that are non-GMO and free from pesticides, herbicides, and chemical fertilizers.
The brand's dedication to purity carries over into its manufacturing process. It uses solvent-free CO2 extraction, which is considered the industry gold standard. It also provides lab reports for each batch to confirm that it is free from contaminants and contains well below the legal THC limit of 0.3%.
Furthermore, you won't find any unnecessary additives in PureKana's products. For example, PureKana Natural CBD Oil contains just three ingredients - hemp oil extract, MCT oil, and terpenes.
The brand also offers flavored oils, capsules, topicals, and gummies, making it easy for customers to find what they need.
Best Tasting CBD Brand – Premium Jane CBD Brand

Not everyone enjoys the raw, earthy taste of natural CBD oil. That's why many brands offer their products in a variety of flavors. However, few ranges are as exciting as the offering from the Premium Jane CBD brand.
Their flavored oils include standard options like peppermint and citrus and some more creative choices, including mint chocolate, peach nectar, and lemon-lime. They also offer a natural oil for those who enjoy the taste of hemp extract.
CBD consumers with a sweet tooth also have a great range of gummies to choose from. The line features strawberry, lime, and mango-berry flavors alongside the original gummies. Each option uses all-natural flavorings and is vegan-friendly, too!
The brand uses USA-grown hemp and manufactures its products using clean CO2 extraction techniques. Lab sheets are readily available on the website to verify each product's purity and potency.
Strongest CBD Brand – Crescent Canna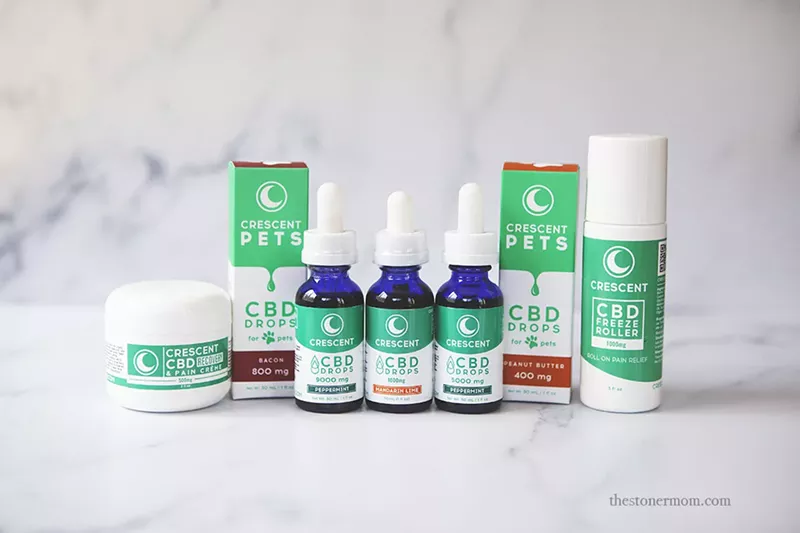 For a long time, CBD users in need of a high dose were forced to take huge quantities of oil to get the right amount. Fortunately, things have changed, and more and more companies are now offering high-strength options.
However, the highest potency CBD brand by far is Crescent Canna. Their Max Strength CBD Drops contain an incredible 9000mg of CBD per 30mL bottle, equating to 300mg per 1mL dropper. This is excellent news for anyone needing a large amount of CBD daily.
While they are not cheap, the drops are high-quality and extracted from organic, USA-grown hemp. They are THC-free, non-GMO, and vegan. The brand also provides certificates of analysis on its website, providing great transparency about its products.
The Max Strength Drops come in two flavors: peppermint and mandarin-lime. The brand also offers various other potencies, from 500–5000mg, suiting a variety of needs.
Best Rated CBD Brand – Social CBD

Customer ratings are one way to ensure you get a safe and effective product from a legitimate brand. There are tons of well-rated CBD brands listed on Trustpilot, including PureKana, which has a 4.4 rating from over 6000 reviews.
However, the top-rated CBD brand at the time of writing is Social CBD, with a score of 4.7 from over 4000 reviews. Furthermore, 85% of customers rated the brand as excellent, while just 2% rated it as poor. While some CBD brands had higher Trustpilot scores, none had anywhere near the total number of reviews. Therefore, Social CBD really stands out from the crowd.
A quick look at their website reveals why this brand is so popular. With a vast range of products on offer, there is something to meet almost every need. They also use USA-grown hemp and lab test their products for purity and potency.
There is even an in-depth education and FAQ section on the website, allowing new customers to learn more about CBD.
Best Affordable CBD Brand – Lazarus Naturals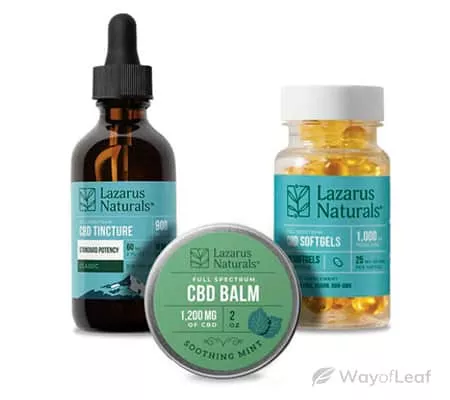 One of the most significant downsides of CBD is its price. Quality farming and manufacturing processes are expensive, and these costs are passed on to the consumer. Fortunately, as the CBD market grows, many brands are lowering their prices to remain competitive.
One particularly inexpensive CBD brand that still manages to maintain its reputation for quality is Lazarus Naturals. Their standard potency CBD oil (600mg/30mL) is a bargain at just $20. And for consumers who need a higher strength, their high potency oil (1500mg/30mL) is still reasonable at $40. They offer a wide range of other products at affordable prices too.
The brand's website states that they believe everyone should have access to CBD. In addition to being among the lowest-priced brands around, they offer additional discounts to veterans, active military personnel, those on long-term disability, and low-income households.
This is refreshing to see, and it appears that the company has not sacrificed quality for price. They use Oregon-grown hemp, 70% of which comes from their own farm. All products are subject to lab testing to ensure they are free from pesticides, microbials, and residual solvents.
What Do I Need to Know Before Buying CBD Products?
Every customer has unique needs, and there is no one-size-fits-all CBD buying guide. That said, there are a few crucial features to look for when choosing an oil:
Full Spectrum vs. Broad Spectrum vs. Isolate
It is common to see the terms full-spectrum, broad-spectrum, and isolate when browsing CBD products. They refer to whether the oil contains additional cannabinoids and terpenes alongside the CBD.
Full-spectrum CBD contains a broad range of cannabinoids and terpenes that hemp plants produce. Many of these have their own benefits, and experts believe they work synergistically due to a phenomenon known as "the entourage effect." Full-spectrum products may contain traces of the intoxicating cannabinoid THC. However, the legal limit is 0.3%, which is not enough to cause users to feel high.
For those who prefer to avoid THC altogether, broad-spectrum products or isolates may be a better option. Broad-spectrum CBD contains additional cannabinoids and terpenes, minus the THC. On the other hand, isolates contain CBD alone and are often over 90% pure.
Extraction Method
As mentioned earlier, CO2 extraction is considered the industry gold standard. It uses carbon dioxide to draw cannabinoids and terpenes from raw plant material, resulting in a clean and potent end product.
There are many other extraction methods, including olive oil, alcohol, and hydrocarbons such as butane. Some brands use these alternative techniques to reduce their costs. However, they are often considered inferior due to either a lack of potency or the risk of residual solvents.
Dosage
When buying CBD for the first time, it can be challenging to decide which strength to purchase. It is a very individual choice and depends upon many different factors. Bodyweight, general health, and the reason for using CBD are just a few examples.
The general advice is that new users start with a low dose and see how it affects them before gradually increasing it. This not only reduces the risk of side effects but also saves money as they won't be taking more than necessary.
Safety


Although most people can take CBD without any issues, some people experience mild adverse reactions. Furthermore, CBD can interact with several different pharmaceuticals.
Therefore, it is advisable to consult a physician before use and never stop taking any prescribed medication unless directed to do so.
It is also critical to understand that CBD is not intended to treat or cure any specific medical conditions. Any companies making these claims are likely out to make a quick buck and should probably be avoided.
How to Choose the Best CBD Brand
By now, it should be clear that the best CBD company for you depends upon your requirements. The five brands listed above are all great options, but many more reputable companies are out there.
It is easy to recognize a legitimate brand as they will be transparent about their processes from field to factory. Look for companies that use organic, home-grown hemp, clean extraction processes, and publish lab reports to confirm their contents. These lab reports should preferably be carried out by an independent company and be easily accessible online.
Another minor factor to consider is shipping and refund policies. Many companies now offer free shipping if you spend over a certain amount. Some also give refunds for unsatisfied customers, although the products must usually be unopened.
Before making a choice, decide on your priorities and find a brand that fulfills them. Read plenty of customer reviews, and don't be afraid to contact a company if you have additional questions. Any good brand will have a responsive customer service team and should be more than happy to help.
Summary on the Best CBD Brands

Hopefully, this article has cleared up any confusion and shed some light on the top-rated CBD brands. Whether you are looking for a super high-quality oil, a great-tasting one, or simply one that won't break the bank, you're covered.
PureKana, Premium Jane, Crescent Canna, Social CBD, and Lazarus Naturals are all fantastic brands with a lot to offer. Why not try them and see which you rate as number 1?
This article is sponsored by Dylan Baker, a contributor for WayofLeaf.com. Founded in 2015, WayofLeaf is a website dedicated to cannabis and CBD education. It features hundreds of unbiased CBD brand reviews and is your number 1 resource for all things cannabidiol.