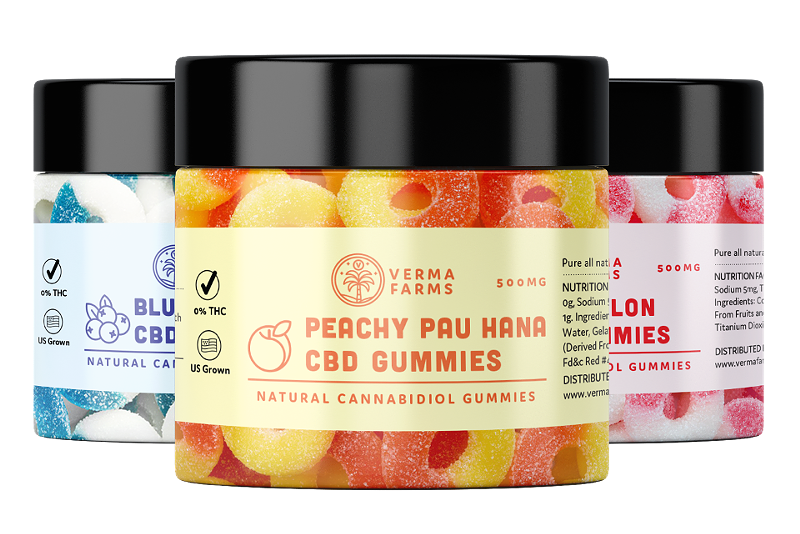 For how popular CBD has become, finding good products can seem like the old adage of finding a needle in a haystack.
Especially with the number of people looking to make a quick buck off the booming industry, delivering on a quality dose of CBD per gummy can be a hard value to find, including when you throw in other factors as well such as how the product was processed. To help you cut through the clutter, we decided to put together a list of the
best CBD gummies
on the market today, focusing on both quality and quantity you're getting out of each bite. Check them out below:
Verma Farms
Gaining a fair amount of notoriety for their selection of the
best CBD oil
over the past couple of years,
Verma Farms
has grown to be one of the more prominent names in the industry. After establishing themselves on the national scene, they quickly started testing and iterating different product variations based on their customer's feedback. The results have been some of the better
CBD gummies
we've seen on the market, delivering on a balance between those with a sweet tooth and those looking for a nutritional treat. It's a rare combination, but one that Verma has been able to match each and every time.
CBDfx
After building a pretty steady online presence over the past couple of years, CBDfx has been providing stellar CBD products to indulge in. Recently adding new gummies to their lineup, CBDfx has one of the more creative and competitive selection, infusing a whole new layer of health-minded alternatives. Particularly, CBDfx not only has gummy bears, but infusions with Tumeric and Spirulina, Melatonin, Apple Cider Vinegar, and Biotin. Focusing on what CBD can do with other substances, CBDfx is definitely thinking outside the box, coming up with new standards for the rest of the industry to eventually explore.
Charlotte's Web
As one of the original top-tier names in CBD, Charlotte's Web has an array of products that nearly everyone who's into the subject can agree is close to home. Currently, Charlotte's Web offers the varieties Sleep, Recovery, and Calm in single or variety packs, focusing on the different use cases that people consider for CBD. At 10mg per dosage, their 60 packs at $44.99 definitely have more value than most in the industry, and definitely should be a consideration for your lineup. With a trusted name in producing high-quality material, you can't go wrong with Charlotte's Web.
Joy Organics
Having the word 'organics' in your name is something that sets a high standard for excellence, but one that most people would appreciate. For Joy Organics, their gummies resonate with that mission tenfold, coming up with a lineup that is delicious, effective, and high quality without breaking the bank. Including the flavors Strawberry Lemonade or Green Apple, Joy Organics' gummies start at $39.95 and include 30 gummies at 10mg per piece. Considering the quality they put into the details, Joy Organics is definitely worth exploring for your CBD gummy needs given the purity and experience, hands down.
Lord Jones
Considered a premium brand in the CBD industry, Lord Jones definitely doesn't hold back on being at the top of their class. Somewhat pricey, Lord Jones CBD drops come in packs of nine for $50. While they do serve candy that indeed delivers on a treat experience in itself, the dosage of 20mg per piece definitely helps not only makeup on that price point but directs you to how Lord Jones wants you to use their CBD. Ultimately, a lot of brands will try to get through on strictly the dosage, while Lord Jones goes above and beyond in trying to deliver on a premium experience, staying true on that word every time.
Not Pot
One of the more clever brands in CBD, Not Pot is definitely a company that understands incredibly well. What we love in particular about Not Pot is how they don't take themselves too seriously while delivering on a product that anyone across the CBD spectrum could love. As a candy, the texture is a delicious mouthful, delivering on the flavors Watermelon, Pineapple, Green Apple, Blue Raspberry, and Grape in a way that's a juicy mouthful for each bite. As their flagship product, Not Pot is one for the details on their gummies, holding themselves up to being one of the
best CBD gummies
in the game overall.
Sunday Scaries
If you're not familiar with the term Sunday Scaries, it's essentially the sensation we get folding our laundry, watching television...when suddenly this realization kicks in that it's Sunday, and as such, tomorrow's Monday, one of the scariest days of the week. To combat your Monday fears is Sunday Scaries, which offers a single variety pack of CBD gummies that include Vitamins B12 and D3, as well as a broad-spectrum product. Including 20 gummies at 10mg per piece, Sunday Scaries has a healthy dosage, and at $31 for their monthly subscription, it definitely holds onto being one of the better deals for CBD gummies on the market today.
Hemp Bombs
Looking for a brand that's the bomb? Then look no further than what Hemp Bombs has to offer. Coming in with a variety pack of gummies, their pricing is distributed by 5, 15, 30, and 60-counts, with a price range that ranges from $14.99 to $99.99. Considering that their packs contain 15mg per CBD gummy, this is a pretty good price for affordability. And with CBD that's sourced from the United States, Hemp Bombs has a product that offers a lot of upside for everything included with it.
PureKana
One of the more popular names in CBD, PureKana has been gaining recognition for a long time. Growing a substantial following on social media, PureKana became one of the early evangelists of CBD, focusing on how it could be incorporated into someone's lifestyle. For their gummies, PureKana offers a single variety pack that's a pretty solid value, coming in at $40 for a 30 gummy pack at a staggering 25mg each. That's a solid value considering the price point and one that's definitely a sleeper for being one of the
best CBD gummies
on this list.
It's a new era for marijuana in Michigan. Sign up for our weekly weed newsletter, delivered every Tuesday at 4:20 p.m.