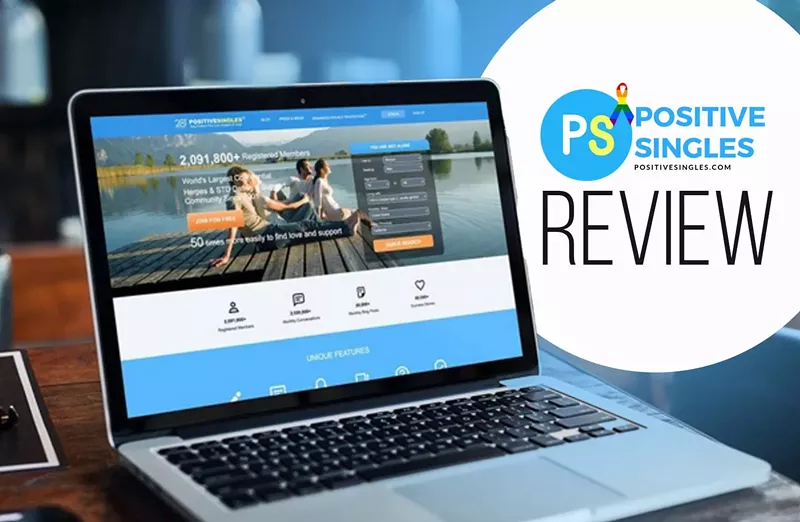 Positive Singles is one of the best HIV dating sites and a support platform for people living with sexually transmitted diseases - including Herpes, HPV, or other STDs. The site launched worldwide in 2001 and has since built a platform that includes over 1 million members looking for friendships, relationships, social networking opportunities, and more.
Furthermore, Positive Singles boasts 60,000 successful STD dating stories, over 120,000 daily conversations, around 15,000 daily active members, and 500 of their blog posts. So, is this specialized dating service worth a try? We took a closer look at Positive Singles and how the dating platform works.
Read our full review - including pros and cons - below.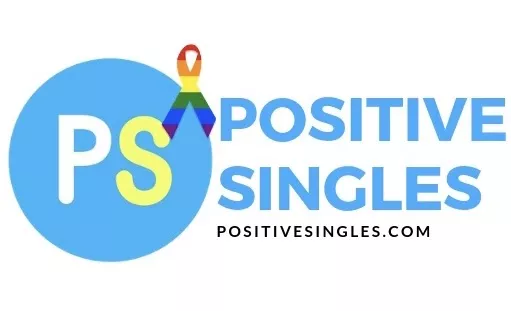 Dating site and community for people that are STD positive, looking for companionship and support from similar individuals.
The signup process is easy. It should only take 5 minutes or less to complete.
Free or premium membership? There are 3 paid premium membership options, with a limited free trial available.
Pricing starts at $15.95 per month.
Mobile app available in both the Apple App Store and Google Play Store
Why we like positive singles: It is an exclusive dating site for HIV/AIDS and STD singles with a welcome dating environment.
Why we don't like positive singles: The dating site occasionally has slow server loading times and suspends inactive member profiles.
The Registration Process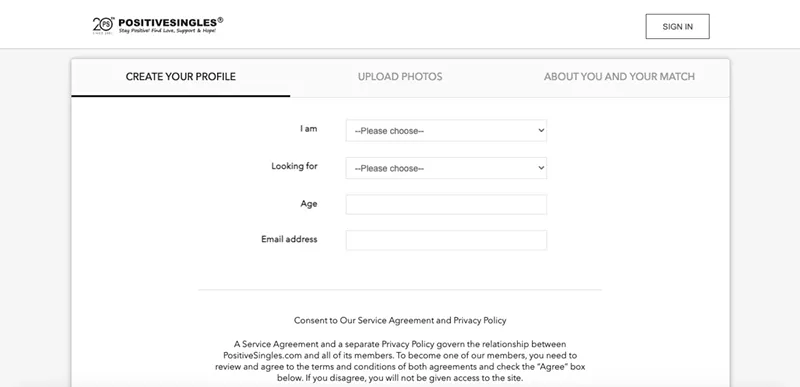 It's pretty simple to register for an account and create a profile on Positive Singles. First, you will have to provide personal information - including your name, age range, gender, relationship status, and the sexually transmitted disease you're living with. From start to finish, the entire process should take less than 5 minutes.
The STDs listed are herpes, HPV, HIV, hepatitis, chlamydia, syphilis, and more. If you do not fill out all of these categories, the dating site will mark your profile incomplete. But, don't worry, you can always finish or edit it later.
After you finish the initial sign-up process, you can begin to fill out the designated description boxes, where you can elaborate on your personality and what you're looking for in a match. Positive Singles divides this into various sections. See them below:
Physical Appearance
Eye color
Hair color
Body type
Background
Ethnicity
Religion
Language
Education
Political beliefs
Personality
Lifestyle
Occupation
Annual income
Drinking or Smoking
Have children or want children
Have pets
Other
What you're looking for / interested in
Distance preference
Music preference
Astrological sign
Your profile can have up to 26 photos and a video that is meant to introduce yourself. Thanks to the detailed privacy settings on Positive Singles, these can be categorized into public or private albums.
After you finish editing your profile, you can begin to initiate conversations with other users. There is a chatroom, as well as direct, one-on-one message options. Unfortunately, only premium members can send messages. If you're a free member, you can only reply to the messages that you receive. You cannot initiate a chat.
Pricing

Positive Singles has a basic cost structure that includes three membership payment options to choose from. These premium membership options are all the same in terms of basic features offered - such as chat features, advanced search capabilities, quick search options, and much more.
This payment plan is pretty standard for all dating sites on the internet. The only difference is the length of the memberships and their prices. The longer-term option bought, the cheaper the membership will be.
Here are the different membership options and what they cost:
1 Month: $29.95 per month
3 Months: $19.95 per month, or $59.95 total
6 Months: $15.95 per month, or $95.95 total
Each of these memberships will be charged as a one-time payment. For example, if you choose the 6-month option, you will be charged a total of $95.95 from the outset. But, it will work out to $15.95/month over 6 months.
The 1-month membership will automatically renew at the end of the month, but the 3 and 6-month memberships will not. You can pay with any major credit card ((Visa, Mastercard, or American Express).
Give Positive Singles A Try. Sign up here
Positive Singles Pros
Whether you want to find a compatible partner or simply need support with navigating life with an STD, Positive Singles is an excellent service to try out. It makes the online STD dating experience less nerve-wracking than you would expect. Here's why:
1. Quality Customer Service

Premium members (even a free member) gain access to various outlets of customer support. You can chat online with a live representative or choose email support instead.
Additionally, you can speak with an STD counselor or live dating advisor in a chat room.


2. Confidential Dating Site With Impressive Privacy Settings

Positive Singles understands that privacy is a top concern for most members, making it a top priority. Unlike other dating sites, Positive Singles allows members to verify their photos and confirm who they claim to be.
Additionally, this dating site offers a "Quick Exit" button, quickly redirecting users to another site if their privacy is at risk. This feature is also helpful if users do not want other people around them looking at their screen and what site they're using.
They don't have to close the entire window browser to hide it quickly. Members can also hide their profiles from specific users or set up a private album only available to a select few.
Finally, the STD Q+A feature on the site is anonymous and confidential, enabling users to ask questions without revealing their identities. An STD counselor will then reply to the inquiry and try to help.


3. Advanced Site Features

Positive Singles offers unique features - including "First Date Ideas," "Let's Meet," video call, and a comprehensive resource center.
First Date Ideas: This feature is available on your dating profile. It helps other users get a better understanding of your personality and interests. You can describe your ideal first date. Positive Singles even has a dedicated page where all dating ideas are compiled. You can sort through everyone's ideas, and if you find one that you like, you can initiate a conversation with that person.
Let's Meet: The "Let's Meet" feature is the site's swiping system. You are shown user profiles, and then you can decide whether to swipe right or swipe left. If you swipe right, it means you like the person and vice versa. If you wind up matching with the user, it's a mutual match!
Video Call: Positive Singles launched a video call function in 2020 as online dating became more popular. Unfortunately, video calls are only available for iOS devices at this point.
Resource Center: The dating site offers a new resource center where members can seek sexual health clinics and find local recommendations for various sexually transmitted diseases.
4. Success Stories and Positive Customer Reviews

Since this dating site launched, it has successfully matched thousands of people with sexually transmitted diseases every year. If you live with a sexually transmitted disease, this STD community can provide support, friendship, romance, or simply further medical information and recommendations. You can read success stories that are romance-based and other, more general inspirational stories on their website.


5. Dating Mobile App Available

Positive Singles offers one of the only STD dating app options on the market. Most dating apps are designed for all types of people, while this mobile app caters directly to STD dating.
And the Positive Singles does not disappoint. It is available for both Android and iOS devices. The user interface and visual experience are easy-to-use and modern-looking.
This mobile version functions on secure server software for optimal privacy and is constantly updated for additional features, advanced search options, etc. You can even change the app icon if you prefer to keep it discreet when other people are around. If you're not tech-savvy or comfortable using an app-based platform, you can always browse the site anonymously on your web browser as well. This anonymous usage is one of the reasons why Positive Singles is the most private dating site in terms of STD dating sites at-large.
Unfortunately, the app is missing some essential functions, including recommended STD care and health centers and options to contact positive singles, a dating advisor, or an STD counselor.
Sign up for a free trial of Positive Singles.
Positive Singles Cons
1. Long Loading Times
Sometimes the Positive Singles server will load slowly due to many active users on the dating site.


2. Suspended Member Profiles

If you are inactive for long periods, Positive Singles may temporarily or premaritally suspend your profile, even true for premium members. It's important to remember to cancel your premium membership after a long time of inactivity. Otherwise, your account could be suspended, or you could wind up paying the monthly fees unintentionally.


3. Limited Free Membership and Trial Offer

The free membership on Positive Singles is quite limited in regards to features and overall capabilities. You can send winks, view search results by username, request access to private albums, and upload a maximum of 26 photos total.
Unfortunately, the best features offered require a payment. For example, if you want to message a potential match or access the complete search feature functionality, you must sign up for a premium membership.
Other fee-based services include advanced searches, access to the "Quick Exit" button, live chat and email options with counselors, and more. To find love, support, hope, or general help - most of these tools are necessary. That's why many users will opt for the paid membership plan when using online dating sites, like Positive Singles.
Final Verdict: Positive Singles
After evaluating Positive Singles in-depth, compared to other STD dating sites and more general online dating services, we think it is a perfect option for people with herpes, HIC, and other sexually transmitted diseases. The site is easy-to-use, and the mobile app provides an extra layer of convenience for on-the-go support. Plus, the registration process is swift.
Furthermore, Positive Singles provides something more valuable than traditional dating platforms. This personal social website offers its members a community exclusively meant for people living with an STD. The site is not a gimmick full of fake reviews or even negative reviews. It indeed provides what it says it does - an STD-based support group that can help you stay positive and cope with the reality of the situation.
Not only is a dating site for people living with a sexually transmitted disease helpful in terms of romantic relationships, but it gives the STD community a unified place to communicate and form a genuine connection.
Don't miss out on meeting your person.
Sign up for Positive Singles
Now.