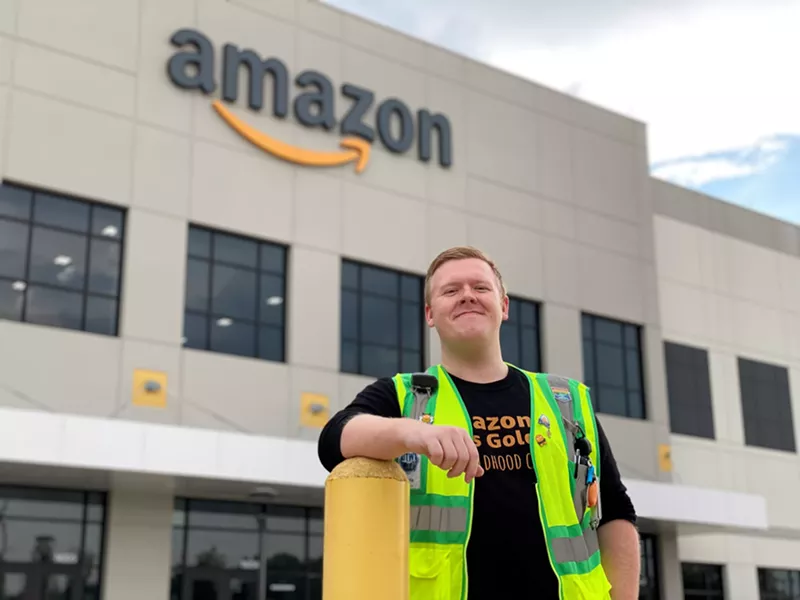 This weekend, Amazon will underscore its commitment to an inclusive work environment by supporting the Motor City Pride festival. At the helm of the company's participation is associate Chris Norkiewicz, who serves as the Southeast Michigan president for Amazon's LGBTQIA+ employee resource group, Glamazon. Glamazon is one of 13 affinity groups that bring Amazon employees together across the many businesses and locations around the world to support diversity and inclusion.

A Madison Heights resident, Norkiewicz has led the affinity group for the past year and a half, and has seen its membership rise a meteoric 350 percent since taking the reins. Today, more than 3,500 Metro Detroit Amazon employees are a part of the Glamazon group, many of whom will be attending this weekend's events, where they'll represent Amazon's local facilities and share information on hiring opportunities.

"I believe it's important for our local Amazon operations to show that we are not only inclusive but an active participant and supporter of the gay community," says Norkiewicz.
Chris Norkiewicz shares a bit about his experience at Amazon and spearheading Glamazon at the Romulus fulfillment center:

Prior to Amazon, I had a career as a first responder, so naturally I was elated to join the company working in Health and Safety. I've spent time in various Detroit area facilities over the past two years, including both fulfillment centers and a delivery station – consistent to all of my roles and locations is my expectations being exceeded. Opportunities for promotion in healthcare weren't something I came across, but there's a clear path for career advancement at Amazon.

Beyond this, I've been able to take advantage of the opportunity to earn a cybersecurity degree through Amazon's Career Choice program which has been the fastest yet most convenient way to receive a degree being able to take classes outside of work times. Prior to Career Choice, I didn't have a source of assistance when looking to further my education and the process of applying for additional student loans was overwhelming on both a financial and educational level. Amazon gave me an opportunity to grow my education by eliminating barriers.

In addition to the education and skills trainings over the past two years, I've been able to bring my full self to work and give back to my Amazon and local community. I am actively able to lean in to a passion of mine which is devoting time to activities like Motor City Pride as well as other philanthropic efforts through the Romulus fulfillment center. As the leader of our local Glamazon chapter, I've been a mentor and support to so many of my local LGBTQIA+ colleagues. Whether they're in need of a support system as they come out to their families, or a friendly team member to help them while at work, I'm really humbled by the opportunity to continue to lead and grow this awesome group at Amazon.
Amazon Job Opportunities and Education & Skills Training in Detroit:
Earlier this week, Amazon announced 3,500 job opportunities in its Metro Detroit operations, paying an average starting wage of $18 per hour—more than double the federal minimum wage—and provide comprehensive health benefits, paid time off, up to 20 weeks fully paid parental leave, and more for employees and their families.

Additionally, Amazon offers fully funded college tuition, including the cost of classes, books and fees, to its more than 750,000 employees in the U.S. through the company's popular Career Choice program. Norkiewicz–a Career Choice participant–will graduate later this year.

For information on job opportunities, visit www.amazon.com/apply.