Probiotics have become increasingly popular over the past few years as more and more people become aware of their benefits. In this article, we'll be taking a closer look at the popular probiotic supplement, Floraspring. We will examine its ingredients, reviews, legitimacy, side effects, benefits, and cons to help you assess your purchase decision.
What Are Probiotics?
Probiotics are live microorganisms that can provide health benefits when consumed in adequate amounts. They can be found in fermented foods such as yogurt, kefir, and sauerkraut, as well as in supplements. Some potential benefits of probiotics include:

Improving gut health: Probiotics can help maintain a healthy balance of bacteria in the gut, which can improve digestion, reduce inflammation, and strengthen the immune system.

Boosting the immune system: Probiotics can stimulate the production of antibodies and enhance the activity of immune cells, which may help protect against infections and other diseases.

Managing irritable bowel syndrome (IBS): Probiotics may help reduce symptoms of IBS, including bloating, gas, and abdominal pain.

Improving mental health: Some studies suggest that probiotics may improve symptoms of anxiety, depression, and other mental health conditions.

Enhancing skin health: Probiotics may improve skin conditions like eczema, acne, and rosacea by reducing inflammation and improving the skin's barrier function.
It's important to note that not all probiotics are created equal, and the benefits of specific strains may vary. Fortunately, Floraspring has a custom formula that helps target a variety of common gut issues.
Limited Time: Get Floraspring Straight From the Manufacturer With Their New Customer Discount - Click Here Now
What Probiotic Strains are in Floraspring?
Floraspring Probiotics contains a number of active ingredients and market their efficacy based on 5 core strains of probiotics with 25 Billion CFU per dose. Their super strains are:


Lactobacillus acidophilus - Balances potentially harmful bacteria that can otherwise flourish in the gut
Lactobacillus fermentum- Assists in reducing the development of obesity by modifying the way energy is handled within the host.
Lactobacillus Gasseri- Helps to reduce inflammation, improve immune functioning, and aid digestion. Several strains of probiotics in both the Lactobacillus and Bifidobacterium family have been shown to reduce weight and belly fat. Lactobacillus gasseri appears to be one of the most effective.
Lactobacillus rhamnosus -May boost your overall digestive health, potentially treating diarrhea, relieving IBS symptoms, and strengthening your gut. It also helps reduce cravings and appetite.
Bifidobacterium Breve -May reduce the number of calories you absorb from food. They also affect levels of hormones and proteins related to appetite and fat storage.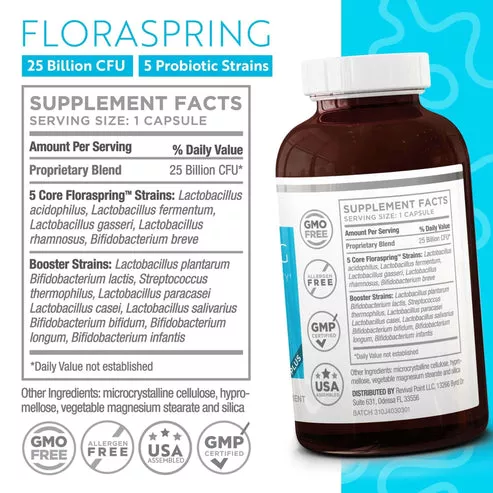 How Are Floraspring Reviews?
When compared to other popular probiotic supplements, Floraspring Probiotics generally receives average to above-average ratings. Remember, probiotics can affect people differently.
Do some research and talk to a healthcare provider before starting any new supplement routine.
Upon looking at Floraspring reviews, there have been no reports of major side effects or health complications. There are actually many testimonials on their Youtube and Trustpilot page showcasing an average of 4.2 starts of all authentic reviews from average to great experiences.
After reading the reviews, it appears that the most frequent positive feedback is from people who experienced more regular and comfortable bowel movements and weight loss.
One of the most common downsides we find according to Floraspring reviews is that it's only available online and not in stores.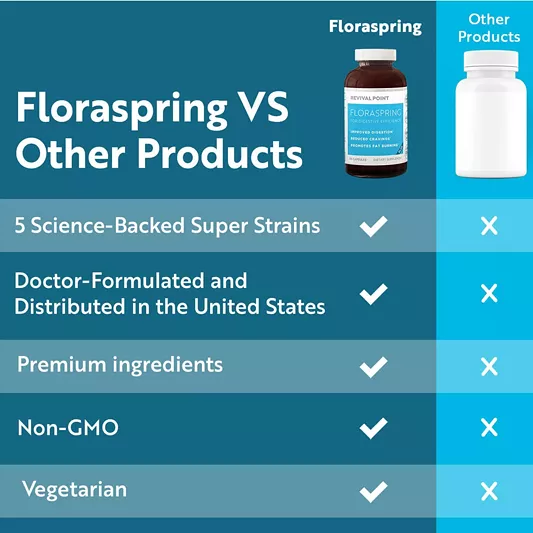 What is the history of Floraspring?
Floraspring is manufactured by a company called Revival Point. According to their website, they specialize in creating digestive supplements using non-gmo, vegan based ingredients.
The company has been in business for several years and has a good reputation in the supplement industry.
Although no clinical studies have been done on Floraspring Probiotics, it is endorsed by nutrition and wellness expert Ashley Hawk RD and formulated with the assistance of Dr. Steven Masley.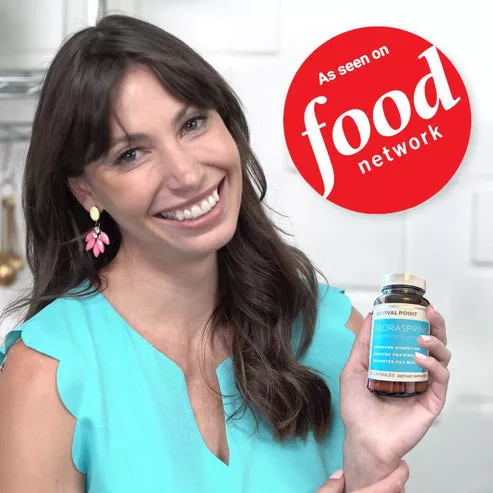 Who is Dr. Steven Masley?
Dr. Steven Masley is one of Floraspring's proud endorsers. He is a physician, nutritionist, author, and educator who specializes in improving cardiovascular health, preventing chronic diseases, and enhancing cognitive function through lifestyle modifications.
He is the founder of the Masley Optimal Health Center, in St. Petersburg, Florida, and published several books, including "The 30-Day Heart Tune-Up" and "The Better Brain Book," which provide practical advice on how to improve heart health and cognitive function through diet and lifestyle changes.
His mission is to empower individuals to achieve optimal health and wellness with cutting-edge medical information and the latest nutritional advice.
Floraspring Side Effects
While probiotics are generally considered safe for most people, there are some potential side effects to be aware of, especially if you plan on taking 4 pills at once. These can include bloating, gas, and diarrhea.
It's important to talk to your doctor before starting any new supplement, especially if you have a pre-existing medical condition.
Where To Purchase Floraspring?
The only way to ensure that the user gets an authentic product is to order from the official website or on the Revival Point Amazon Storefront.
There are three packages available, and they will also have the opportunity to sign up for a subscription.
The initial packages include:
Buy one bottle for $49.95 & shipping
Buy three bottles for $129.00 & get free shipping
Buy six bottles for $197.00 & get free shipping
With this option, consumers can purchase Floraspring at the best price possible. The membership allows consumers to get the fastest delivery of Floraspring every month, giving users a 10% discount on their orders. Plus, they can cancel their subscription anytime, so they don't need to worry about committing to the product for longer than they should.
Click Here Now to Get an Exclusive New Customer Discount on Floraspring, Risk-Free For 90 Days…
A 90-day money-back guarantee covers all orders. If you have any questions about their return policy or anything else, contact customer service via telephone at 1-800-253-8173 or email at [email protected]
Floraspring Benefits
Floraspring Probiotics claims to provide a number of health benefits, including improved digestion, boosted immunity, and weight loss.
While the individual benefits of each strain of bacteria and prebiotic can vary, it's important to not rely on just a probiotic alone to help attain maximum digestion.
The most effective approach to improving your digestion and getting the most out of Floraspring is to incorporate it into a healthy lifestyle, which includes eating a balanced diet, managing stress, and engaging in daily exercise.
That being said, you should certainly be thoughtful before taking Floraspring. If you have underlying conditions or you're on other meds, you should check with your doctor first, although Floraspring's all-natural formula isn't known to interact with medicine.
Also, it's not advisable to use Floraspring if you're pregnant or breastfeeding. Although there are no known side effects, it hasn't yet been deemed safe for children or pets!


Affiliate Disclosure:
The links contained in this product review may result in a small commission if you opt to purchase the product recommended at no additional cost to you. This goes towards supporting our research and editorial team. Please know we only recommend high-quality products.