As the number of electric cars on the road continues to increase, the need for reliable and user-friendly charging infrastructure has become more vital than ever.
Electrly is a prominent manufacturer of EV chargers based in China, offering an extensive range of EV chargers that meet various standards and power requirements. In this article, we'll discuss why Electrly is the best EV charger manufacturer and analyze their range of EV chargers, which cater to both residential and commercial use.
We'll explore the reasons why Electrly is the top choice for individuals and businesses seeking dependable EV charging solutions.

Electrly: How Much Do You Know?
Electrly is a leading international provider of EV charging piles and a pioneer in designing, developing, and manufacturing EV chargers. With over 50 patents issued, they are at the forefront of innovation in this field.
One of the standout features of Electrly's EV chargers is their quality. They ensure the longevity and durability of their products by using high-quality materials. Their chargers undergo extensive testing and quality control to satisfy the highest safety and performance requirements.
Despite their top-notch quality, Electrly offers a range of affordable options for both individuals and businesses. For example, they provide bulk order discounts for businesses. Despite their competitive pricing, their high-quality chargers provide reliable and efficient charging for electric vehicles.
In terms of appearance, Electrly's EV chargers are sleek and modern. Their chargers are desirable for businesses and individuals since they provide white-label customization to fit varied aesthetics.
In general, Electrly's range of EV chargers offers electric vehicle owners a high-quality, reliable, and affordable charging solution.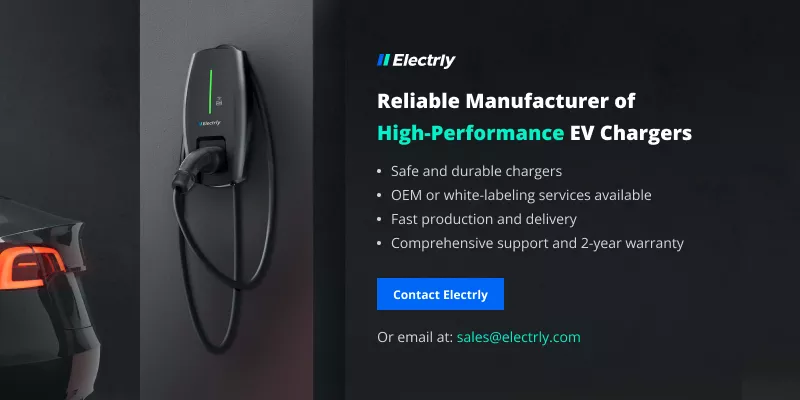 What Are Different Types of EV Chargers Offered by Electrly?
Electrly offers a range of EV chargers to cater to different customer needs. These chargers are divided into three types - Level 1 Charger, Level 2 Charger, and Level 3 Charger.
Level 1 Charger
Electrly provides one type of Level 1 EV charger - the Portable Box. It is a compact and lightweight charger that offers a convenient and efficient solution for EV charging needs with its plug-and-play functionality.
Level 2 Charger
For Level 2 charging, Electrly offers four types of chargers that are easy to install and efficient for use in both residential and commercial settings. These chargers provide a faster charging rate compared to Level 1 chargers. Check here for more on the Level 2 charger.
Level 3 Charger
You can find three different charging solutions for Level 3 EV charging. These chargers offer high-performance DC charging, making them ideal for commercial settings where faster charging times are necessary.
Navigate here
for more on this charging option.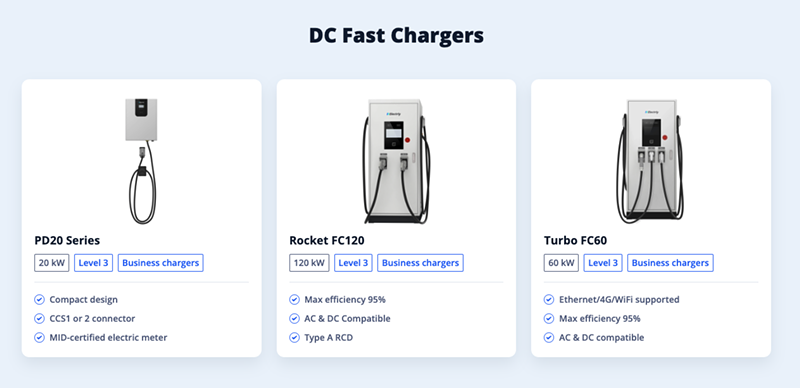 What Makes Electrly the Best?
Regarding electric vehicle charging solutions, Electrly is one of the best in the market. They offer safe and reliable chargers designed to meet different customer needs. Here are some reasons why Electrly is the best choice for electric vehicle charging:
Competitive Prices
One key factor that makes Electrly the best is their competitive pricing. Despite using high-quality materials and providing top-notch services, Electrly still manages to offer their products at a competitive price.
Safe and Reliable Chargers
Electrly's chargers are designed with safety in mind. They undergo testing to guarantee they satisfy the highest quality standards and all applicable safety norms. This ensures electric vehicle owners can trust Electrly's chargers to deliver a safe and reliable charging experience.
Customizable Solutions
Electrly offers customizable solutions that can be tailored to meet specific requirements. They offer white labeling and allow businesses to add their own logos or slogans; even their charger's outer case can be customized.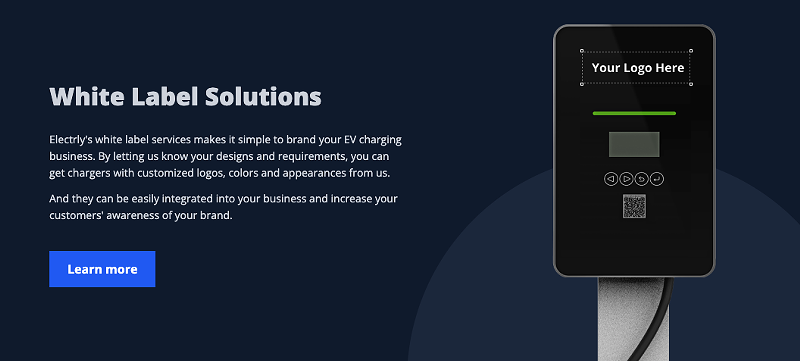 Quick Delivery
They offer quick delivery times on all their products. Customers can rapidly start using their chargers as a result.
24/7 Support
If customers encounter any issues with their chargers, they can contact Electrly's support team anytime, day or night. This guarantees that clients can get the assistance they want when required.
Low MOQ
Electrly allows you to buy as little as one unit of their EV charger to test it out. That way, you can confidently assess the quality and suitability of the product without any unnecessary or costly bulk purchases.
Bulk Order Discount
Electrly also offers generous discounts on large-quantity purchases, a more cost-effective solution for businesses and property owners who intend to set up EV charging stations within their premises.
What Benefits Can Electrly EV Charger Bring to Your Business?
Electrly's EV chargers can bring many benefits to businesses of all sizes. Here are some of the key benefits that Electrly's chargers can provide to your business:
Enhance Customer Experience
Their chargers are designed to be universally compatible with all types of EVs, ensuring that all your EV customers can enjoy a convenient charging experience during their stay. This can help you attract more EV owners to your business.
Remote Control
Their charger comes with an intelligent management system, allowing you to remotely monitor and control the EV chargers as well as view detailed reports on charging activity. This helps you stay on top of usage and make data-driven decisions.
Integrable Management System
Electrly's management system is designed to be integrated into your existing system, simplifying the process of managing dual payment systems. This saves you time and effort, and helps you provide a seamless experience for your customers.
Energy Efficiency
Electrly's chargers are equipped with efficient load-balancing technology and you can also use their management system to set a power ceiling for each charger within your premises, resulting in energy and cost savings.
Overall Benefits
By installing Electrly EV chargers at your business, you can tap into the growing market of electric vehicle owners, differentiate your business from competitors, and showcase your commitment to sustainability and renewable energy.
How to Buy and Install an Electrly EV Charger for My Business?
The process is straightforward if you're interested in purchasing and installing an Electrly EV charger for your business.
You must first decide which kind of EV charger best meets your needs. Electrly offers a range of level 2 and DC fast charging solutions that you can customize to your business's requirements.
Once you've selected the charger type, you can contact Electrly to request a quote. They will work with you to create a unique solution that satisfies your demands and will provide you with information on cost and installation.
FAQs about Electrly
Is it safe to use an EV charger from Electrly?
Yes, Electrly prioritizes safety and reliability in its chargers, with features such as overload protection, short circuit protection, and automatic recovery mechanisms.
Does an Electrly EV charger require a lot of maintenance?
Electrly EV chargers require minimal maintenance during their working lifespan, provided the user follows the rules and guidelines of proper use as itemized in the standard user manual. The company uses high-quality materials to produce chargers, ensuring durability and long-lasting performance. However, regular inspection and cleaning of the charging station's components, such as the cables and connectors, is recommended to maintain their optimum performance.
Can I charge a Tesla with an Electrly charger?
Yes, Electrly TS02 series' EV charger is a charger without cables, allowing you to charge a Tesla by installing a Tesla-compatible charging cable.
How do I know if an EV charger will work with my vehicle?
Check the charging standards and connectors of the charger and your vehicle supports. Electrly offers chargers that support various standards and connectors, such as Type 1, Type 2, CCS, CHAdeMO Chargers, etc.
What is Electrly's warranty policy?
Electrly offers a standard 2-year warranty on all their EV chargers. Additionally, Electrly provides ongoing technical support and customer service to ensure their customers are satisfied with their products.
Conclusion
Electrly is a top EV charging solution supplier. With their EV charging solution, you can grow your company's clientele, strengthen your personnel, and enhance your reputation.
With a range of customizable AC and DC fast charging solutions, quick delivery times, 24/7 support, and a commitment to safety and reliability, Electrly is the ideal partner for businesses looking to offer top-quality EV charging services.
If you want to learn more about Electrly and how their EV chargers can benefit your business, click here to visit their website and request a quote.