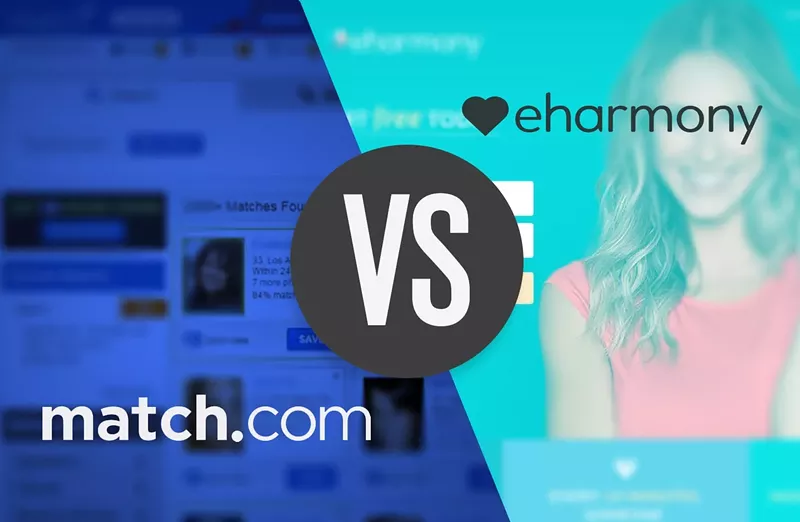 Various online dating sites have exploded in popularity in recent years, and singles are swiping more than ever before. The days of going on blind dates and relying on your friends to find your perfect match are a thing of the past.
Online dating apps and sites give you the chance to scope out the scene and potential prospects from the comfort of your own home. It's nice to know a bit of the person before meeting up in real life. Still, trusting the process and forming a genuine relationship behind a screen doesn't always come naturally for people.
That's where eHarmony and Match.com come into the picture. Both are among the top contenders of the best dating apps. Members of these dating sites are typically looking for serious relationships, so there's no need to weed out all the casual daters on other dating apps like Tinder.
So, which dating site is perfect for eligible singles - eHarmony or Match?
We will compare each one and let you know which online dating site is right for you.
Overview - eHarmony vs. Match
As two of the biggest names in the online dating industry, it's no surprise you're conflicted about which site to join. eHarmony claims that members of the site are finding love every 14 minutes, while Match has pioneered the online dating game since its launch in 1995. Both are excellent options for those seeking serious relationships.
In the wake of the pandemic, everyone's dating life was forced to slow down, considering a lack of in-person connection. Both eHarmony and Match accommodated these new challenges with an impressive video dating feature. Now potential matches can facilitate video calls without switching to another platform - like Zoom or FaceTime.
While there are quite a few similarities, eHarmony and Match have distinct differences influencing your online dating experience.
We're here to outline these key distinctions and help you figure out which one will work best for you.

Here's how eHarmony wins:
Compatibility quiz
Most people equate eHarmony with serious relationships and marriage - and you wouldn't be wrong. Their business model is designed to be the best dating site for serious singles.
This effort becomes straightforward and helps user profiles. Their lengthy five-part compatibility questionnaire includes hundreds of questions surrounding your personality, values and beliefs, life goals, dating intentions, and more.
More specifically, you will have to answer more standard questions about why you're still single and what you want in a partner. Baked into those questions are some less traditional dating questions - like where you prefer to live long-term, your work ethic, whether you care more about traveling than getting your dream house, etc.
eHarmony uses these less emotional components to help you find the perfect match.M.
Compatibility algorithm
After completing the entire sign-up process, including that comprehensive quiz, eHarmony promises that their advanced algorithm will provide you with compatible matches within a few minutes.
This process means your potential prospects are delivered to you on a silver platter, with no need to search for dating profiles manually.
Plus, each profile that comes your way will get a compatibility score, indicating whether eHarmony thinks this person is a keeper or not.
A compatibility score of 70 is pretty average and someone you can either pass on or further connect with. Anything near 100 means this person is an absolute keeper.
eHarmony is very confident in their matching system that it guarantees if you're not satisfied with the experience in three months, they will give you an additional three months for free.
Inclusive and diversified dating site
Once upon a time, eHarmony only served as a christian dating site. Many of the questions within the compatibility questionnaire focused on religious topics, even for respondents who marked that they were not actively religious.
Within the past few years, the site has since updated the questionnaire and overall intentions of the platform.
eHarmony aims to build a diversified pool of singles and now offers dating services for the LGBTQ+ community.
Even so, the site still focuses on your values, interests, relationship goals, but this now includes people with all different backgrounds, sexual orientations, and gender identities.
eHarmony cost
eHarmony offers new users the chance to start with a free trial. Once the trial period has ended, you can choose to purchase one of the site's subscription plans:
$59.90 a month for a 6-month plan
$35.90 a month for a 12-month plan
It's important to note that the prices constantly change, and the dating site offers discounts frequently, but you can expect it to be in this ballpark.
eHarmony is more expensive than other platforms in the online dating world. But these premium prices not only give you access to various features and services - like video chat and quality customer support.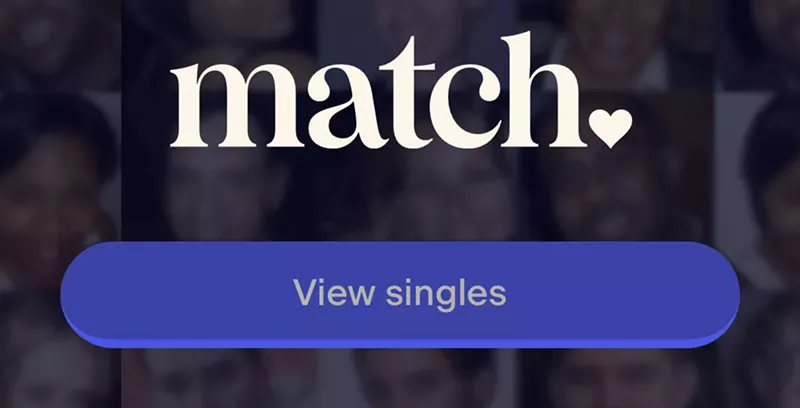 Here's how Match wins:
Large user base
With over 39 million unique monthly users, Match offers one of the biggest dating pools than any other dating site.
Its user base includes a wide age range of single people - including Gen Z, millennials, and baby boomers.
In 2018, Match reported that a quarter of members are under 30 years old, and a quarter is over 50 years old. Even with the data fluctuating every year, it's clear that this dating app has a fast-growing demographic.
Additionally, the number of members who have kids versus those who don't have kids is almost even, which is true of the gender ratio. An equal number of men and women are active on the site, implying that one gender doesn't have higher quality matches than the other.
Hands-off approach
When going through the sign-up process on Match, the initial questionnaire should only take about five minutes to complete, making it quite different if you were to compare eHarmony to this approach.
Most of the questions will not touch on highly personal details or overwhelming life outlooks. Match prefers to focus on your personality traits and how they align with your dating interests.
This hands-off approach empowers you to do the digging and take control of your love life. You can get into the nitty-gritty stuff like communication style, religious beliefs, etc. after the initial connection is made.
At the same time, you can tell Match specifics on what you're looking for in a partner and what your non-negotiates are - like a cigarette smoker or someone who doesn't want children. Match will then skip over these types of user-profiles entirely, ensuring you're not paired with someone you have nothing in common with, hence narrowing your dating pool.
High-quality swiping system
When using the Match interface, you can opt to see one person at a time and swipe left or right depending on your interest.
As you continue to swipe through various users, Match will keep track of your skips and saves. Then the site will start to pick up on patterns about what you like based on the people you've come across.
This type of matching system is formed by ongoing data when suggesting your following selection of daily matches. This way, you can easily find someone who is compatible and shares similar dating goals.
Discover page
Match also offers a "discover" page, where you can explore and search for numerous profiles. You can filter search results based on hobbies, looks, lifestyle, and much more.
It's similar to something you would find on a social networking platform, like Facebook or Instagram.
This feature is in line with Match's hands-off approach, giving each user the freedom to take charge of their dating lives.
Match cost
Match offers relatively reasonable prices, further showing its commitment to helping singles find a love connection.
The cost to use Match is as follows:
$35.99 per month for a 1-month plan
$19.99 per month for a 3-month plan
$17.99 per month for a 6-month plan
$15.99 per month for a 12-month plan
Match vs. eHarmony FAQs
Is Match or eHarmony easier to use?
eHarmony has a slightly more straightforward interface to navigate.
Even though eHarmony doesn't have an advanced search function like Match, it has a robust algorithm that does all the work for you. The site presents suitable matches based on your compatibility quiz, making a manual search outdated and unnecessary. If you're uncomfortable with technology, eHarmony will be easier to use.
The user interface and member homepage on eHarmony are also sleeker. That doesn't mean you will have trouble finding what you need on the Match homepage, but eHarmony simply has a more updated and modern look.
How do these online dating sites' features compare?
These two dating giants are pretty stacked in terms of features and services.
List of eHarmony features
View unlimited photos from other members
Unlimited messaging
Find matches by preference or location.
Detailed personality profile and scoring system based on the Compatibility Quiz
See who has viewed your profile.
Free profile review within 15 days of sign up
Access to video chat
List of Match features
Read receipts on messages
Video dating feature
"Real Chat" tool with icebreakers to ease you into interactions
Search for and receive more matches
Send and receive winks.
Keep track of your connections with the favorites feature.
See who has viewed your profile or favored your profile.
Between the detailed user profiles and messaging system capabilities, the two dating platforms are pretty even.
What gives eHarmony the slight edge is its matching comparison tools and questionnaire.
Plus, the matchmaking algorithm is thoroughly tested and provides a unique approach to the already oversaturated landscape of dating sites.
Which of the two dating sites has the best sign-up process?
The Match vs. eHarmony sign process is probably where these sites differ the most.
Match offers a 5-minute quiz that primarily asks basic dating and personality questions.
eHarmony, on the other hand, has a five-part compatibility test with several hundred questions for you to answer.
Even though it's lengthy and time-consuming, eHarmony can find higher quality and more compatible matches to give you a better chance of finding your one true love.
Does Match and eHarmony both have high-quality matches?
Mature and committed singles looking for a long-term relationship make up most of the user base on both sites, resulting in high success rates for eHarmony and Match.
When breaking it down to actual numbers, Match has over 39 million users on its platform while eHarmony has only 29 million.
Who has the best messaging system?
While both messaging systems are safe and secure, there is a slight difference between the two approaches.
Match gives you your email address, so you don't have to give away your personal information.
And eHarmony allows you to send winks and automatic questions if you run out of ideas of things to talk about.
But, both platforms offer video chat features and extensive messaging capabilities to help you virtually date through a face-to-face online chat.
Is eHarmony or Match More Expensive?
The cost comparison between eHarmony and Match is quite significant.
eHarmony offers various options - including an annual subscription that costs $35.90 per month, $25.90/month for a 24-month plan, or $59.90/month for six months.
Match is more affordable, giving you the option to pay $35.99/month for a monthly account, $19.99 for three months, $17.99 for six months, or $15.99 a month for the annual subscription.
While eHarmony is the more expensive option of these paid online dating sites, it does offer new users the opportunity to test the service with its free trial.
Match vs. eHarmony Conclusion
The debate between Match vs. eHarmony is a valid one.
Each provides quality services to help members on their quest for love.
We like how Match offers affordable and versatile membership plans to fit any budget and puts the user in control of their search. With eHarmony, we are drawn to its hyper-focused approach to personality and compatibility.
Even though it is very close, we believe eHarmony wins and will give you the best shot to find love compared to the other dating sites.