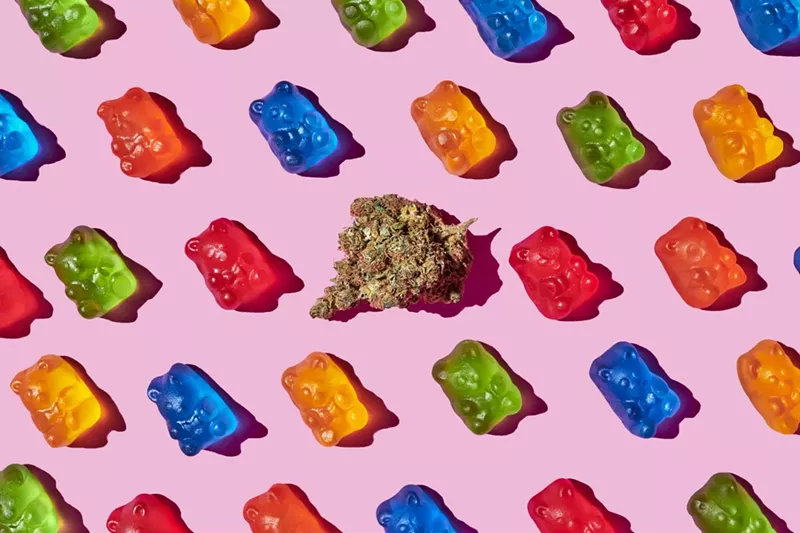 After a long week of work and attending to obligations, sometimes you want to kick back and relax. Many people are finding relaxing to be more complicated than it should be. These days, there are so many things to think and worry about. As a result, there are a lot of people looking for ways to be able to decompress and enjoy themselves a little.
Delta-8 gummies could be just the answer. The gummies are made from delta-8, a cannabis compound that closely mimics the effects of THC but without the same intensity. As a result, you can get some of the relaxing feeling you would get from THC with delta-8, which is legal in areas where it is derived from hemp. It's just a compound off from delta-9, which is responsible for the typical cannabis experience, which not everyone finds ideal. If you're trying to get the relaxing feeling of THC but don't want THC in your system delta-8 might not be for you. Delta-8 can still show up on a drug test as weed so you'll want to detox to take a test. Delta-8 gummies are also typically vegan, which assures worried parties that all consumption is ethical consumption.
When buying gummies, you want to make sure you're getting the best delta-8 gummies that are available. Here are some notable delta-8 THC picks so you can legally unwind and enjoy your downtime.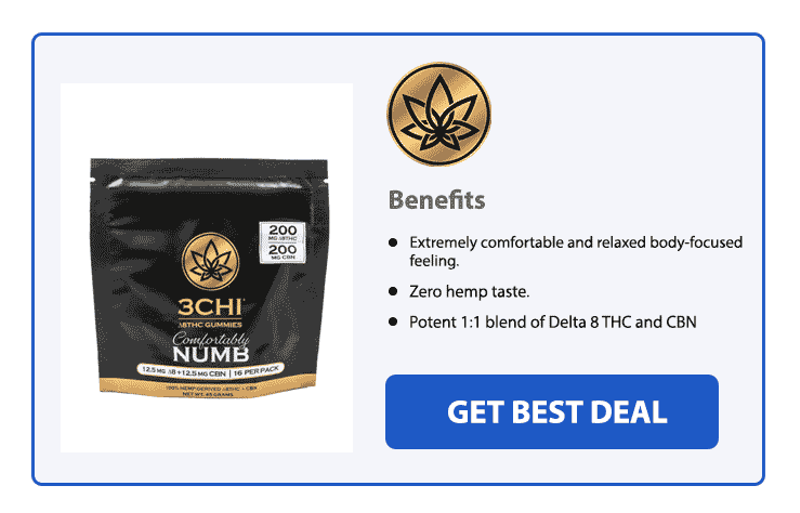 Serving Size: 1/2 to 1 gummy
Package Size: 200 mg or 400 mg
Comfortably Numb delta-8 gummies contain a 1:1 blend of delta-8 THC and CBN at 25 mg of delta-8 THC and CBN combined in each gummy. They are available in raspberry, watermelon, and black flavors.
Fans of these delta-8 THC gummies love that they bring a chill feeling that makes it easy to relax, especially if you're getting ready for bed. You can feel the effects without feeling overpowered by them. Those who have tried Comfortably Numb gummies enjoy that there's no hemp aftertaste, which many lesser delta-8 gummies are loaded with. These gummies aren't heat resistant, so you want to make sure you store them in a cool, dry place.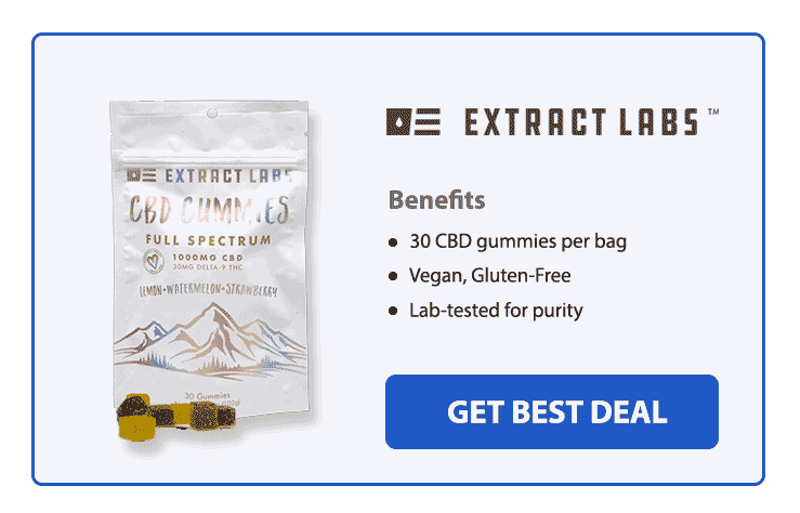 Serving Size: 1-2 gummies
Package Size: 990 mg
Customers that have tried Extract Labs Full Spectrum CBD Gummies love that you can count on consistent effects with their product. There are great-tasting flavors, such as strawberry, watermelon, and lemon. Extract Labs products undergo serious lab testing to ensure you're getting quality that's safe and effective.
Full-spectrum CBD gummies allow you to enjoy the experience of the full spectrum of minor cannabinoids, including delta-8. These gummies also include other hemp plant compounds that help you enjoy the relaxing, pain-relieving qualities of an experience many people look for. Many have loved how the Full Spectrum CBD gummies are great for unwinding after a long day and providing an easy transition to sleep.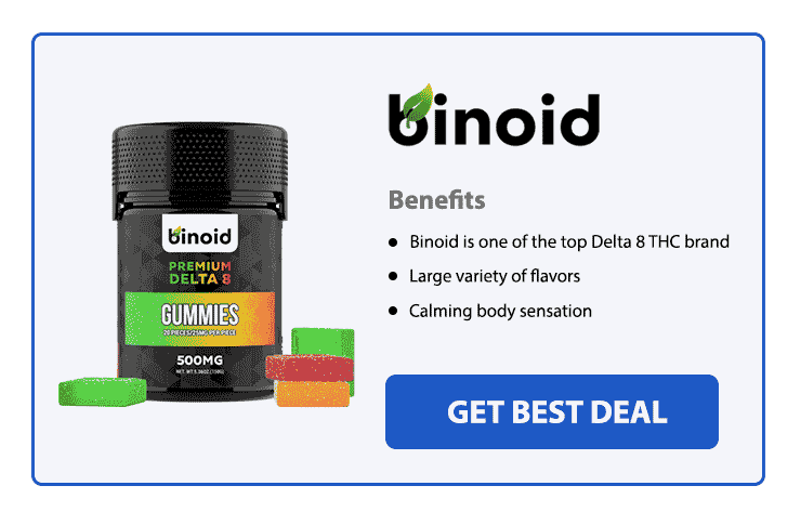 Serving Size: 1-2 gummies
Package Size: 500 mg
Binoid CBD delta-8 THC gummies are infused with Delta-8 to bring 25 mg of delta-8 THC per gummy. They're available in flavors including peach, sour pineapple, and watermelon. These gummies are 100% vegan. They have high bioavailability, which makes them easier to be efficiently absorbed into your system.
Binoid CBD delta-8 THC gummies go through aggressive third-party labs testing to ensure their claims. Reviewers love that these gummies have a calming effect while still providing an overall uplifting and motivating feeling.
Serving Size: 1-2 gummies
Package Size: 625 mg
Moonwlkr D-8 Gummies are a huge hit with fans who love how their many flavors compliment and mask the earthy tones a hemp-derived gummy sometimes has. If you're looking to get zen, fans of these gummies say it's perfect for you. It delivers a calming, soothing sensation that helps put both body and mind at ease. Those who use it to help get ready for bed recommend taking one an hour before you're ready to sleep and enjoy easing into that relaxed state.
Moonwlkr's customers also rave about the excellent customer support they provide. Their live chat can answer many questions rapidly and email inquiries are typically answered within hours.
Serving Size: 1 gummy
Package Size: 1250 mg
Diamond CBD is known as one of the industry leaders in CBD products, having a long history that customers can trust. The delta-8 gummies have 10 mg of CBD isolate and 10 mg of delta-8 THC. Combined, they provide a wonderfully relaxed but euphoric feeling while leaving customers loving the different flavors available.
Reviewers love all the added health benefits these gummies pack, thanks to the natural and organic ingredients they use. It makes many reviewers feel like Diamond CBD is a brand that truly cares about customer health and safety.
Serving Size: 1/2-1 gummy
Package Size: 200 mg
Delta Effex Delta-8 THC gummies are great for those who are still new to trying delta-8 THC gummies. These gummies are uniquely bioavailable because of the process Delta Effex uses to create the gummies, resulting in an easier and more consistent absorption into your system. They are enhanced with naturally occurring plant terpenes, increasing the benefits your body can reap from the hemp plant while also boosting the delta-8. Reviewers have noted that the effects of this are felt more gradually, taking up to two hours to fully feel it.
While these gummies are certainly relaxing, they aren't necessarily for nighttime consumption. Some customers have found that incorporating them into their day helps them manage the stress and anxiety that present themselves throughout the day.
Serving Size: 1 gummy
Package Size: 600 mg
Everrest delta-8 Gummies are 100% vegan, easily bite-sized, and a fan favorite among delta-8 THC gummies. Organically farmed cannabis and other organic materials are given the white-glove treatment from the very beginning. These organic ingredients and sustainable processes promise to bring the best quality delta-8 gummies to customers, and they even undergo third-party testing in pursuit of that.
Reviewers love the fact that you can still feel strong euphoric feelings from these gummies while reaping the benefits of the qualities that help you relax. They're great for spending those last few hours of your evening before turning in for the night.
Serving Size: 1 gummy
Package Size: 600 mg
Bearly Legal offers a wide variety of delta-8 gummies in different flavors, so there's something for everyone. Reviewers love these delta-8 gummies like that you can feel the body effects without feeling too heady at any point. Many feel it's helped with anxious feelings that appear without warning and linger, helping make them manageable. The dosages are consistent, which means you can count on having a similar experience every time.
While the doses are consistent, some reviewers warn that they may be a bit high for a beginner. On the other hand, if you're more seasoned in the delta-8 game, these can be a great choice for you that gives you more bang for your buck.
What is Delta-8?
Before choosing the best delta-8 gummies for you, you might be wondering what the difference is between delta-8 gummies, THC gummies, and CBD gummies. Delta-8 is a popular cannabis compound that very closely imitates the effects of THC (delta-9 THC). You get the relaxation and euphoric feelings you'd expect from delta-9 THC because the compounds share close molecular structures. Delta-8 delivers all the upsides of delta-9, but with effects that aren't as strong for those with little or no experience.
Before you purchase anything, make sure to check the legal status of delta-8 in your area. Delta-8 is legal federally in the United States like CBD. However, because it can be derived from hemp or cannabis, the laws around it vary from state to state.
What is CBN?
CBN (cannabinol) is a compound that forms as THC ages. CBN has its own set of benefits and effects. It's believed to be a potent antibacterial product. It's also been found to be a powerful neuroprotectant that's even being investigated as a possible treatment for ALS. It's also been studied as an appetite stimulator, treatment for glaucoma, and anti-inflammatory. Contrary to popular belief, it isn't an easy way to fall asleep. It's only when CBN combines with THC that it acts as a sedative.