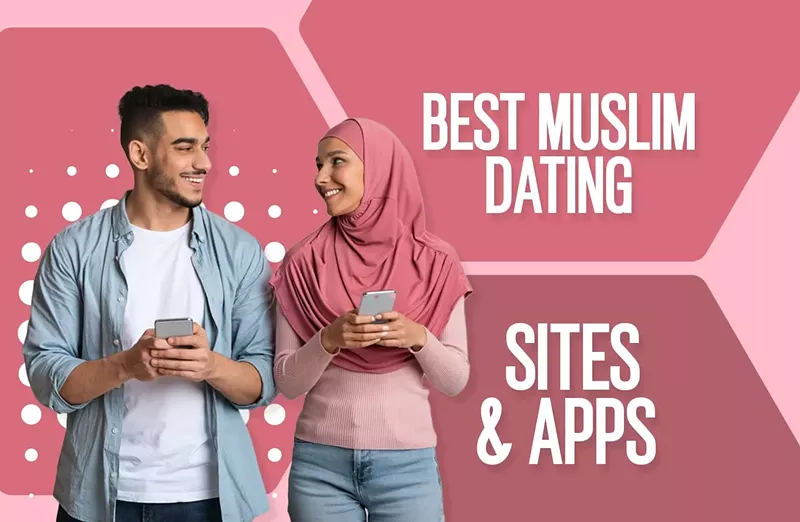 The world offers a buffet of dating options, whether online dating through an app, getting set up through mutual friends, or bumping into your one true love at a coffee shop. While the options are seemingly endless, the search for a significant other can still be tough.
For Muslim singles trying to balance their desire for love with the expectations of their culture, the dating scene gets even harder. Some of the dating sites and apps are trying to change that.
Still, many young Muslims have parents and grandparents who adhere to more traditional and strict dating rules. These family obligations come in the form of arranged marriages. This pull to your family's expectations can be quite strong for many Muslims.
That's why many Muslim singles are turning to dedicated Muslim dating sites and apps, where they can find others who share similar values and beliefs regarding love and outlooks on life.
It's a nice compromise between Muslim men and Muslim women who want to have a voice in their relationships, in addition to their family's long-standing cultural and religious ideals.
Without further ado, check out our list of the top Muslim dating sites and apps in 2021 and our review of each.
Muslim Dating Sites and Apps
eHarmony is a popular dating website, with over 66 million members. The gender ratio is nearly equal, making this a great option for both Muslim men and women.
While it's not a dedicated Muslim dating site, there are plenty of members looking for a committed, long-term relationship. It's a great resource to meet new people and possibly connect with your future spouse.
It's widely used among many singles across the country, with various backgrounds, cultures, and beliefs, making this a viable option if you're interested in marriage-minded people.
Registration Process
While other online dating apps permit you to sign up and create an account in under 5 minutes, eHarmony does the complete opposite.
You will need to fill out a detailed personality and compatibility questionnaire upon registration. This quiz consists of various questions, including your interests, hobbies, and dating goals.
Based on your answers, eHarmony will curate a list of matches that they think you may be compatible with. These suggested matches are all determined by their advanced algorithm and matchmaking technology. Most of the time, there will be several users who will want to connect with.
Other Perks
eHarmony Dating App
eHarmony also offers users the option to use their dating website via desktop or as a mobile app. The dating app is compatible in the App Store or via Google Play.
It closely mimics the interface of the website, with its clean and easy-to-use layout. You should have no issues using the platform for on-the-go, convenient online dating.
Minimal Ads
eHarmony aims to provide its users with the best online dating experience possible. This includes using either their dating site or dating app.
It features minimal ads, so it doesn't affect your ability to focus and find the partner of your dreams.
While RichMeetBeautiful is not technically a dedicated Muslim dating site, it's still a great place to meet other Muslim singles.
It's only natural to be drawn to like-minded singles and Muslims who share beliefs, traditions, and heritage. These couples can connect more deeply when their spouse understands the rich practices of the Muslim culture and Islam religion. Well, RichMeetBeautiful is a great place to look for this.
This online dating website makes it easy to search for a partner, providing instant access to thousands of Muslim singles in your area.
Registration Process
This dating site can guide you to either long and fulfilling relationships or something more casual if that's what you prefer. It targets established, stable men and women who are looking to enjoy the company of younger and attractive individuals.
The registration process is easy, quick, and completely free. To get started, you can sign up using your Facebook account or email address. After that, you will need to come up with a username and password.
There is no in-depth personality test, but you will have a series of questions that should take around 2-5 minutes to complete. These questions will ask you whether you're interested in men, women, or both, as well as what kind of lifestyle you live.
After you have finished the registration process, you can choose to further complete your profile. This is your chance to explain that you are on the search for Muslim singles, who share similar beliefs.
Other Perks
Free Muslim Dating Site
You can register and try the RichMeetBeautiful dating site for free.
There is an option to upgrade to a premium membership, but many of the services and features can be done with a basic account, including:
Search for other members
Send winks
View of photos of members
Upload photos of yourself
Read the site's blog
To send and read messages with other members, you will need to upgrade to a premium subscription.
Quality Search Filters
The search filters on this dating site are comprehensive enough to narrow down your search for Muslim singles specifically. Plus, any of the search filters applied will be automatically saved, so you won't have to redo everything the next time you log on.
Muslima is one of the best Muslim dating services. With over 4.5 million members, you can find exactly what you want on Muslima - whether that's to get married or simply connect with other single Muslims from around the world.
There are plenty of young Muslim singles around the age of 25 or older you can get to know, as well as several divorced Muslims who are looking for a second chance to find love. Most members are looking for a Muslim marriage.
This Muslim dating site focuses specifically on connecting single Muslim men and Muslim women. This means you can rest assured knowing that any time spent on this Muslim dating site will not be wasted on someone who does not align with your values.
Registration Process
Muslima has a pretty straightforward verification and registration process. You can sign up using your Facebook account or via email. Either way, you will need to fill in all the required fields, including full name, email address, gender, and age.
After registering, you will have a list of items to complete your profile dashboard. This part of the process can be tedious, but it will help other members of this dating service get to know you. Once your profile is filled out, the site will work to verify you as a member and start suggesting potential matches.
This free Muslim dating site will allow anyone to sign up regardless of their religion. But, since the site is designed for finding Muslim marriage, the non-Muslim members must be open to converting to Islam. You will have the option to explain your religious beliefs on your profile.
Other Perks
Detailed profiles
There is no personality test when signing up, making the information and details written in your profile very important.
Members will outline their interests, preferences, and religious beliefs in-depth. This will help you navigate through potential matches easily. You'll immediately know whether the individual is compatible and aligns with your religious values.
Robust matching algorithm
Based on the personal information in your profile, the Muslima algorithm will provide you with a match that aligns with your expectations. This will help you find a compatible match faster and easier.
OneNightFriend is the preferred dating service for singles who want to find a mutually beneficial relationship. This is ideal if you want to match either a financially successful individual or an attractive person.
While it is not one of the specific Muslim dating sites, there are plenty of single Muslim women and Muslim men to be found on this platform.
There are plenty of background procedures and other verification processes to ensure you are connecting with members who meet your non-negotiable checklist items, including religious beliefs.
Registration Process
Upon registration, you will need to provide some personal information before becoming a member. This includes your email address, gender, sexual orientation, and your expectations for possible matches.
You will also need to upload a profile photo, which is subject to approval. Once the photo has been approved by the site, it will be immediately uploaded.
You can also choose to connect your dating profile to your social media accounts, including Facebook, Instagram, and LinkedIn. This will help your profile stand out, adding a layer of legitimacy to your account.
Other Perks
Many free features
Everyone can try this dating service for free. If you're a woman, you can even send free messages. Some of the other free features include:
Registration and profile creation
Match searching
Quality security features
Because this site is meant to connect singles for in-person dating, the safety and security measures are extensive. Just about everything on your profile, including photos and income, must be properly vetted and verified.

EliteSingles is a very popular site among single Muslims. So, if you're looking for Muslim marriage, this dating app may be a good place to start.
If you want to get the most of your time, it's worth investing in the premium membership option. While it's slightly expensive, a premium account will afford you access to many features and tools that will make your search even easier.
For example, you can send an unlimited number of messages to other members, receive match suggestions based on your interests, and get confirmation when one of your messages has been read.
Overall, this is a great spot for those that are serious about meeting and engaging with single Muslims online.
Registration Process
While a premium account is recommended when using this site, you create an account completely free. This will help you try out the platform before committing to the fee-based service. You will need to provide your name, email address, date of birth, and more.
Additionally, the site aims to verify every single profile to ensure trust and comfort while navigating through the platform.
Other Perks
Mobile app available
EliteSingles has a quality mobile app that is available to all members. It is compatible with iOS and Android devices. This will make viewing profiles and messages for other users much simpler.
Frequent match suggestions
Based on your personality and dating goals, EliteSingles will send you 20 match suggestions per day. These are people that the site has deemed compatible with you.
From there, you can choose to further connect and message the member.

AdultFriendFinder is another dating app that's available for everyone, regardless of religion. Even though it's not a dedicated Muslin dating app, it is one of the largest dating apps with over 80 million members. This means it can be used to find Muslims around the world.
For instance, if you have certain requirements when it comes to religion in a relationship, it is something you can explain in detail in your profile.
It should be noted that most of the users on AdultFriendFinder are open to all kinds of arrangements, from casual dating to monogamy. It's best to communicate your dating intentions from the start.
Registration Process
AFF has a quick and easy registration process. It only requires you to provide some basic information about yourself, including age, location, sexual orientation, and gender. Everything can get done in under 5 minutes.
Other Perks
Responsive customer support
If you have a question or concern, you can easily reach a customer service agent via phone or email.
Welcoming platform
Nobody passes judgment when using this dating app, regardless of sexual preference, kinks, or religion.
This free Muslim dating site is all about facilitating relationships, friendships, and a greater sense of community.
Registration Process
Salaam sets itself apart from other Muslim dating sites with its extensive registration process. It includes 100 questions that dig into your background, interests, politics, personality, and more.
This may sound time-consuming and tedious, but it's designed to help you find a Muslim partner who shares your beliefs. Many users value faith and are looking for something more long-term, like marriage.
Other Perks
Browse and make matches for free
This free Muslim dating site helps you virtually connect with thousands of like-minded singles all for free.
MuslimMatrimony is an online dating site that's very popular among singles from India.
Most users prioritize the Islamic faith, culture, and family ideals. They want to find a long-term relationship with someone who also follows these traditional rules.
Registration Process
Signing up for MuslimMatrimony is quite easy and can be completed in a matter of minutes.
You can register for free, however, access to most features will require you to upgrade your account. The memberships are pretty affordable, starting at $93 for a 3-month membership.
Other Perks
Easy-to-use website
The website is designed to be user-friendly, so users who are not very tech-savvy can easily navigate through the interface.
Free Muslim Dating Apps Conclusion
For a Muslim single that holds traditional Islamic values, it can be difficult to find a compatible match in the world of online dating. Luckily, there are various dating apps for Muslims with users who also belong to the Islamic faith and share similar outlooks on life.
Using Muslim dating apps can increase your chance of success. We recommend the Muslim sites listed above for quality matches and a pleasant online dating experience.