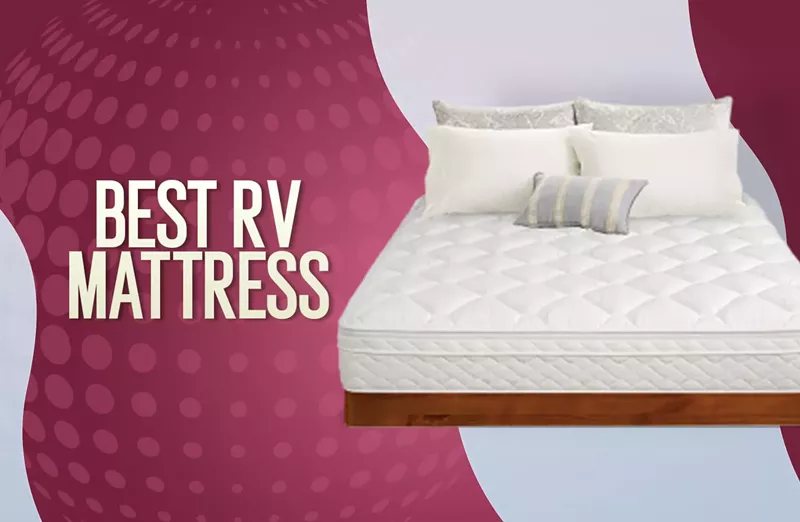 There's nothing like hitting the wide-open road in your RV. You can go almost anywhere with it while being able to use it as your home on wheels. Since it is your home away from home, you might as well sleep on a decent mattress.
RV mattresses might not always be as comfortable as some would like. If you're looking for a new RV mattress, finding one that's both comfortable and affordable are musts.
We've done the hard work for you. We reviewed seven of the best RV mattresses that come highly recommended. See if you find one you love today.

The Top Best RV Mattresses:
You can expect to learn more about these top recommended RV mattresses.
Talking about eco-luxury is easy to do, especially with the Eco Green Mattress. The mattress is layered, with a special cover to provide a blissful night's sleep. You will get full back and body support as soon as you lay down.
The outside organic cotton cover keeps the inner layers cool, comfortable, and clean. The natural latex outer layer offers that smooth, comfortable finish. The CertiPUR certified PlushFoam is the layered cloud cushion.
The Fiberglass-Free Eco Fire Barrier is just one of the many features that keep you safe. The mattress is GreenGuard Gold Certified, meaning you will breathe easier while on the mattress. Absolutely no chemicals are used in the making of the beds, which is why so many people choose Eco Green.
Offering plenty to the user; the Eco Green 8" Natural Latex RV mattress comes highly recommended. The mattress keeps you comfortable wherever you are. Made to fit inside standard RV rigs.
Pros:
Completely organic, with no chemicals used in production
Offering numerous certifications
Comes highly recommended as being one of the most comfortable RV mattresses
Cons:
Some might find the mattresses expensive
The stretch bamboo cover can sometimes be difficult to put on
The mattress might heat up with your body heat
The Deluxe 8" Memory Foam RV mattress is often chosen because of the thick feel that supports your spine. This supportive mattress easily sits in your RV's bedroom.
This specific mattress is organic, with a cotton cover offering protection. Designed to support the body in all the right places, yet soft to the touch, it is ideal for any type of sleeper. Stop twisting and turning, and choose a mattress that provides support.
Sleep cooler with the CertiPUR-US® memory foam, along with the GreenGuard that helps to release the heat from the foam. No need to worry about heat build-up on hot nights. Yet, it keeps you warm on those chilly nights.
There is a lot offered by the Deluxe 8" Memory Foam RV mattress. Get the sleep you'd expect from such a quality bed.
Pros:
Keeps you cool on hot nights, and warm on chilly ones
Completely free of dyes and chemicals
Highly regarded as a quality RV mattress by experts
Cons:
The price point might be too high for some
The cover is sometimes hard to put on
Hard to move because of size
The GhostBed RV mattress is one of the best mattresses for your RV on the market. Fitting perfectly within almost all RVs, they're the perfect mix of comfort and luxury.
This mattress offers a medium-firm feel which doesn't give the cloud feel but will offer support. Wake up with fewer aches and pains with the many supportive pressure point areas it has. Everyone wakes up happier with a GhostBed.
Made with gel memory foam, this helps to keep the bed and person cooler. Used in the hot weather months, this bed will keep warmer sleepers from sweating. Comfort has been redefined by the GhostBed RV mattress.
Sleep comes easily with the GhostBed RV mattress. Made with campers in mind, the mattress provides the perfect mix of comfort and camping life. Find the perfect mattress for all of your outdoor adventures.
Pros:
Well known RV mattress brand
Offers support other mattresses don't offer
Gel memory foam to keep sleepers cool
Cons:
The gel memory foam might not be for everyone
Doesn't come in many size options
Higher price point for some
Offering comfort and the perfect fit inside your RV, the ORB Performance Hybrid mattress takes sleeping to a new level. You won't even know you're camping with how good you feel.
From twin to California king; you can have a mattress that fits your needs inside your RV. The smart fabric performance cover is what protects the mattress itself. Five layers come together to create a supportive mattress for any person.
The difference with ORB is that not only do you get to choose your size but your firmness. You choose how soft or firm you want the mattress to be. Depending on how you sleep, firmness might be best over softness.
If you're looking for a quality mattress that provides superior comfort; you're in the right place. Find the perfect hybrid mattress that slips into your RV perfectly. Shop ORB Performance hybrid mattresses today.
Pros:
Many, many sizes to choose from
The comfort is superior compared to others
Free, quick shipping
Cons:
Higher price than other options
Cover can be hard to put on at times
Have to choose specific firmness for the best fit
The Linenspa 8" Memory Foam mattress will make you stop twisting and turning. You can sleep in comfort and confidence on a Linenspa mattress.
Coming in a queen size, you can sit the mattress inside any bedroom within the RV. The medium-firm mattress hugs and holds the body where it needs. Never wake up with aches and pains due to pressure points being triggered.
Choose the profile that you feel the most comfortable with: eight, 10, or 12. Each one has a different firmness level, offering a plush level for those who want to sink into the mattress. They're customizable to your comfort level and needs.
Comfort is just around the corner with this Linenspa memory foam mattress. This mattress offers superior comfort for an affordable price if you're on a tighter budget.
Pros:
One of the most affordable options
Customizable to your comfort level and needs
Perfect fit inside any RV
Cons:
Less known RV mattress brand
Can't choose different sizes
Might not be ideal for every sleeper type
Finding the right RV mattress is done by doing a bit of research. This Best Price mattress is six-inches of comfort at any level.
Made specifically to fit inside your RV, this short queen-sized bed is perfect for a comfortable night's sleep. Your weight is evenly distributed throughout, so you feel like you're sleeping on a cloud. Relax your body and slip into dreamland.
The mattress itself comes with a 10-year limited warranty. The CertiPUR certification also makes sure it is clean, safe, and eco-friendly.
Get more from the use of this mattress. With a great price, comfort level, and more; it is the bargain RV mattress for everyone. Shop the options today to find the best one for your needs.
Pros:
Clean, eco-friendly option
Great price point for many on a budget
Feels like your sleeping on a cloud
Cons:
Cannot choose sizes or comfort levels
Might not be thick enough for some
Depending on your sleep style, it might not feel comfortable
Enjoy sleeping on a cloud in comfort with the Brooklyn Bedding Wanderlust. Wanted and loved by many RV families alike; it is a mattress worth mentioning. Offering plenty of benefits; it is one for everyone.
Made with a Nano Stain Terminator layer, you can protect the mattress from spills even without a cover. The gel swirl memory foam allows for proper air movement in the mattress. This helps keep warmer sleepers cool.
With many different sizes to choose from, they give the most in customization. You can also choose how thick you'd like your mattress to be. You determine your own comfort level with the Brooklyn Bedding Wanderlust.
Look no further than here with the Wanderlust. It has everything you want for a great night's sleep and more. Shop the many options today to find your perfect match.
Pros:
The best comfort level options
Many different sizes
Great prices for all options
Cons:
Might not be what you're looking for
You might have to try different firmness levels to get it right
There is not a removable cover that can be used for protection
Frequently Asked Questions:
1. Do I need a special mattress for my RV?
It is not necessary to have a special mattress for your RV. You can fit a traditional-sized mattress inside RVs in most instances. However, this does not leave much space in the bedroom.
Many choose RV mattresses because they provide a shorter length. This allows for more room to open up at the bottom of the mattress. This is why RV mattresses are made with space in mind.


2. Can I use an RV mattress as a regular mattress?

If you want to use an RV mattress inside your home, you can! There is nothing against using an RV mattress as a regular mattress at home. There are only slight differences in doing this.
Expect the mattress to be smaller and most likely shorter. This is because it was made to create space inside the room. It helped keep the bed shorter for more room below it.
3. How thick should my RV mattress be?
RVs come with standard mattresses inside them already. These are only five to six inches thick usually. This is not as comfortable as a mattress you'd sleep on at home, which is why many owners choose to upgrade.
It is recommended to replace the standard mattress that the RV comes with a thicker one. You can choose the thickness and firmness level of the mattress this way. Some even choose thicknesses twice the size of the highest level, at 12 inches.


4. Can I use regular mattress sheets on an RV mattress?
Regular mattress sheets can be used on RV mattresses. However, since the size differs, the sheet might be a bit large. This should not be an issue though.
Purchasing RV mattress sheets is another way to go. This way, you know the sheets are going to fit your mattress perfectly. You can slip them on and slip into bed easily without worrying about extra fabric from large sheets.
5. Do I have to think about how much an RV mattress weighs?

Yes. RV mattresses tend to be lighter in comparison to traditional mattresses. They have to be towed around inside the RV, and can cause the weight inside to rise.
This is mostly why people choose RV mattresses instead of traditional ones. Less weight is easier to pull and better on the vehicle. They were made to be light.
Conclusion
Finding an RV mattress does not have to be hard. Read more reviews to find out what others think. You can make an informed decision on which is best for you.
All of these above options are ideal for any sort of RV. Find the perfect fit when you try some of them out for yourself. Many come with 100-day trials, try for yourself! In our opinion, you can't do much better than the Eco Green eight-inch Natural Latex mattress.