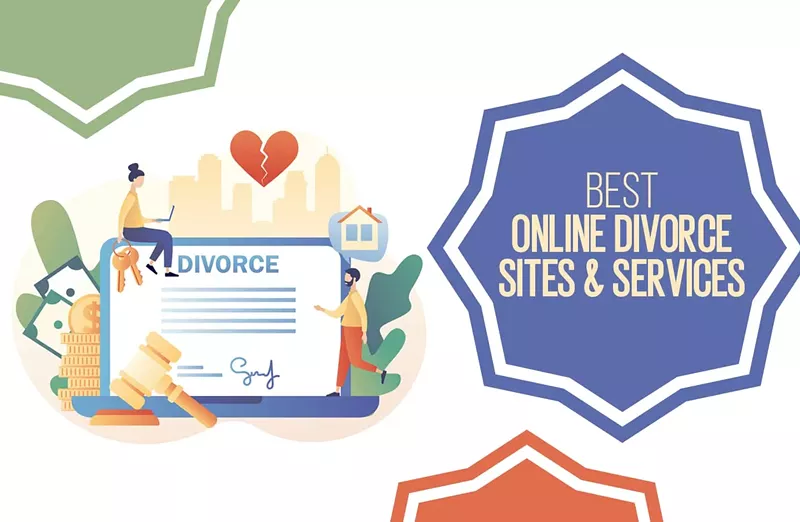 Divorce is something that can be difficult, but it doesn't have to be. In this guide today, we want to break down everything you might want to know about using an online divorce service. We'll touch on the good, the bad, and the ugly — because you deserve to know it all.
Then, we'll go into detail on which online divorce service. We've narrowed it down to 7 of the best online divorce sites online. Not every service will fit every person's situation, which is why we chose 7. Giving you multiples to choose from puts the decision more into your hands!
Now, let's dive into our comprehensive guide on the best online divorce services.
7 Best Online Divorce Services
Here is our list of the top, best online divorce services that we'll be reviewing in this guide today:
What You Need to Know When You File Divorce Online
In this guide, it's our goal to answer as many valuable questions regarding online divorce as possible. The most common questions we get are:
What is the best online divorce service?
Is online divorce the best option for you?
So, to best help you understand, we want to tackle an explanation of online divorce. What is it? How can you take advantage of an online divorce service? Don't worry, we've got you covered.
How Does Online Divorce Work?
Everyone is different, but most online, reputable divorce sites have a similar 3-step system.
Step One
First, they'll determine your eligibility. Some divorce sites are only available in certain states or areas. During this step, you'll just be submitting basic info and what state you live in. This will also help services understand if you qualify for an online divorce.
Step Two
Next, you'll complete an online interview. This is where they get into more detailed questions, like your marriage, assets or debt, and children, if you have any.
Some online services will offer helpful explanations as they walk you through this part. Overall, prepare to be at this step for about an hour.
Step Three
Finally, step three is to file those divorce papers once you obtain all the complete forms! A good online divorce service will provide you with access to your completed divorce forms. You'll be given instructions on how to file in court. If you opt for a premium service, some divorce websites can even tackle the filing for you.
Can You File Divorce Online?
In short, yes, you can file for divorce online in most states. Any number of these online divorce services can provide the proper divorce forms for your situation. They also help guarantee that your filing will be approved no matter what state you're in.
Who Should Use Online Divorce Services?
Now, of course, online divorce isn't mean for everyone. You're only eligible for an online divorce if the divorce is uncontested. If your spouse and you can reach an agreement with zero issues, you're good to go.
Divorce can often be more complicated than that, though. Most online divorce services aren't able to handle anything complex.
You're an ideal candidate for online divorce if you:
Have a simple financial situation - no debt and no assets
Had a short-term marriage
Have no young children
However, if you don't fit this description, you may still qualify for online divorce. A hybrid approach, like some of the services we'll mention, is still a wholly viable option.
You'll find that online divorce can work for anyone if you find the right service for your needs. It's our goal to ensure you're fully informed so you can make the right choice.
The Pros and Cons of Online Divorce
Speaking of making the right choice, it's only fair that you're given utter transparency. We want to uncover both the pros and cons of using an online divorce service.
When we dive into the best online divorce services on the web, we'll look at the individual pros and cons. For now, we want to show you the advantages and disadvantages of using an online divorce site.
What are the Advantages of Online Divorce?
First, the advantages to using an online divorce website are many. Just to name a few, those advantages can include:
Save time doing it all online
A reduced level of stress and conflict, especially if the divorce is uncontested
You have greater flexibility and control over an online service
Typically, you can save money by choosing the online route. Save on expensive lawyer fees and a potentially costly legal battle
What are the Disadvantages of Online Divorce?
Next, there are downsides to everything in life. The biggest disadvantage to using an online divorce website is the lack of true legal advice.
Put simply, you don't know what you don't know. Unless they explicitly offer legal advice, divorce sites can only offer you the resources to do it yourself.
However, there are several sites on our list that offer legal advice in their packages. Some others we mention offer it a la carte or as an add-on.
How We Chose the Best Online Divorce Services
Our ultimate goal throughout this guide is to simply help you choose the best online divorce service. Everyone is different, so we try to accommodate a variety of different needs.
What features are the most important when you consider online divorce?
Chances are you're not looking to break the bank. If you're considering an online option, affordable is often part of the equation.
You understand just how complicated the legal process of divorce can be. What do you need in an online divorce service to get it done fast and easily?
We broke it down into different categories. The factors we looked at for each online divorce site included:
The overall security of the sites - is it SSL-encrypted?
The site or app's ease of use, as well as its interface
Customer reviews
Services offered
Customer support options and availability
Availability of completed forms - are they instantly available for download or is there a delay? Do you have to pay to have them mailed to you?
Any other resources or tools they offer, either with the package or a la carte
7 Best Online Divorce Service Reviews

Pros
Unlimited live support via email and phone
Massive library of free resources and helpful tools
Court approval or your money back - guaranteed!
Transparent, flat fee of $299
Flexible monthly payment options so you don't have to pay all at once
Cons
The interface feels a bit outdated
Customer support isn't 24/7

Pros
Secure, SSL-encrypted platform
Easy to use, with helpful legal citations and explanations
Well-established company with a strong track record of successful cases
Transparent, flat fee of $299, though it's $24.99/month after the first 30 days
A- rating on BBB, which is impressive for an online service
Cons
Have to pay extra if you want your forms mailed to you
Completed documents aren't available for instant download

Pros
A free 15-minute strategy call
Several different plans so that you only have to pay for the level of support you need instead of overspending
A personalized divorce plan is tailored to your unique situation
A helpful library of free resources for members only
Access to legal advice, though it's a la carte
Cons
Only available for California and Colorado for now, with plans to expand to other states
Relatively new compared to some of the other divorce sites on our list

Pros
Access to important resources like a directory of divorce professionals, support calculators, co-parenting calendars, and more
Ability to invite your spouse so that you can negotiate your settlement agreement together
Two plans, the Pro and Premium
Their Premium plan will file the documents for you and includes court filing fees
Both plans include serving your spouse the initial divorce papers
Cons
Compared to other divorce services, it's one of the newer companies around
There are more affordable options if money is an issue

Pros
One of the cheaper online divorce services
Provides services across all 50 states!
Low-cost, flat fee of $139
Cons
Additional fees incur for add-ons, including accessing documents past the first 30-day period
Rating of D- on BBB

Pros
Their divorce form prep service is a low flat fee of just $139
Provides services across all 50 US states, as well as five provinces in Canada!
Informational resources are available about a plethora of family law issues
Cuts out the bureaucracy and simplifies the divorce process to save you time and money
They've received high ratings from over 10,000 customers
Cons
Must handle the court filing and court filing fees yourself
They're not a law firm, so they technically can't provide any legal advice
Pros
Accredited with the BBB with an A+ rating
Offers a wide range of legal documents, including divorce but mostly targeted towards small businesses
Live chat customer service is an available option
Prepaid legal plans allow you access to legal advice
An excellent choice not just for divorce, but also for:

Wills and trusts

If you're starting a business

Securing intellectual property, including copyrights, patents, and trademarks
Cons
Flat fee of $499, which doesn't include court filing fees
The company doesn't specialize in divorce, so you may find more exclusive options elsewhere
Frequently Asked Questions About Online Divorce
We know the idea of divorce can be overwhelming. Especially with how complicated the legal process is, it can almost seem impossible. Fortunately, online divorce websites make it just a bit more possible. Do you still have some questions? That's okay, we have answers! Let's look at the most commonly asked questions when it comes to online divorce.
Are online divorce services legal?
Online divorce services are legal in all 50 states. Only some states allow a service to file online for you, though. In this case, you'll just have to do the filing part yourself.
Are online divorce services reliable and legit?
There are plenty of online divorce websites that are 100% legit and reliable. Using our guide, you'll want to choose one of the reputable online divorce websites that we mention.
Are online divorce websites cheap?
This is dependent on the website. In many cases, using an online divorce service is much cheaper than doing anything in person or with a physical attorney. However, some websites offer more premium services. These give you all the bells and whistles, but at a solidly higher price.
How long does it take to get a divorce?
Again, everyone is different. How long your divorce takes can be dependent on several factors. However, on average, an uncontested divorce takes 3 to 6 months. Whether you're using an online service or not, it's going to take at least 90 days.
What is the cheapest way to get divorced?
If you want to go the cheapest route possible, the most affordable way to get a divorce is to do it yourself. Unfortunately, that's not always an option. Understanding legal jargon and navigating through the legal process can be too difficult of a hurdle for some.
What other costs should you consider?
The cost of divorce doesn't stop here. Depending on the service you choose, there may be other costs to consider. In addition to an online divorce service, you'll need to pay the court filing fees.
Some online divorce service packages will have the court filing fees included. Make sure you know what you're signing up for before you do, though. It's not common for an online divorce website to include the filing fees. Likewise, you may not be eligible due to the state you live in.
Is it possible to save on court costs?
In most states, a court can waive your filing fees. This can be due to income or meeting some other hardship requirement. Make sure you check with your local jurisdiction to find out exactly what your financial limitations are.
Final Thoughts on Online Divorce Services
Online divorce is a fast, affordable option, which makes sense in the 21st century. The divorce rate is high, but the cost of divorce doesn't have to be. If it fits your needs, a DIY online divorce might be the most suitable option for you. Under the right circumstances, it's a solution that can save you time and money.
You may also consider a hybrid approach, like with 3StepDivorce or CompleteCase, if you have any complexity to your divorce. Though the cost might be higher, they're able to handle all the paperwork and filing nonsense for you. You'll also be able to work with a mediator or actual attorney for extra support.
As you can see, our list of the best online divorce services offered a plethora of choices. We hope at least one of these recommendations resonated with you. Take your time to do your research and find which online divorce service fits your needs best.

https://docs.google.com/document/d/1E1XVb8iV5NkGbcHmlkA02iHJ_e-mBA_x3q339aWxR3Q/edit