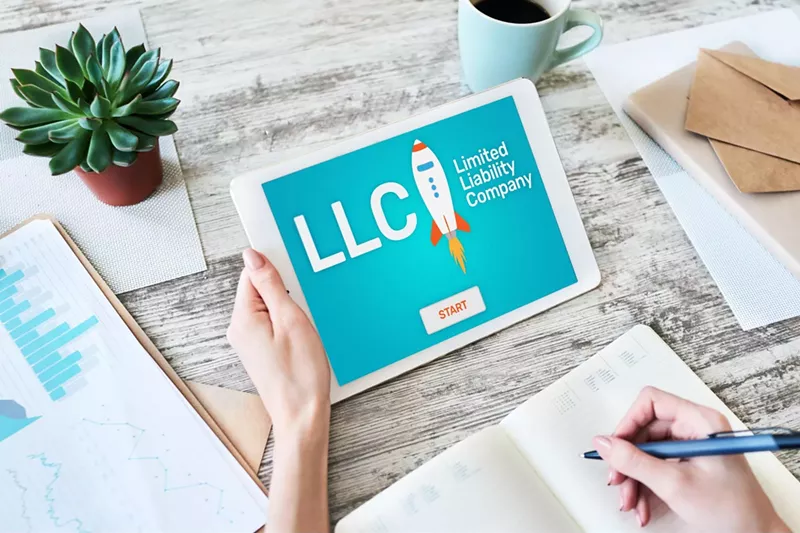 Limited liability protection is a valuable thing to obtain as a business owner and will play a key role in asset protection strategy. But the process to form an LLC can be an involved undertaking that requires state-specific paperwork or the assistance of a registered agent for LLC formation, if filing in another state. You may also need an operating agreement, bank resolution, or a business name audit, which all require accuracy and attention to detail. Overall, the process can be complicated.
You could form a limited liability company on your own, but it entails much time and effort. Some business owners will turn to an attorney to handle everything, which can provide you with specialized advice and insight. But these legal services do not come cheap. Using an online LLC filing company, instead, can provide you with the essentials needed to get the job done promptly and at a fraction of the price of an attorney.
There are dozens of LLC filing companies that can help you form an LLC. The only challenge is choosing the right service that will best fit your needs. It's important to consider several factors - such as price and filing fee, the company's reputation, customer support, and the overall value provided when using the service.
We've rounded up some of the best (and cheapest) LLC filing companies to help you figure out which company is the right choice for you and your pending business.
LLC Filing Companies 2021
How We Analyzed Online LLC Services
As mentioned earlier, using a reputable LLC service is one of the most effective ways to start an LLC. But, what makes a company reputable and worth it? Here are some of the factors we took into consideration when reviewing these services:
Overall Value
The pricing model of each company was one of the most important components we weighed. We compared price points offered by each company, as well as the features and services that come with that cost. Evaluating what you're getting for your money is essential. If the company can't provide a quality service, then everything else following is pointless.
Company Background
We also considered company history and background, analyzing when the business was established and its track record from then on.
Features and Services
The overall features provided and the quality of those services is a key indicator when evaluating the value of the LLC formation service package. For instance, some packages will include an LLC operating agreement, articles of organization, a federal tax ID number (EIN), and a registered agent service. All of which are essentials when forming your LLC, paying taxes, and opening various business bank accounts.
Formation Process
We took a look at the company's order process to form an LLC. Some companies simplify the process, making it relatively straightforward to complete. Generally, they streamline order paperwork and provide easy-to-read instructions. There is no questioning next steps or how to complete the process of the LLC formation. Other services can be more complicated and will host misleading advertising. These are some services to avoid.
Customer Service
The LLC formation process can be quite confusing, ultimately leading to many questions regarding the movement of the operation. That is why it's vital to use a company that has a responsive customer support team. If the company offers multiple avenues of customer service - such as phone, email, and live chat - it's a good sign there is quality customer support in place. Overall, we wanted to make sure the customer service teams are helpful, friendly, and responsive.
Customer Reviews
Positive client feedback is a huge indicator as to how the company does business and carries out its services. This is a big-ticket item when analyzing the LLC-forming companies listed above. We considered reviews on third-party websites, as well as the specific company website. We only recommended ones with strong customer feedback and reviews.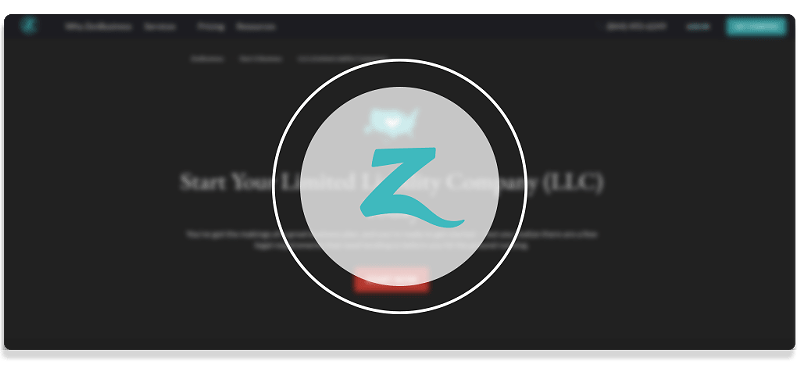 Overall Value
ZenBusiness is a great place to launch your business and form your LLC. With its suite of comprehensive services and a team of support experts, your business will be in good hands. Overall, ZenBusiness offers an excellent feature starter package, cheap filing fees, responsive customer service, a positive online experience, and accuracy guarantees.
The feature-packed starter packages cost around $39 for the first year and $119 for the following years. This package includes the essentials needed to form an LLC and registered agent service, operating agreement, and in-house CPA assessment.
You can choose to upgrade your account to the Pro plan for $199/year. This plan provides an annual report, compliance services, an EIN, a banking resolution template, and expedited processing times (5-8 business days). There is also a Premium option for $299/year, giving members additional advantages and features - including rushed processing (4-6 business days), a dedicated website, and a domain name for the business.
Between the excellent service provided and flexible plan options offered, ZenBusiness is an ideal choice in terms of overall value.
Company Background
ZenBusiness was founded in 2015, making a lasting mark in the industry. This fast-growing company has a short-track record, but should still be considered a top-contender when deciding which service to file with.
Features and Services
This company offers a variety of impressive features and services - including:
Registered agent service
Employer ID Number (EIN)
An operating agreement template
Automated processes and online document admission
100% accuracy guarantee and fast filing speeds
Formation Process
The ordering process involved when forming your LLC is made simple and easy with ZenBusiness. This incorporation service has fully dedicated itself to providing customers with robust technology that enables automated processes and streamlined filing advantages.
Customer Service
ZenBusiness has phone, email, and online chat customer support options. Representatives are available to answer questions and address concerns from Monday-Friday (8 A.M.- 8 P.M. CST), or on Sunday from 10 A.M.-7 P.M. CST. If you wish to send an email, their team promises a timely response within 1 business day. This level of responsiveness is quite impressive in our opinion.
The support agents are very knowledgeable, friendly, and always happy to help members. The website also provides additional resources, including blogs, related articles, and an insightful FAQs page.
Customer Reviews
Considering ZenBusiness offers low-cost formation services, personalized advice, and expert support, we were not surprised that the customer reviews were overwhelmingly positive. Most mentioned how easy it was to set up, the low start-up costs, and a hassle-free process.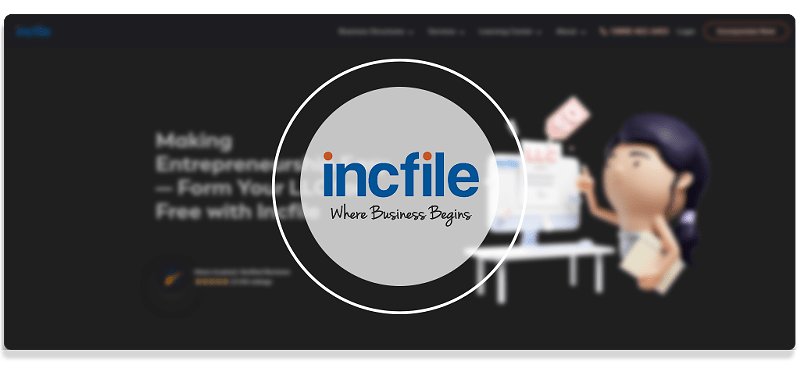 Overall Value
Incfile was designed specifically for business owners forming LLCs, S Corporations, C Corporations, and Nonprofits. Beyond the incorporation service features, the company has an impressive suite of startup services, including banking resources and bookkeeping. It also offers an unparalleled starting package, with business formation for as little as $0 (not including the state filing fee). There are no contracts or hidden fees either. It is the cheapest way to form an LLC and will help you save money, while still providing the liability protection needed.
While the starter package is free, there are add-on features that you will need to pay for. Generally, prices range from $0-$299, depending on the services needed. For example, upgrading to their Silver plan costs around $49, plus the state filing fee. This adds a registered agent for one year, as well as lifetime company compliance alerts. The Gold package costs $149, giving you everything offered in the Silver package, plus an EIN, custom operating agreement, banking resolution, and express processing. Finally, for $299, you get the Platinum package, which has expedited document filing, a sample template library, a website, and a domain.
Company Background
Incfile was founded in 2004 and has assisted more than 500,000 small business owners and entrepreneurs since. At launch, they focused on helping customers avoid the excessive paperwork and expensive attorney fees when registering a business. They have since continued to focus on technology-based solutions to streamline the formation process.
Features and Services
Registered agent included in the first year
Next business day processing
$0 for a starter package
Alerts for filing deadlines
Formation Process
Creating a limited liability company with Incfile is easy and efficient. You can select any one of their three offer packages, build your order, and finalize your incorporation. If you have any questions regarding the features or services provided, various instructional articles explaining how to continue with the process.
Customer Service
The Incfile customer service team is available over the phone or through email. Response times are low and the employees are well-trained on a range of topics. They are almost always able to provide valuable insight and helpful advice regarding customer questions and concerns.
Customer Reviews
Customer feedback is mostly positive, with thousands of reviews available on their website and third-party sites. Many of the five-star ratings state a quality user experience, quick turnaround times, and plans at a cheap price.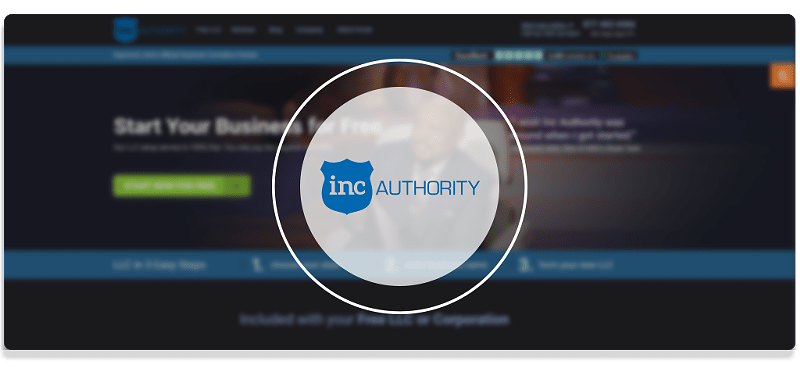 Overall Value
Inc Authority is an excellent option for entrepreneurs and business owners on a budget. The platform offers a free filing service that includes all the basics needed to obtain an LLC, plus a registered agent. Beyond the one-year registered agent perk, Inc Authority can also help you apply for an S corporation tax status.
There are three premium packages offered, with prices ranging from $399 to $799. For $399, you will get an LLC operating agreement, ownership certificates, and an EIN. For $499, you can add a business license report and website domain to your plan. Finally, for $799, you can add expedited processing times and advanced software to enhance your business.
Company Background
Inc Authority is one of the more established LLC filing companies, as it was founded in 1989. With many years of experience, it has an impeccable track record and is a reliable company to use for LLCs.
Features and Services
Zero-cost package for startups
Includes free one-year registered agent service
Business name check within your state
Storage for your documents and articles of organization
Formation Process
Inc Authority is extremely easy to use. Navigating through the process of forming a business is made simple with this site. You can sort through the order forms and submit your information quickly and efficiently.
Customer Service
The customer support isn't up to par with some other companies. They operate under limited hours, making it difficult to get in touch.
Customer Reviews
Inc Authority has over 4,000 positive reviews, with customers boasting their services, user interface, and the free startup plan.
Overall Value
Rocket Lawyer is another popular LLC formation service, with over seven million happy customers. This LLC filing company offers comprehensive legal services, providing a wide range of services simplifying the legal process for many business owners. They have a subscription plan that starts at $39.99/month, which includes consults with attorneys, legal document templates, and low-cost LLC formation services. If you don't want to subscribe, you can pay a one-time fee of $99 to file your LLC.
Company Background
Rocket Lawyer launched back in 2008 and has been one of the most widely used online service providers ever since.
Features and Services
Low-cost pricing model
Preparing and filing articles of organization
Business name availability search
Online paperwork storage
Formation Process
Rocket Lawyer offers an easy-to-use legal services subscription, including an LLC formation service. You can start with a $39 monthly subscription or a 7-day free trial. Either will afford you access to a wide range of attorney tools and resources for your business needs.
Customer Service
The website has an extensive FAQs page, or you can choose to speak to a live customer care specialist by phone, chat, or email.
Customer Reviews
Many customers have left rave reviews regarding the Rocket Lawyer services. People love the subscription payment options and the hands-on legal advice.
Overall Value
Northwest Registered Agent is the perfect platform for small business owners, as the company heavily focuses on providing unparalleled customer service to its members. Its entire mission is to simplify the process of business formation with premium customer support that will walk through the process step-by-step. However, its services do come at a limited price point with only one package available for $225. This will afford you preparation and filing of paperwork, two-day processing, a personalized operating agreement, and an EIN.
Company Background
The company was founded in 1998 and has helped more than two million customers form an LLC ever since. It's one of the most experienced services out there.
Features and Services
First-year registered agent service for free
Physical mail forwarding
No postage fees
Same-day digital screenings
Annual compliance filings
Corporate supplies, including notaries and certificates
Customer Service
Northwest is all about customer service. Their entire business model is built around this value proposition. Customers do not have to put up with upsells, misleading advertising, or a never-ending list of options. They have a flat-rate service, which provides expert advice from professionals in the field and highly trained corporate guides to help navigate you through the process.
Customer Reviews
Northwest lacks in the number of customer reviews, with only 500 on Google and Yelp combined. But with the ones they do have, most describe a positive experience.
Frequently Asked Questions
What is an LLC?
The abbreviation "LLC" stands for limited liability company. Forming an LLC will afford you recognition in every state as a legal business entity. It's a popular way to create a formal business organization that's offered certain liability protections.
Forming a limited liability company (LLC) can provide business owners with asset protection and flexible tax options. When an LLC is created, you are establishing a new business entity that is legally separate from its owners. In layman's terms, if the LLC can't pay the business debts, creditors can go after bank accounts and other assets dedicated to the business, but they take the owners' assets - such as - cars, home properties, and bank accounts. It's an important first step to personally protect yourself against company debts and liabilities. The only risk lies in the amount of money the owner has invested in the business.
As far as tax options go, structuring your business as an LLC will simplify its tax structure. Essentially, business owners can choose how the LLC is taxed - either as a sole proprietor (for individual-member LLCs), as a partnership (for multi-member LLCs), or as an S-corporation. Electing to form an LLC as a corporation will certainly tax benefits you, including a split in income distribution and a reduction in self-employment tax.
What Is the Cheapest Way to Form an LLC?
The cheapest way to form an LLC is to do it yourself. You will only be responsible to pay the state filing fees. While this can help you save money, it will also require much time and effort. There are several online resources and books you can reference, but the overall process can get complicated and confusing. Plus, you want to ensure accuracy when forming your LLC, that way you're not legally exposed in any way.
It's best to use a dedicated LLC filing service. Online LLC formations are affordable and will save you a ton of time and hassle, and will provide peace of mind that you completed the process correctly. LLC filing companies have expertise in state laws, can process the piles of paperwork quickly, and offer customer service for all your questions and concerns.
Finally, you can use an attorney to form an LLC. This will afford you personalized service, advice, and overall legal services. But, this is the most expensive option of the three. Using an LLC filing company can do the same thing at a fraction of the cost of an attorney.
Can LLC Filing Companies Keep My LLC in Good Standing?
Absolutely. Many of the companies discussed in this guide offer LLC formation services, registered agent services, and annual report services. These features are important for continued compliance with state filing rules and regulations.
How Quickly Can I Form an LLC?
The amount of time it takes to form an LLC will depend on your state and the online LLC formation service being used. Each company has a different estimated turnaround time, ranging from a few days to several weeks. Much of this depends on the state where you need to form your LLC. Sometimes, if you purchase a premium package with the online company being used, they can speed up processing speeds and process your order quickly.
What Is a "State Fee"? How Much Does It Cost?
The state fee is the cost of forming your LLC with the state and filing the specific documents needed. This start-up cost is required whether you decide to form an LLC by yourself, with an attorney, or through an LLC formation service.
The cost of this fee will depend on your state, typically starting at around $50 and going up from there. Some states charge several hundred dollars. Even if your state's start-up costs are higher, it's always best to file in the state in which you live and where you will be taxed on the income of your business. It will make everything more straightforward and cheap. When filing out of state, you must use a registered agent for assistance and filing purposes. This will increase the filing fee.
What is LLC Insurance?
If someone files a personal injury lawsuit against you, forming an LLC usually won't protect you from this type of personal liability. For example, you could be accused of wrongdoing for negligently maintaining your building, damaging a company car, or defrauding a client.
Personal injury lawsuits can be financially devastating to a business. For this reason, many business owners obtain LLC insurance to protect against personal and company lawsuits.
Should I Form an LLC as an Independent Entity?
It's important to keep LLC finances and records completely separate from your finances. Some shareholders of a corporation will mix personal assets and corporate assets. This can cause shareholders to be personally liable to the corporation, or as the "alter ego". There are some signs that this implication can trickle down to LLCs as well.
Because of this, it's best to keep everything separate. Your LLC should have separate credit cards and bank accounts. Additionally, all purchase orders, contracts, records, invoices, and other important documents should list the LLC name, not the owner's name. It should also be signed on behalf of the LLC. This will indicate that all business dealing goes through an independent entity and not you personally.
Conclusion
There is no shortage of LLC filing companies, giving you several quality options to choose from. The hard part of sorting through these different services to find the one that works best for you and your business. Luckily, we did much of the leg work to find the best and cheapest LLC services available online. We hope this list will help you in your quest of forming an LLC.