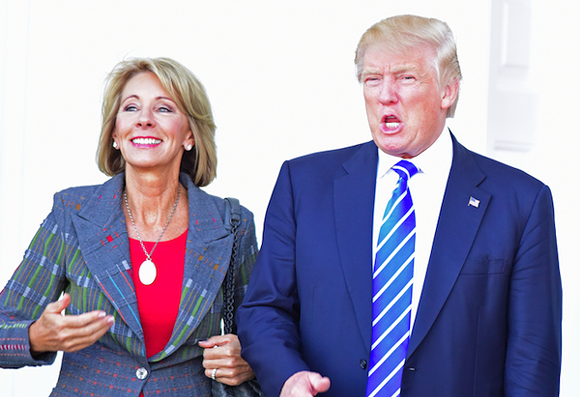 Our blogger buddy out in Ypsilanti, Mark Maynard, has been inspired to apologize to all Americans by the announcement that "Billionaire Betsy" DeVos will lead the Department of Education under the incoming Trump administration.
We've expressed some of our misgivings already
. Most of them were at the centerpiece of a story we ran a decade ago when her husband Dick DeVos ran for governor: "
You don't know Dick
" but remain true today.
Basically, the DeVoses have recklessly, ruthlessly pushed charters. Notice there's a fine line there: Charters are a feature of education in America, yes. Some allow for innovation, such as the
Boggs School
in Detroit, founded on the principles of a leftist couple we have covered favorably over the years. No, it's not supporting charters that worries us about the DeVoses so much as the way they support them: a dogged, blindly ideological, bull-in-a-china-shop approach to "reform."
As the ACLU pointed out in a statement earlier this week, "Betsy DeVos has ardently supported unlimited, unregulated growth of charter schools in Michigan, elevating for-profit schools with no consideration of the severe harm done to traditional public schools. She's done this despite overwhelming evidence that proves that charters do no better at educating children than traditional public schools and serve only to exacerbate funding problems for cash-strapped public districts."
But we were really interested in what our buddy Maynard had to say. And
his piece
does have some even juicier quotes:
http://markmaynard.com/2016/11/we-should-have-stopped-betsy-devos-when-we-had-the-chance/
"She has consistently pushed a corporate agenda to privatize, de-professionalize and impose cookie-cutter solutions to public education." —Lily Eskelsen García, president of the National Education Association
"When Michigan lawmakers this year were considering a measure that would have added oversight for charter schools in Detroit, members of the DeVos family poured $1.45 million into legislators' campaign coffers — an average of $25,000 a day for seven weeks. Oversight was not included in the final legislation." —Chalkbeat
"[Betsy DeVos] is partly responsible for what even charter advocates acknowledge is the biggest school reform disaster in the country." —The New York Times

Better schools were never the end goal. I think, from day one, the real objective has always been to kill the teachers unions, while, at the same time, funneling public money into the hands of private corporations. —Mark Maynard