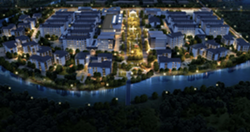 Ypsilanti officials say there's no developer for the
proposed $300 million mixed use International Village development
.
It's the latest plot twist in the International Village saga. Since April, the city of Ypsilanti has been planning it with Troy-based, Chinese-American "developer" Amy Xue Foster. Foster, who has an unclear background in finance and real estate, started International Village LLC and is proposing the project for 28 acres of the city-owned Water Street property.
Her plans call for a development that would mostly house Chinese students. Around 40 percent of the project is to be funded by the
controversial EB-5 Visa Program
.
But the city's economic development director, Beth Ernat, recently announced during a city council meeting that Xue Foster is not the developer — which means that there is no developer for International Village.
Searches of Xue Foster's public records by
Metro Times
and Defend Affordable Ypsilanti reveal nothing that indicates that she has the experience to handle such a large project, and the city has never provided any evidence.
City Manager Darwin McClary tells
Metro Times
that the developer is "the person or entity responsible for the entire development process, including property purchase, permitting, project design and construction, marketing, and other aspects of the project. We determined that Ms. Foster does not have such a person or entity designated to handle these functions and have requested that a local development partner be designated to handle the functions."
Early on, residents and Defend Affordable Ypsilanti
raised concerns
over how the project will impact housing affordability throughout the rest of the city.
Prior to a Sept. 19 vote on the purchase agreement for the sale of the city-owned land to International Village LLC, the development team announced that it would seek tax incentives. City council members said that they were told International Village LLC wouldn't use tax incentives.
On Sept. 21, two days after the vote, four city officials left for a trip to China. Xue Foster, Ernat, and Mayor Amanda Edmonds told other city officials that Wayne State University's Chinese Students and Scholars Association funded the trip. But a
Metro Time
s
investigation
found that to be untrue. That led to internal and external investigations into the matter.
Since then, Edmonds
admitted under oath
at a hearing on the trip convened by the rest of city council that she knew that the funds came from the Chinese Consulate in Chicago before leaving for the trip, but didn't tell other city officials. It also appears Ernat and Xue Foster knew that the CSSA wasn't the source of the trip's funding.
The latest revelation about the absence of a developer raises new questions. The city and "developer" are supposed to have a development agreement in place by the end of the year. If there is no developer, then how is a development agreement being worked out?
Beyond that, one has to wonder if anyone in the city did due diligence on Xue Foster before to working with her. And community members are concerned about whether she can be trusted.
Council member Brian Robb tells
Metro Times
that
the announcement caught him by surprise.
"Staff needs to explain to council who we've been negotiating with for the past nine months and how the project got this far," he says.
Council member Beth Bashert tells
Metro Times
that city officials had been using the wrong language to describe Xue Foster's role, and that she doesn't believe that Xue Foster purposely misrepresented her experience. She says she suspects it had to do with a miscommunication from staff and cultural misunderstanding.
"We all kind of wish that this had moved along in a smoother and more transparent manner, but [the questions over who is the developer] and the China trip — neither one is a deal breaker yet," Bashert says.
Though these sort of issues continue cropping up, city council and staff continue to press forward on the project. But Bashert notes several changes that she says will improve the project's transparency.
The city announced on Tuesday that it hired an independent law firm — Farmington Hill-based Plato Law — to investigate who paid for the China trip. Bashert says the firm previously consulted the city on the Water Street property and will investigate and provide tangible evidence showing who paid for the trip.
quid pro quo
for the trip to China, we're going to continue with business as usual." The investigation will cost between $6,000 and $10,000 and is expected to take several months.
However, Robb questioned whether a law firm working at the city manager's direction is truly "independent."
Staff is also now providing weekly updates to council — which it did not previously do — and a series of charrettes in which residents can provide input on the project's different pieces is in the works.