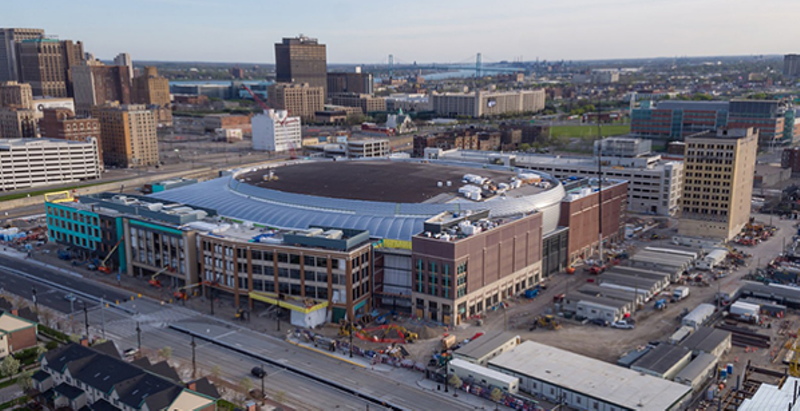 If it was up to you to determine whether the Pistons could get $34.5 million in taxpayer money to move to downtown Detroit, what would you decide?
The activist who sued the Downtown Development Authority (DDA) and others over the decision to give the team that money without a public vote is now reportedly trying to
get the issue on the November ballot
.
Highland Park activist Robert Davis tells the
Detroit Free Press
he'll collect signatures to put the issue before voters with help from Holly resident John Lauve. Wayne County campaign finance records show Davis registered a ballot committee called "Citizens United Against Corporate Welfare" on June 30.
Davis dropped his lawsuit over the public money going to the Pistons move and Little Caesars Arena last week. He and city clerk candidate D. Etta Wilcoxon had argued that the
DDA
and defendants including the City of Detroit were improperly using money from a 2012 millage the pair says was passed to fund Detroit's public schools, exclusively. Davis and Wilcoxon said voters would have to approve giving some of that money to the Pistons.
Davis told the
Detroit Free Press
he and Wilcoxon were
dropping the suit
because they'd filed another lawsuit against the Detroit Public Schools Community District that could lead to a vote on the issue of using public funding. Davis also told the paper the legal terms of his voluntary dismissal were such that he could resurrect the suit against the city, DDA, and others.
As the deal stands now, the
public will foot about a third of the bill
for the Little Caesars Arena and Pistons headquarters — $324 million of the $863 million price tag. Tax revenue will be collected to pay back that amount in bonds through a Tax Increment Financing district the DDA expanded to include the arena.
Crains
reports the
DDA can capture three property levies
— state education tax, Wayne County Regional Educational Service Agency and Detroit Public Schools — as revenue sources for paying off the arena bonds.