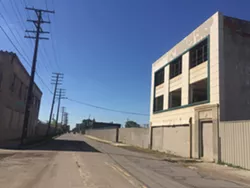 A 24-year-old woman who was
abducted and sexually assaulted
by a pair of men Detroit police describe as "serial rapists" has shared details of the harrowing experience in a public Facebook post.
In the account that offers a rare glimpse into the trauma of sex assault and the mindset of abusers, the woman describes being plucked off the street and carried into a van where her life would be changed forever. She recounts being driven around as her attackers stopped at ATMs to clear her bank accounts. Then, she says one of the men turned his focus to the tattoos on her back and began his sexual advance.
"I fought for a while," the young woman writes. "I grabbed my keys and tried stabbing them, I tried getting my spray paint to spray them in the face."
Eventually, she says she succumbed with the realization that her abductors had the strength to kill her.
In a final act of survival, the woman describes trying to be friendly with the men in order to convince them to return her to where they'd picked her up.
"You wouldn't talk to us if we approached you," she says one of the men told her as they drove back to the area of E. Milwaukee and Orleans streets.
While the written account is horrific, sadder still is the image that accompanies it. In a selfie said to have been taken just before the attack, the young woman smiles with her tongue out and eyes squinted shut — a "cute and silly" feeling she says she may never feel again.
Police say they've
arrested two men
in connection with this and two
similar incidents
that happened near the Detroit-Hamtramck border and New Center area in September and October. They believe other incidents may have gone unreported and are urging any possible additional victims, or anyone with further information, to call the Detroit Police Sex Crimes Unit at 313-596-1950.
We've provided the young woman's account of what happened below and omitted her name and image.