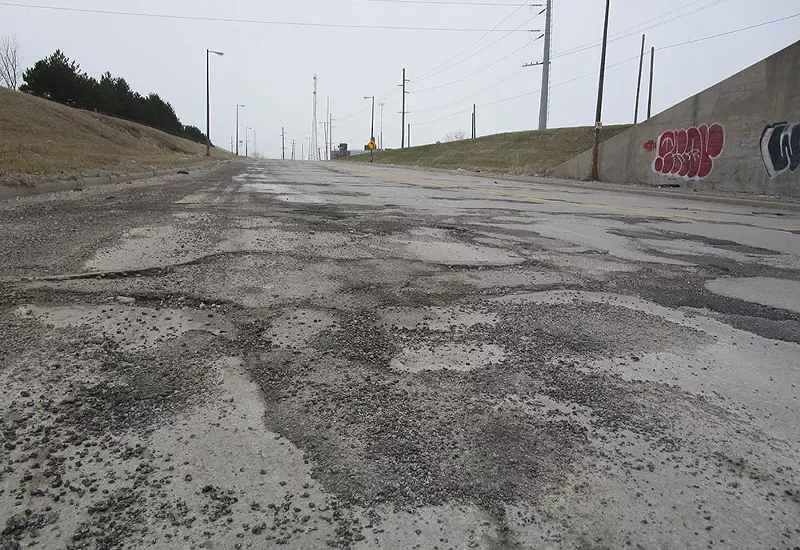 Phil Power established a chain of suburban newspapers half a century ago, buying some, starting others, and he eventually had dozens of them in Michigan, Ohio, and Kentucky. But then things changed.
He shrewdly outfoxed Gannett, selling his papers to them in 2004, just before the internet destroyed the economic model of local newspapers by offering classified ads online for free.
His move wasn't personally great for me; I was his last vice president of editorial operations. But Power used some of the money he made to do something good for this state: He founded the nonprofit Center for Michigan, which he calls a "think and do tank."
Its purpose is to help make this state better, and one of the best things they've done is start the online magazine Bridge, which publishes some of the best in-depth statewide journalism in Michigan. That includes Power's column. A couple of weeks ago, one of his columns contained this stunning sentence: "Michigan is in the process of becoming the worst state educationally in the nation."
Well, of course it is. We are, in fact, becoming the worst state in the nation in many ways, and have already achieved that when it comes to roads. The roads are a particularly important symbol of the deeper problem, which frankly is a total failure of government.
Government, and democracy. Both have broken down — and I am not sure that even Phil Power realizes how complete and frightening this is.
Consider what's been happening with our roads: The state that once put the world on wheels now has the worst roads in the nation, largely because we've been spending less per capita on them than has any other state. That's appalling.
Even more appalling is that the legislature flatly refuses to appropriate the new money to fix them, even though there is a vast statewide consensus that we need to raise taxes to get this done.
But they won't do it, and here's why: Thanks to outrageous gerrymandering, Republicans control every branch of state government, and most districts are not competitive.
That means that no matter what they do, the only threat to their reelection can come in the August GOP primary, where they might be defeated by a right-wing candidate even crazier than they.
Many of the sitting senators and representatives have signed Grover Norquist's "taxpayer protection pledge" under which they've agreed never to vote to raise taxes for any reason.
They know, of course, that the wear and tear damaged roads are now inflicting on our cars costs us more than any tax increase to fix the roads would. But they are afraid to do the right thing.
So to protect themselves, they've been doing insanely stupid things to pretend to fix the roads: For example, agreeing to take $600 million a year out of the cash-strapped general fund, every year.
That will be totally inadequate to do much for the roads, but if this stands, will do great damage to things like education and foster care, which come out of the general fund. They don't care about that, of course. They also won't be around to be held accountable.
Which is another big problem; most of the Republican state senators who signed off on this won't be around next year because of term limits. Lots of house members will be gone too.
Term limits, together with gerrymandering, have essentially ruined democracy in Michigan. Politicians pick their voters, rather than the other way around, and term limits mean they never have to be responsible for anything they can kick down the road for six or eight years, by which time they are gone forever.
People may not understand this completely — but they do understand that the roads and schools have gone to hell, and that the politicians aren't fixing it. Polls show that only a small minority of Michigan residents have much faith in state government.
"Trust in state government deteriorated badly about a decade ago and has never recovered," Charley Ballard, former chair of Michigan State University's economics department, told me a couple years ago. "It used to be that a lot more people said they could mostly trust the state government."
"But now that relationship is reversed."
He told me that before the full effects of what state government had done to the water in Flint were known. The percentage that trusts Lansing is probably less now.
Any democracy that is held in indifference or contempt by four-fifths of its citizens has a problem that's likely to eventually face massive protests — and maybe guillotines.
Any democracy that is held in contempt by four-fifths of its citizens is likely to eventually face massive protests — and maybe guillotines.

tweet this
We need to find solutions. Doing everything we can to make sure the Voters Not Politicians group's anti-gerrymandering state constitutional amendment stays on the ballot is the first thing we can do.
Those who like our corrupt status quo just fine are doing everything they can to knock it off. There's a lot more to be done, but we'll stop there for now. Except for this:
It's way past time to reclaim our democracy. So let's start.
More mess at MSU: Last month, The Wall Street Journal estimated that the fallout and the lawsuits filed by former Michigan State University sports doctor Larry Nassar's victims could cost the school half a billion dollars when all the dust settled.
Then, things suddenly got worse. Nassar's boss — Dr. William Strampel, the former dean of the College of Osteopathic Medicine — was arrested and thrown in jail, charged with a raft of felonies and misdemeanors of his own. Police said they found on his computer, in addition to child porn and dirty pictures, images of what appear to be female MSU students in sexual poses.
Women then began coming forward to say what he had said and done to them. Like any other defendant, Strampel is entitled to be presumed innocent unless convicted, of course.
But if he is convicted of any of these charges, you can expect MSU to be hit with a whole new set of lawsuits.
Even interim President John Engler has indicated the eventual costs may be passed on to students in the form of a tuition hike. (Mommas, you can't afford to let your babies grow up to be Spartans.)
In any event, this is even further proof of the utter failure of the administration of Lou Anna K. Simon — possibly the worst president in MSU history — and of the board to do its job in exercising due diligence over the way the university was being run.
Governor Rick Snyder has more reason than ever to remove all eight trustees, and replace them with an appointed board consisting of four Democrats and four Republicans,
Sadly, he's unlikely to do that. The main person responsible for the board's inaction is Lansing developer Joel Ferguson, who skillfully manipulated a controlling faction on the board, cared for nothing except athletics, and shielded the teams from cuts or criticism.
Want to know what will happen to him now? Well, instead of being kicked off the board in disgrace, Ferguson, as Metro Times reporter Violet Ikonomova brilliantly reported on March 22, gets to buy 16 acres of the old state fairgrounds at a bargain price.
Technically it is a group called Magic Plus, LLC, but Ferguson calls the shots. There are those who say that then-Governor Jennifer Granholm killed the state fair a decade ago in large part to give her good friend, Joel Ferguson, a chance for some prime land.
After all, why should poor kids get to see farm animals when there is money to be made?