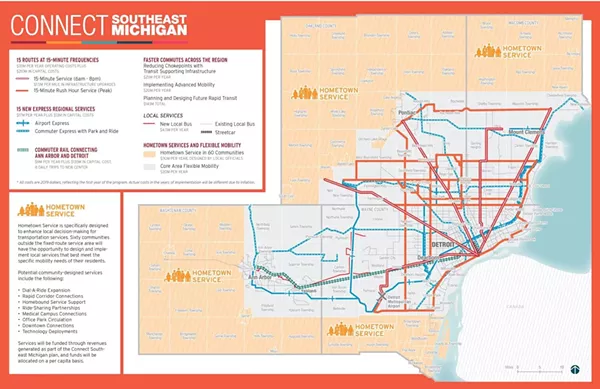 The Regional Transit Authority of Southeast Michigan is today hosting the first of six public meetings to gather feedback on a public transportation proposal pitched by Wayne County Executive Warren Evans last month.
The Connect Southeast Michigan plan represents the latest effort to create a transit system that would span Oakland, Macomb, Wayne, and Washtenaw counties. Its backers have billed it as an improved version of the plan that was narrowly defeated by voters in 2016.
The new plan envisions regional bus routes that stop every 15 minutes throughout the day on Woodward, Gratiot, Michigan, Grand River, and Mound/Van Dyke. On ten other routes, those buses would stop every 15 minutes during the rush hours. There would also be four express routes to the airport and commuter rail service between downtown Detroit and Ann Arbor.
As it stands, Connect Southeast Michigan would levy a 1.5-mill increase on property taxes across the four counties to raise $5.4 billion over 20 years. That means a house with a taxable value of $100,000 would pay an addition $150 in taxes per year. The money would also help fund infrastructure upgrades on those main thoroughfares.
Advocates note that southeast Michigan invests very little in transit when compared with other major metropolises, and that the plan would help improve region's economy by better connecting people with jobs. Oakland County Executive L. Brooks Patterson and Macomb County Executive Mark Hackel appear to
oppose the plan
.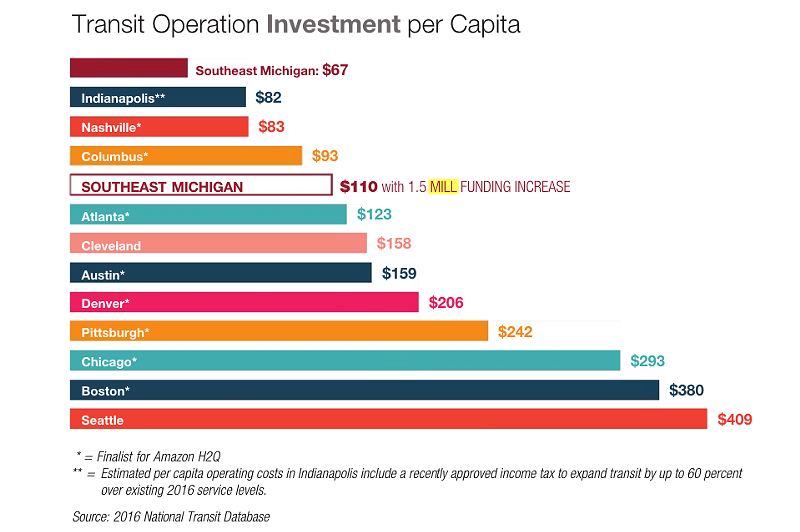 The RTA board is soliciting feedback to decide to whether to adopt the plan and ultimately put it before voters. The plan could also be amended.
Full details on the plan Connect Southeast Michigan are available
here
.
Public meetings begin tonight in Birmingham and will be held throughout the region over the course of about a week. You can also provide your feedback via this
online survey
.
Wednesday, April 25 —
South Oakland County
5:30 pp.m. - 7:30 p.m.
Baldwin Public Library
Rotary Room 300
W. Merrill St.
Birmingham, MI 48009
Thursday, April 26 – Detroit
5:30 p.m. - 7:30 p.m.
Detroit Historical Museum
Wrigley Hall and Booth Auditorium.
5401 Woodward Avenue
Detroit, MI 48202
Monday, April 30 – Wayne County
5:30 p.m. - 7:30 p.m.
Schoolcraft College VisTa Tech Center
Rennolds Room VT425
18600 Haggerty Road
Livonia, MI 48152

Wednesday, May 2 - Washtenaw County
5:30 p.m. - 7:30 p.m.
Ann Arbor District Library Downtown
Multi-purpose
Room
343 S. 5th Avenue
Ann Arbor, MI 48104

Wednesday, May 2 – North Oakland County
5:30 p.m. – 7:30 p.m.
Rochester Community House
Lewis Room
816 Ludlow Avenue
Rochester, MI 48307

Thursday, May 3 – Macomb County
5:30 p.m. - 7:30 p.m.
Mount Clemens Public Library
Auditorium 150
Cass Avenue
Mt. Clemens, MI 48043