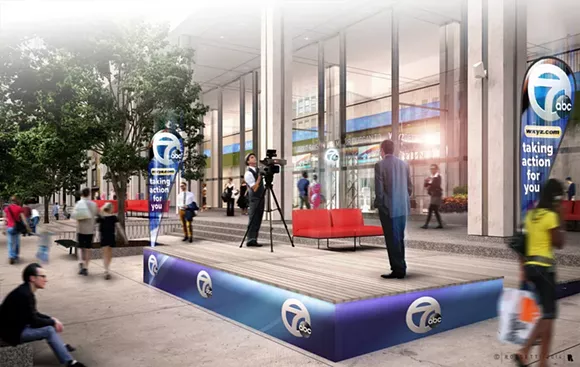 WXYZ-TV Channel 7 announce today it would open a new studio in the Dan Gilbert-owned Chase Tower in downtown Detroit later this year.
The glass-enclosed studio will face outward and be located on the ground-floor lobby of the 14-story building at 611 Woodward Avenue; it will serve as the location of 7 Action News at Noon with Joanne Purtan, according to a press release. The building is owned and managed by Gilbert's Bedrock Real Estate Services. Eventually, the press release notes, the studio will feature other WXYZ programming.
"This is a historic step in our mission to be the best station in Detroit and the best station for Detroit," says WXYZ-TV Vice President and General Manager Ed Fernandez, in a statement. "This studio will give 7 Action news viewers an exciting front-row seat to the city's incredible rebirth and allow us to connect in meaningful new ways with people making a difference and guiding Detroit's transformation.
WXYZ isn't the only media outlet in town moving into a Gilbert-owned building. Later this year, the
Detroit Free Press
and
Detroit News
will move into the Federal Reserve building
at 160 W. Fort Ave. in downtown, which Gilbert purchased in in 2012.