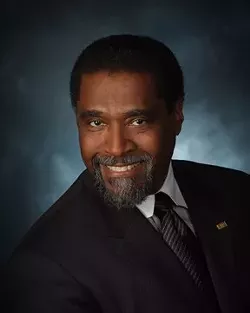 Michigan Attorney General Bill Schuette announced new criminal charges related to the Flint water crisis Tuesday morning, including charges against former state-appointed emergency managers Darnell Earley and Gerald Ambrose.
According to
MLive
, Earley and Ambrose are being charged with false pretenses, conspiracy to commit false pretenses, willful neglect of duty, and misconduct in office. For Johnson and Croft, the charges are false pretenses and conspiracy to commit false pretenses.
Also charged were city officials Howard Croft, a public works superintendent, and Daugherty Johnson, a utilities administrator.
But the former emergency managers are the highest profile charges in the ongoing saga. Earley was at the helm in April 2014, when Flint switched its water source to the Flint River — a move that ultimately led to poisonous lead leeching into the city's water infrastructure. Earley's successor, Ambrose, took the role in 2015, while Earley went on to serve as the emergency manager for Detroit Public Schools.
Previously, Earley
was (figuratively) eviscerated
in his Flint testimony in March by California Rep. Ted Lieu, who argued against Earley's claims that Flint was a water treatment issue, and not a leadership one.
In total, Schuette has charged 13 people. The charges started in April, with Schuette issuing felony charges against two DEQ officials and one City of Flint official. In July, he would charge three more DEQ employees and three Michigan Department of Health and Human Services employees.
"Some people failed to act, others minimized harm done and arrogantly chose to ignore data, some intentionally altered figures ... and covered up significant health risks," he
said in July
. The charges included misconduct in office, conspiracy to tamper with evidence, and neglect.