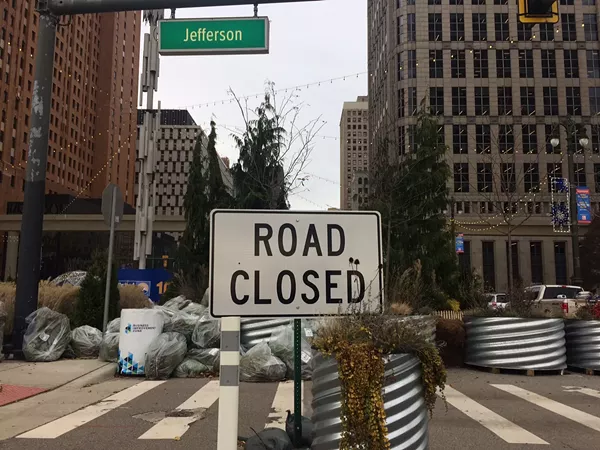 A controversial downtown Detroit pedestrian plaza that has shut down Woodward Avenue at Jefferson since June will remain in place despite concerns from drivers and business owners in the area.
Detroit City Council on Tuesday voted to let the Spirit of Detroit Plaza, which was initially given the green light for a 90-day pilot program, stay put through at least April. The decision was made following an at-times heated discussion in which council members admonished Mayor Mike Duggan's planning director for attempting to make the project a permanent fixture without properly consulting them first.
"If you all were concerned about what people wanted, you would have brought this to my office … before it made it to the paper and said it was permanent," Councilmember Janee Ayers told a staffer from Maurice Cox's planning department. She and two other council members voted against allowing the plaza to stay.
Last month, Cox told local media that the three-month pilot for the plaza had been successful and that the plaza would become a permanent fixture.
But some councilmembers said Tuesday that Cox's planning department and the city's department of public works never received proper approval to set up the plaza in the first place. They noted that citizens who wish to shut down streets to host block parties have had to jump through more hoops than Duggan's team did when it shut down a chunk of Woodward.
"It's a continuation of something that was never properly approved," said council chair Brenda Jones. "I truly have a concern with that."
The plaza — paid for by public dollars, a foundation grant, and money from Dan Gilbert's Quicken Loans — has been billed as a way to boost walkability in the area between Campus Martius and Hart Plaza. But some businesses in between say they've suffered due to related traffic problems and increased competition from the food trucks that have popped up there.
"I'm on a dead-end street now," says Tim Tharpe, owner of longstanding Woodward Avenue bar and restaurant Grand Trunk Pub. "Tens of thousands of cars used to go by every day and see [my sign] and now they don't. Commercial property is valued based on the amount of vehicle traffic that goes by it every day. So not only has it hurt the restaurant, but I'm certain it's declined my property value."
But for Tharpe, more problematic was the way he says the city shut down part of a main thoroughfare without giving people in the area any warning.
"I own three buildings and three businesses downtown and received not one letter, not one knock on the door — literally, one day there were just parking blocks that went up around Woodward and a sign that said 'closed,'" he said. "When [governments] close roads for road construction they have to go through giant mitigation studies to ensure places won't go out of business and yet they didn't think about any of that stuff in this case, they just did it and they didn't care."
Soon, Tharpe anticipates that he will be boxed in by the plaza on the south end, and coming construction for Gilbert's Hudson's and Monroe block developments to the north. All for a plaza many have described as a sort of dead zone, where tables and chairs often sit empty.
"I'm just dying to see how many people will go out for lunch in February in the Spirit of Detroit Plaza," said a woman who works in a building with a view of the site and asked to remain anonymous. "For the relatively short time people can actually use it, they're closing [a major artery] in Detroit — 365, 24-7."
The woman describes Woodward Avenue traffic leading up to the plaza as having decreased so much that the "Opportunity Detroit" shuttle buses that cart Gilbert employees around are now able to stand six in a row without any need to move.
City officials say a traffic study in the surrounding areas found no major issues with closing Woodward from Jefferson to Larned, but some council members have doubts about the research.
"To say it's not affecting traffic, it's definitely affecting traffic and my concern is it's going to affect traffic even more once winter hits and snow plows are out," Jones said. The Coleman A. Young Municipal Center is located next to the site.
Council member Ayers also expressed doubt over the results of the study, noting it was conducted by the same department that was responsible for closing the street.
"Tap the EMS driver who was stuck in traffic the other day because he couldn't cut down Woodward," she said, suggesting a method by which public officials could better learn about concerns over the site.
Tharpe, meanwhile, says his employees have shared horror stories of waiting 45 minutes to exit downtown parking structures at rush hour due to the increased traffic.
City officials say they did a "significant amount of outreach" before the plaza was set up, making contact with at least 200 people in the downtown area. They say they hope to improve communication with city council and the public on major decisions moving forward.