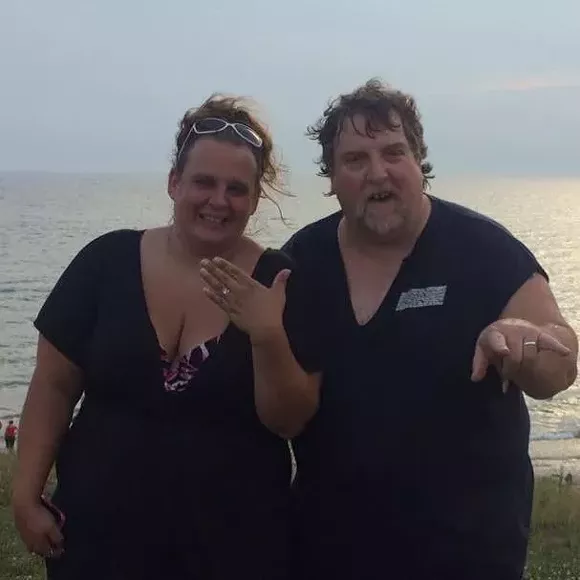 Lake Michigan, diamond engagement rings and metal detectors don't usually have a lot in common. But today, they do.
Jamie Kennedy, of Decatur, was spending the day at the beach in South Haven last week when she lost her 1.3 karat diamond engagement ring.
"I had reached down to get sand off my leg in the water, in about chest-deep water," Kennedy
told ABC News
. "When I got the sand off my legs, it was in between in my fingers and in my ring. I pushed up with my thumb to get it out and I must've pushed up hard and I lost it."
"I tried to catch it while it was falling," Kennedy added. "I told my friend and we both started looking immediately with our feet and hands. Our 10-year-old boys had goggles and we searched and searched and searched for about 45 minutes."
But they came up empty handed, and Kennedy left the beach "f
eeling beyond sad, sick, and disappointed."
She posted about the ordeal on Facebook as a final plea for help. "
I don't usually believe in miracles but if anyone sees any posts on Facebook or hears anything about found rings in South Haven let me know," she said.

Her post was shared more than 2,400 times. It eventually reached John Dudley, the president of the West Michigan Detector Club.

Dudley immediately began searching.

"She lost it on Friday and I didn't go out until Sunday. So it was 2 days later, which makes it even more bizarre," Dudley told ABC News. "The waves were terrible. I'm a pretty good-sized guy and the waves were knocking me over. But 30 to 45 minutes later I got a good signal in the water about waist deep. I scooped up whatever the signal was and there was I ring in the bottom. I went, 'Oh my gosh.' When I turned the ring over I knew it was hers because she had shown me a few pictures. I gave a thumbs up to her and she just came running out to the water. I gave her ring back and she just started bawling and gave me a great big hug."

Kennedy wrote on Facebook that she is "forever grateful" to Dudley.