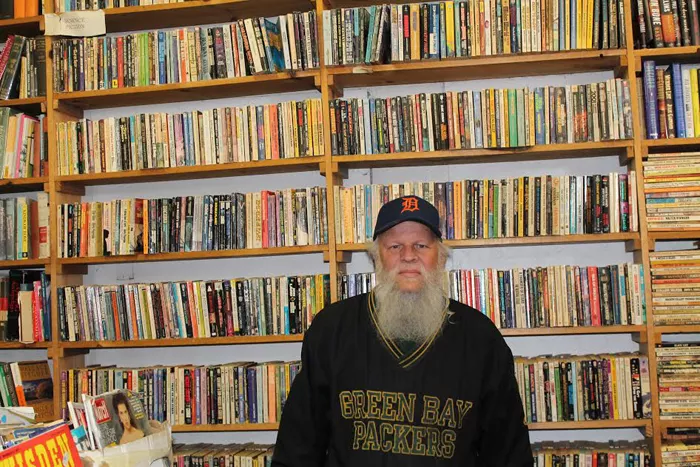 William Foulkes has been flying solo for some time now.
Over the last dozen years, the 58-year-old has, more or less, been left to handle the day-to-day operations of the Big Book Store on his own. For those who frequent the shop, they'll most likely be greeted by the affable man, who maintains a memorable snow-white beard and can hold a conversation that runs three ways at once with ease. And if there's one thing he knows well, it's books. Foulkes has been slinging books for the majority of his life. "It's always been bookstores," he says.
Local bookworms likely recognize the name John K. King, and may have visited the flagship store on West Lafayette, or John K. King Books North along Woodward Avenue in Ferndale. The shop at 5911 Cass near Wayne State University is John King's third branch and is the oldest bookstore in the city of Detroit, Foulkes says.
"In fact, one second, because I always screw up on this" — he holds his thought, exits the front door of the shop, walks around to the side of the building, and then, moments later, returns — "there has been a Big Book Store since 1930. It's written on the side of the building; I always forget whether it's 1930, or '39," he says with a laugh. King purchased the store in the 1980s.
Foulkes says of the Big Book name: "I get a lot of people in … occasionally who sit there going, 'I remember coming in here' — now usually they know me because I've been here for 25 years — 'when [another shop] was here and you were down the street!' That's why I don't think [King] changed the name."
Foulkes catches a bus near his Sterling Heights home and heads into Detroit four days a week, an hourlong ride each way. His shop is a place most readers should have an easy time finding something of interest. Foulkes carries a wall-to-wall selection of comic books, biographies, occult, fiction, science fiction, and an extensive selection of collectible adult rags that can be browsed for $1. It's a hunter's paradise.
The shop's old push-button telephone rings. "I got a book about guardian angels," he tells the caller. Guardian angels? "A guy asked for angel books," Foulkes explains after hanging up. The man dropped by the previous week asking for anything on angels — something Foulkes at first thought he didn't carry.
A testament to the service still found in small shops that operate the old-fashioned, neighborhood-centric way, Foulkes made sure to let him know of the discovery. That type of hospitality is something Foulkes likely learned growing up as an avid reader.
And how'd he end up here? "I kept going into bookstores," like the Big Book Store, he explains. With an established presence, landing the job was fairly simple, he says. One day, while visiting the shop, he says he asked the manager, "Where's the guy that's usually here?" As it turned out, that guy was no longer employed.
Foulkes recalls asking the manager, "You need someone?" Sure did. The job was his — and, for now, his alone.
The push-button phone rings again. Foulkes answers: "Good afternoon, Big Book Store ..."
Back to work.
The Big Book Store is at 5911 Cass Ave., Detroit; 313-831-8511. Open 9:30 a.m.-5:30 p.m. Wednesday-Saturday.