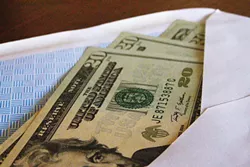 More than a dozen current and former Detroit Public Schools employees are under indictment for an alleged bribery and kickback scheme connected to school supplies vendor Allstate Sales.
According to prosecutors
,
12 current and former principals look bribes and kickback funds totaling nearly $1 million from Allstate Sales owner Norman Shy, 74, from 2002 until January 2015.
Under the deal, Shy's company — which sells school supplies like lined paper and chairs — brought in nearly $5 million from DPS, of which about $2.7 million was fraudulent, says U.S. Attorney Barbara McQuade.
The announcement comes on the heels of the
December FBI probe
into Kenyetta "K.C." Wilbourn, a former principal at Detroit's Mumford High School, who pleaded guilty to federal bribery and tax evasion charges.
McQuade says she learned about Shy when her office indicted three people in similar kickback schemes this winter.
"It's about these 14 people who breached the public trust. The real victims are students and families who attend Detroit Public Schools," McQuade tells
The Detroit News
, later adding. "This case is a real punch in the gut for those who do the right thing."
One of those may be TV personality Ellen Degeneres, who in February donated $500,000 to Spain Elementary for technology updates, campus renovations, and additional staff funding. Degeneres's donation followed a
viral video
showcasing Spain's dilapidated state and lack of funding for extracurriculars like the arts. One of the seven current principals being indicted is Ronald Alexander, 60, who runs the school.
The news of the probe comes at an interesting time, as Lansing is deciding what to do with the financially insolvent district that has been under emergency management on and off since 1999.
The locally elected school board believes the scheme, which started in 2002 when DPS was under state control and continued through 2015, when it was also under state control, is proof that the district needs local oversight.
"We have a czar over the district," Detroit Board of Education Vice President Ida Short told the
News
at McQuade's press conference Tuesday. "We would ordinarily not have principals approving this level of contract. It's too much money. It's too easy for people to get greedy, as you see. We want to have the rights of every district in the state — to have an elected school board."
Some in Lansing, however, are using the incident as further proof of why DPS can't govern itself and needs more oversight.
According to
MLive
, House Speaker Kevin Cotter, a Republican from Mt. Pleasant, said Tuesday that the corruption case cements why House Republicans, "were so adamant that strong fiscal oversight be a prerequisite to any additional state funding for Detroit's corrupt and broken school administration."
MLive
predicts the indictment case will "throw a wrench" in any DPS legislation. While the legislature is currently on spring break, Senate Majority Leader Arlan Meekhof released a statement saying he's working with the House to "strengthen the DPS legislation passed by the Senate."
Thomas Pedroni, an associate professor at Wayne State University's College of Education is wary of any heightened levels of state control that Lansing may try to push in response to the corruption case.
"As in Flint, a lack of accountability and checks and balances emerged because traditional democratic forms of elected oversight were removed," says Pedroni. "Under state supervision there is only accountability to the governor. That produced the disaster in Flint, and it has produced the calamitous financial, academic and institutional collapse we now see in DPS. State oversight and control has produced our current malaise, and has not served as a hedge against it."
Pedroni points out examples of this pernicious behavior under state emergency management, with Barbara Byrd-Bennett, who was hired as DPS's Accountability Officer in 2009 by then-Emergency Manager Robert Bobb. During her tenure she
steered
a $40 million, multi-year contract with Houghton Mifflin Harcourt, her former employer. While she was never prosecuted for the deal (it was investigated by the FBI), in December she pleaded guilty to charges of fraud in Chicago, where she served as Chicago Public Schools' CEO for a number of years.
The DPS Office of the Inspector General — the equivalent of which investigated Byrd-Bennett in Chicago — was
shuttered
in August 2015 by former Emergency Manager Darnell Earley, who was also the emergency manager in Flint when the water system was switched to the Flint River.
"Democratic oversight would have prevented the disasters in Flint and DPS, and an accounting of the State's failures and a return to democratic accountability is what is now needed," says Pedroni.
The 14 defendants face charges of conspiracy to commit federal program bribery, which carries a sentence of up to five years in prison and fines as high as $250,000.