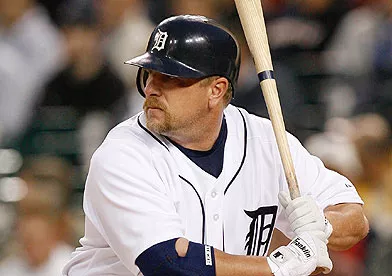 Today marks the final game of the 2014 regular season for the Detroit Tigers. Despite losing two in a row in ugly fashion to the lowly Minnesota Twins, the Tigers (89-72) still hold a one-game lead over the Kansas City Royals (88-73) in the American League Central, and they still control their own fate.
With a victory this afternoon over the last-place Twins, the Tigers would clinch the AL Central and open the first round of the playoffs on Thursday in Baltimore in a best of five series with the Orioles. Manager Brad Ausmus sends ace left-hander
David Price
(14-12, 3.36) to the hill for the start today against Minnesota right-hander
Kyle Gibson
(13-11, 4.50).
Ausmus will need Price to go deep into the game, as the rookie manager used up seven pitchers in
yesterday's blowout loss
to the Twins. If the Tigers should lose today and the Royals win in Chicago later this afternoon against the fourth-place White Sox, that would force a one-game tiebreaker tomorrow vs. Kansas City at Comerica Park.
This is all eerily similar to 2006.
On the final day of the '06 regular season, the Tigers needed just one win (against the last-place Royals, natch) to clinch the division title.
Behind starter Jeremy Bonderman, the Tigers jumped out to a 6-0 lead in the third and held the lead into the eighth, when reliever Fernando Rodney imploded, surrendering four runs and giving the Royals an 8-7 lead.
In the bottom of the eighth, trailing by a run, Tigers manager Jim Leyland called on pinch-hitter Matt Stairs for some late-inning heroics. Stairs, a journeyman softball beer-league type acquired late in the season for a case of Schlitz and a carton of Marlboros, stepped to the plate and promptly launched a moon shot into the right-field stands to tie the game. Comerica Park erupted, and the game went into extra innings.
Closer Todd Jones held the Royals in check for two innings, but then, with a depleted relief corps, Leyland was forced to call on starter Kenny Rogers to come out of the bullpen. The crafty lefty held the Royals scoreless in the 11th, but could not seal the deal,
surrendering two runs in the 12th and taking the loss.

With Tigers starter Justin Verlander on three days' rest today, might Ausmus be forced to use him out of the bullpen in an emergency scenario?
And if the Tigers need a late-inning bomb, who could reprise the role of Stairs?
Our money's on rookie Tyler Collins.
Center fielder Rajai Davis, injured in yesterday's loss to the Twins, is out of the lineup today. Ezequiel Carrera gets the start in center and is batting ninth.
First pitch at Comerica Park is at 1:08 p.m.


STARTING LINEUP:
1. Kinsler, 2B
2. Hunter, RF
3. Cabrera, 1B
4. Martinez, V., DH
5. Martinez, JD, LF
6. Avila, C
7. Castellanos, 3B
8. Romine, SS
9. Carrera, CF