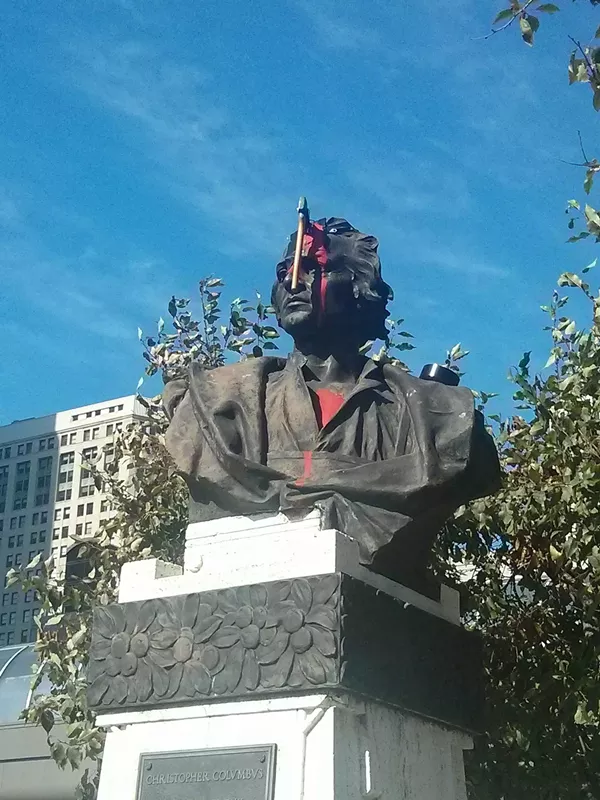 Amid the recent trend to remove racist and otherwise problematic historical monuments from public places, Detroit city councilwoman Raquel Castañeda-López says she will ask city leaders to replace a bust of Christopher Columbus in downtown Detroit, as well as rename Columbus Day as "Indigenous Peoples Day," during a Tuesday morning meeting.
The
Detroit Free Press
reports that Castañeda-López says her resolution would "honor Detroit's Native American community, Michigan's 12 federally recognized tribes, and indigenous people who traveled from across the Americas to live and work in Detroit."
Other cities like Los Angeles, Austin, Texas, San Francisco, Seattle, and Denver have all make the switch.
Last month
a group called the Raiz Up
was already working to get the statue removed. They started a petition and collected 1,644 signatures in hopes to getting some attention from the city.
Their petition included a resolution to include a statue of a more appropriate, local icon like Grace Lee Boggs, Sojourner Truth, or Chief Pontiac. Castañeda-López's proposal will also ask Mayor Mike Duggan and city council to consider removing and replacing the Columbus bust.
According to the
Free Press
report, this resolution has been in the works for a couple years now. In 2015, the
bust was defaced
when someone splashed it with red paint and affixed a hatchet to the statue's forehead.