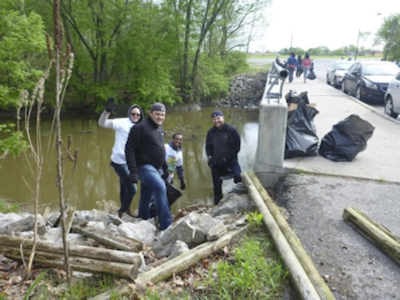 On May 30, residents of Detroit and 14 suburbs will band together for Rouge Rescue 2015, a volunteer conservation effort started in 1986 to clean up and preserve the Rouge River habitat. Volunteers can expect to "remove invasive plants from the river corridor, install native plantings and stabilize stream banks to improve the health of the river," according to therouge.org.
Contrary to what many may believe about Rouge River pollution, heavy industry is not the factor it used to be a generation ago. Memories from Detroit's industrial heyday still have a grip on locals, and with good reason. For instance, as the Michigan Environmental Report tells, back in 1969, "the oil-matted Rouge River in Detroit caught fire, shooting flames 50 feet in the air and sending smoke billowing near the I-75 highway bridge." In his book
Burning Rivers
, Michigan environmentalist John Hartig writes how, at the time, the fire "didn't get much local media attention. Most citizens accepted the fires as part of the industrial operations that brought jobs to the area."
The ramifications these days are less dramatic, but the problems remain very real. And getting individual residents involved is vital, says River Restoration Program Manager Cyndi Ross, because industry makes up only 2 percent of the river's current pollution.
"People think its industry but it's really us," Ross says. "It's our vast lawns that are maintained with a lot of chemicals. It's our road salts, motor oil and pet waste. It is the tiny little sources that accumulate."
Ross says these chemicals drain into the river in rainstorms due to "impervious surfaces" like roads, sidewalks, driveways and roofs channeling water instead of allowing it to seep into the ground. This drainage, Ross says, not only pollutes the river but causes the Rouge to rapidly rise and fall with precipitation, which erodes riverbanks and kills wildlife.
"The sediment is like sandpaper rushing down the river," Ross says. "It is this surge and flow in every rain event that causes damage to habitat."
Another problem the Rouge faces, Ross says, is invasive plant species. According to the 2014 Rouge Rescue report, 59 garbage truck loads of invasive plant species were removed from the river by volunteers. "These plants produce an abundance of seeds and they don't have predators eating them," says Ross. "Removing them helps preserve the biodiversity."
Livonia site manager Doug Moore, who is Livonia's Assistant Superintendent of Public Services, says that invasive species pose a large threat to the Rouge ecosystem. "Garlic Mustard, Buck Thorn and Purple Loosestrife out-compete our natives until they take over the ecosystem."
Natives need to be preserved and planted, Moore says, "because they have deeper routes that help keep soil in place and native insects will keep pollinating them." The Livonia site volunteers plan to plant 350 native species along the river and remove the invasive plants, says Moore. "We're paying for our grandparents mistakes. The whole City of Livonia is in the Rouge watershed.
"Be ready to get muddy," Moore says, "especially if we get more rain."
Ross says that volunteers should come prepared with close toe shoes and long pants. Most work sites run from around 9a.m. to 12p.m.
For information on specific work sites and times, see therouge.org.