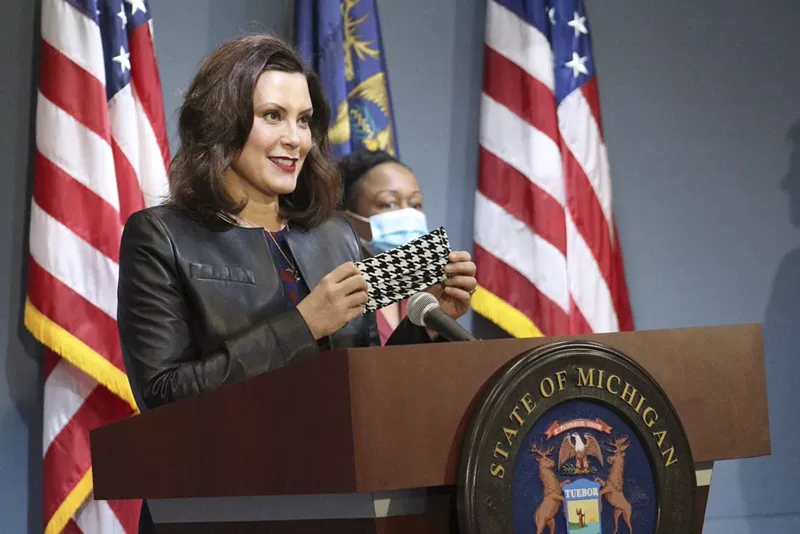 As the coronavirus continues to burn through the U.S., claiming more than 135,991 lives, including more than 6,000 in Michigan, leaders like Gov. Gretchen Whitmer are asking people to "#MaskUp" to help prevent the spread of the virus.
Michiganders have been
asked to wear masks in enclosed public spaces
since April. Last week, Gov. Whitmer
signed an executive order
that makes masks mandatory both indoors and in crowded outdoor spaces, with businesses ordered to enforce the rule by refusing service to those who aren't wearing them, with few exceptions, like serious breathing health concerns. Violators could be fined $500.
Seems like a reasonable enough request. There is growing evidence that masks are helping
to stop the spread
and
severity
of the virus. In past moments of crisis, Americans have been asked to make small sacrifices for the larger good, such as
rationing supplies during World War II
or being asked to take off their shoes at security checkpoints at airports. Plus, the coronavirus is still nowhere near under control. Though Michigan managed to flatten the curve, COVID-19 cases are seeing an uptick.
But because we can't agree on anything these days, people have been absolutely losing their goddamn minds over masks.
In Michigan, at least two deaths have been linked to altercations stemming from arguments over wearing masks. In May, a security guard at a Flint dollar store was shot after telling a customer that her child had to wear a mask before entering the store.
According to officials
, when Sharmel Lashe Teague was informed by the guard about the store's mask policy, she yelled and spit at him; 20 minutes later, her husband, Larry Edward Teague, and son, Ramonyea Travon Bishop, confronted the guard, and Bishop shot him.
Last week, Sean Ernest Ruis
stabbed a 77-year-old man
after they got in an argument in the parking lot of a Lansing-area Quality Dairy over wearing masks. Then, this week, a man at a Meijer store in Northern Michigan pulled a knife on a clerk when she asked him to wear a mask.
What's going on here? There are two large forces at play — both extremely embarrassing, and both deeply ingrained into the American identity.
One, there is confusion that goes all the way to the top leadership, or lack thereof. President Donald Trump has, famously, refused to be seen wearing a mask in public. Since Trump's mind is a puzzle to anyone with one (good luck trying to
make sense of his own words
on the topic), various explanations have been floated as the reason for his aversion to masks. Trump is a creature of the media and has long downplayed the severity of the crisis, so it could just be that the visual image of people wearing masks simply makes the disaster more real, or could even be perceived as a political statement against his administration's ineptitude. Others have said that masks look "weak," as if being strapped into a ventilator in a hospital bed for weeks looks any better.
Several Michigan sheriffs offices have said they will not enforce the mandate,
including Macomb County's
. In Georgia, Republican Gov. Brian Kemp
banned municipalities from making mask-wearing mandatory
, calling it "a bridge too far" and "unenforceable." But coronavirus cases are now surging in the Republican South, with several states now surpassing Michigan, which was once one of the top-three coronavirus hotspots in the nation.
Sure, there was plenty of confusion early in the coronavirus crisis, with the Centers and Disease Control and Prevention and the World Health Organization giving
conflicting recommendations about masks
, with WHO downplaying the necessity of wearing them. But now, the CDC is doubling down on its advice, saying that the U.S.
could get the coronavirus under control within two months
if everyone wore masks.
Well, good luck with that.
The "debate" over wearing masks, as much as there is even a "debate" on the issue, is falling squarely along political fault lines. At a recent meeting in the Michigan Legislature, all eight of the Democratic lawmakers wore masks, while only one out of 11 Republicans did. Rep. Brad Paquette, a Republican from Berrien Spring, told
The Detroit News
he refused to wear a mask simply because Whitmer asked it.
"I oppose one person making decisions for the state," Paquette said. "If I'm not able to be a voice for my constituents, I'll do everything I can to get their voices heard." Rep. Tyrone Carter, a Detroit Democrat, told the paper that he thought not wearing a mask was "disrespectful," and makes it seem like lawmakers are above the law.
Gov. Whitmer
expressed puzzlement
over the violence surrounding masks.
"It's the simple act of wearing a piece of cloth on your face when you're in a public space, or when you're outside but in a crowded space," Whitmer said.
"That's it. This should not be this flashpoint that it seems to be."
There could be one other factor at play here, though. Many of the mask-resistors, including Trump, will say they are doing it because of "freedom." Some Republicans have even appropriated the rallying cry of
pro-abortion feminists
, saying "my body, my choice." Others have, bizarrely, compared the mask mandate to Nazi Germany.
America is, allegedly, the land of "freedom," and places an outsized — and perhaps, unnatural — emphasis on the individual. But remember: we're in month No. 4 of the coronavirus crisis. People have been quarantined for weeks, and those lucky enough to have not lost their jobs due to the resulting economic downturn have limited ways to choose to spend their leisure time away from their jobs. Perhaps this explains people's eagerness to
continue to go out to eat at restaurants
or
even go on vacation to Disney World
amid the pandemic, even though both will remain uncanny (and unsatisfactory) simulacra of themselves for as long as the coronavirus remains a threat.
The coronavirus crisis, aside from
highlighting pretty much every flaw in our society
, is also deeply revealing of the fact that for a country that prides itself on "freedom," that freedom is superficially a menu of options presented under the structure of capitalism, and that true freedom is actually an illusion for the majority of Americans. Choosing not to wear a mask is the only "freedom" some people feel like they have.
Of course, this is also deeply stupid. Michigan, just #MaskUp already.
Stay on top of Detroit news and views. Sign up for our weekly issue newsletter delivered each Wednesday.