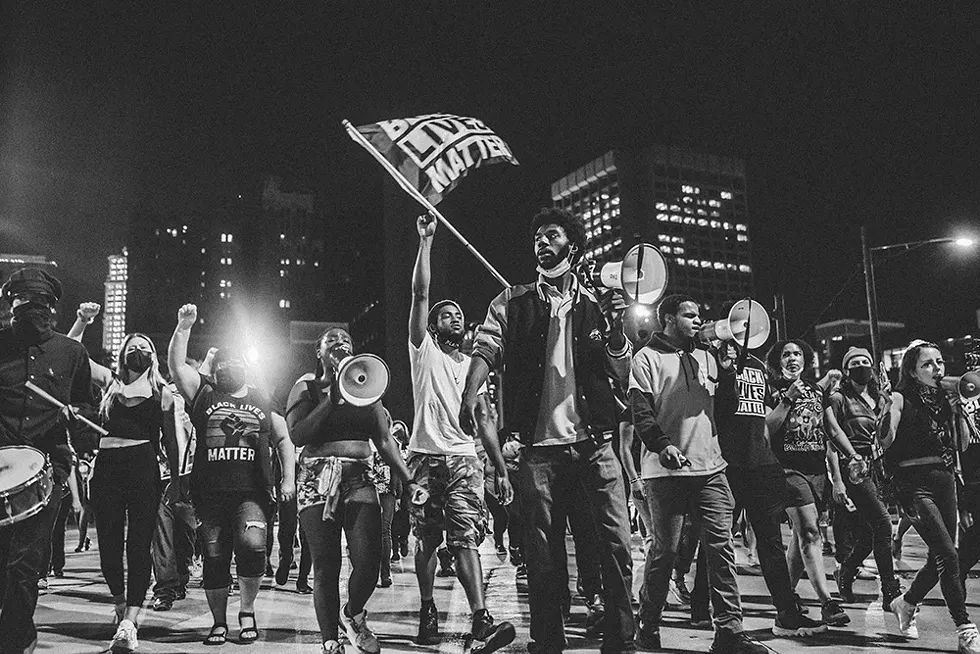 On June 2, Ray Winans, a Black Detroiter from the east side, put out an urgent call to neighbors in a Facebook Live video — he needed a crew and guns right away.
White "racists" intent on "setting our motherfuckin' neighborhood on fire," were about a mile away at Conner and Gratiot, Winans shouted.
"Y'all want to shoot down there? My niggas. That's right, pull up with those motherfuckin' sticks," he says, using a slang term for "guns."
"We gonna beat their ass right there."
The threat supposedly coming for Winans and his neighbors? A group of protesters marching against police brutality and structural racism, like other protests that have materialized throughout the country, inspired by the recent police killing of George Floyd in Minneapolis.
The first few nights of protests saw clashes with police and minor vandalism of downtown Detroit businesses. Though the June 2 protest, and each subsequent march through the neighborhoods, has been peaceful, Detroit Police Chief James Craig had already seized an opportunity — he presented demonstrators as violent, suburban outsiders unwanted by residents in the majority Black city.
Although many of the protesters were Black and from Detroit, Craig's PR blitz created an "us versus them" narrative that shored up support for DPD and generated opposition to the demonstrators, helping prevent their message from taking hold among the city's wider population.
"They don't respect our chief of police!" a woman yells from off camera in Winans' video.
The tension is only part of a bigger, surprising picture in Detroit. Despite being the nation's Blackest big city, there seems to be less appetite for major criminal justice reform and broader support for the police than elsewhere, particularly among older African American residents.
Nationally, Floyd's killing fueled a reckoning on racial injustice and policing. Protesters and residents' demands for meaningful law-enforcement reform and an outpouring of support for the Black Lives Matter movement prompted policymakers to enact sweeping changes at police departments while a wave of progressive prosecutors defeated "tough on crime" opponents. In Detroit, a movement against police brutality called Detroit Will Breathe has coalesced, and its marches and rallies have drawn thousands of supporters.
Yet despite a well-documented history of corruption, violence, and racial bias in the DPD, there have been few reforms to speak of in Detroit, and there's almost no discussion at city hall of more changes. Perhaps the most significant measure — a ban on chokeholds passed by the Detroit Board of Police Commissioners — was already in place statewide, and DPD officers appear to continue to violate that order.
To get a handle on why there appears to be a low level of support for reform, Metro Times spoke with more than 15 Detroiters, including activists, residents, members of the city's political establishment, and people who work in the criminal justice system.
While they all agree that there's limited demand for change, sources offered a range of theories on why. Some view Detroit as a conservative city even though residents reliably elect Democrats. Many Black Detroiters or their parents brought conservative values from the post-Reconstruction South during the Great Migration, helping cultivate a brand of conservative liberalism.
Some also say the local media doesn't do enough to challenge DPD, creating a situation in which the department's narrative is often the only one around law-enforcement incidents. The city's high crime and poverty rates also foster support for the police and contribute to disenfranchisement. For those reasons, Detroit seems collectively unaware that its department and chief need reform, says Chris White, director of the Detroit Coalition Against Police Brutality.
"When you're in survival mode, you're not thinking about the collective, you're thinking about the individual, so you can't see where these police shootings impact you," he says. "You can't see 'them today, you tomorrow.' That's where a lack of consciousness comes in."
The support for law enforcement manifested in several scenarios beyond the protests this summer. During a three-week span in July, Detroit police shot four people, killing three. Not only was there little outrage to speak of, each incident prompted a flood of support on social media for officers and Craig. Even when DPD's narrative around one shooting unraveled as video of the incident was scrutinized, few seemed interested outside of the victim's family and activist circles.
Meanwhile, Victoria Burton-Harris, a Black progressive civil rights attorney backed by Bernie Sanders, challenged the incumbent, more police-friendly Wayne County prosecutor Kym Worthy, on a platform that included proposals to hold officers accountable for misconduct and to stop filling jails with Black men. She lost Detroit in the Aug. 4 primary by 20 points.
Opposition to reform is also evident in the city's political establishment, which has largely been silent or clearly backed the department. Mayor Mike Duggan is challenging a court order that prohibits DPD from using some militarized tactics that have seriously injured demonstrators. City council president Brenda Jones opposed dropping charges against protesters, the majority of whom were accused of only violating a curfew. Her chief of staff, Stephen Grady, used right-wing talking points on social media to attack Detroit Will Breathe and back Craig throughout the summer.
"We are the only major city that did not fall to the '$oros socialists' and plunge into the violence, looting and arson that haunted other cities," Grady wrote in a Sept. 3 Facebook post. "The 'hood' has stayed away from these suburban group street meetings some call 'protests' (which are actually 'no-tests') as this group does not speak for Detroit."
Grady and DPD did not respond to requests for comment.
'Detroit is a conservative city'
Like so many other Black Detroiters during the last 100 years, Ann Jones grew up in the post-Reconstruction South and moved to the city with her husband in search of work during the Great Migration. Though she carved out a life in the more liberal north, Jones never shed the conservative values instilled in her by Alabama.
She's a Trump supporter who previously pulled the lever for Obama, but switched after Democrats lost her on gay marriage. She also considers Trump to be the "law and order" candidate and says she's perplexed by the protests in Detroit.
Defunding the police or reducing their ranks doesn't make sense when there aren't enough officers as is, she says, and "people need to learn to respect the police because they're out there to protect us."
As for the protesters — they're "taking it much too far," she says.
"They're talking about Black Lives Matter, but to me all lives matter," Jones adds. "I know Black people go through a lot at times, but why are Black people always killing one another?"
Jones's conservative views aren't entirely unusual in Detroit. The city's older Black population skews right on some issues, especially policing, says Larry Hightower, a Black Detroiter who lives in the solidly middle-class Green Acres neighborhood.
"When you really get down to it, Detroit is a conservative city. The most influential voting bloc is Black females over 50 years old ... and they vote in larger numbers than any other group," he says. "These are people who are from the South, who descended from the South, and folks from the South — because of the environment they grew up in — are very conservative."
It's those residents who have through the decades elected local leaders who govern by their values, and that style of conservative liberalism could help explain why progressive candidates and ideas like those pushed by Black Lives Matter, Detroit Will Breathe, and other activist groups aren't fully resonating with many Detroiters or the political establishment.
Hightower, a retired DTE Energy executive who's part of the "Green Acres Radio Club" neighborhood watch group that stays in close touch with DPD, told the story of his own parents. They grew up in rural Lee County, Georgia, and were subjected to "vagrancy laws" that required Blacks to have jobs and to not break the law. Violating the rules subjected them to the chain gang, or forced labor — a punishment widely viewed as re-enslavement.
However, that instilled a strict work ethic and respect for the law in Hightower's father, who he says "used to brag about having a job and never getting in trouble." That sensibility was passed on to Hightower.
Reformist prosecutorial candidate Burton-Harris saw that strain of conservatism at play in her race. She offered proposals that would've radically reformed the local criminal-justice system in a way that benefited Black residents, but her platform didn't seem to catch on with many older, conservative African Americans.
She says many of those who migrated from the South around the time of the civil rights movement and lived through the 1967 Detroit rebellion don't seem to see a connection between past and present race struggles.
Some simply aren't interested in continuing to fight for criminal-justice reforms, Burton-Harris says, and "the conversation with older conservative folks tends to stop at their own feeling of safety, even if it's a surface level idea of safety."
"They would like to, for once in their lives, get away from that idea of constantly having to fight to be, and they just want to be," she adds. "They created this very comfortable, safe existence to be in, so these things don't concern them.
"It's understandable why they have the views they have — their experience of late has not been the experience of that of a lot of younger, marginalized Black people."
Taking it a step further, Burton-Harris says the "narrative that 'unruly Black folk' need to be controlled has been shoved down their throats all their lives," and Black conservative residents often view themselves instead as "the good Black folk."
The city's "good Black folk" in middle-class neighborhoods also receive a disproportionate amount of police resources and attention, Hightower says. He points to a recent Deadline Detroit series that showed that 911 response times to calls in wealthier neighborhoods were shorter than those in lower-income areas.
Hightower's Green Acres neighborhood maintains "an excellent relationship" with the DPD that includes a special direct line to the department that Hightower utilized when a suspicious person was sitting in a car outside a neighbor's house. Within moments of the call, six squad cars were on the scene — a far better response than less politically connected neighborhoods receive, Hightower says.
"Craig has done a yeoman-like job making sure that in areas of the city with an older, conservative population — northwest Detroit, sections of the east side — making sure that those folks are taken care of," he says.