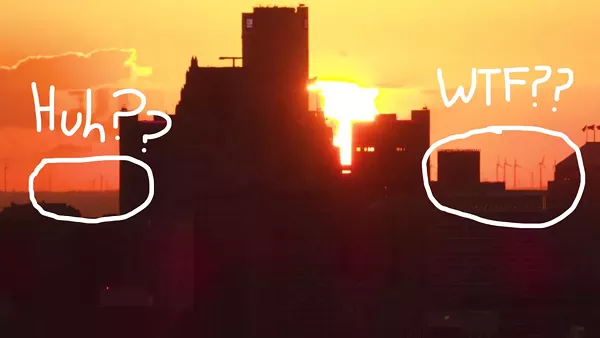 When it comes to marketing Detroit to outsiders, we've noted a bit of overzealousness on the part of the city's reigning plutocrats. Of course, no effort was as conspicuous with its cojones as
the District Detroit campaign
, which marketed a neighborhood that doesn't exist yet, apparently
using footage of other cities
in its pitches to suggest the bustle its developers obviously hope will hurry up and profitably arrive.
Well, now we might be able to add one more example of this sort of fiddling with the facts to entice newcomers. It's in the
video pitch attempting to woo Amazon to Detroit
, which
we wrote about yesterday
.
Produced by a team led by Dan Gilbert
, the video, as we said yesterday, is an impressive bit of marketing. Swooping overhead shots and time-lapse footage make the city look quite different than it does from, say, at the corner of Mack and Bewick.
But then a friend pointed out to us that the movie magic appears to involve more than fancy camerawork and playing with camera speeds. The video includes at least one scene that seems to have been digitally doctored. (Or perhaps it used an extremely long lens to distort the view as seen by the naked eye? See update below.)
The scene in question is an aerial shot of downtown at sunrise, showing more than a dozen wind turbines in the background. Huh?
The only problem is that they don't seem to be viewable without special lenses. Scanning the Windsor horizon this morning for any construction derricks or towers going up would seem to confirm this view.
We've emailed the creator of the video, Emmy Award-winning filmmaker Stephen McGee, for comment.
Of course, wind turbines are sexy. Given
millennial attitudes toward renewable energy
, you can imagine the marketing professional in the video studio suggesting they might be just the thing to make our fair city look that much fairer to the smartphone set.
But isn't it a problem that they don't seem to be visible to the average person not equipped with binoculars?
Now if we were savvy PR people who got called out for Photoshopping wind farms into a promotional video aimed at out-of-towners, we'd probably say we were "visioning" or some made-up word that sounds better than "lying."
But outside the realm of marketing, in the real world where we rely on realistic portrayals and normal lenses to make our decisions, this sort of stuff doesn't fly very well. It's the equivalent of using a much younger photo of yourself on your Tinder profile.
Yes, when you go a-courtin', you do usually show off your best side. But it's best to be honest, especially if your intentions are serious and you really hope to snag that LTR.
Because when that entity you're wooing finds out you were fibbing about those sultry summer mornings gazing at the Windsor wind farm, they might just wonder how much of those other promises were all hot air. Just sayin'.
UPDATE:
Ace filmmaker Stephen McGee has gotten back to us, and explained how a shot of downtown can legitimately include wind turbines that are miles and miles away
in Ontario
.
It does not, apparently, involve digital manipulation, but an extremely long lens. In a statement, McGee informed us, "the lens zoomed into 1000mm compressed ... the windmills in Canada with the skyline of Detroit." Knowing a thing or two about lenses, we can say this makes it possible to distort visual space in such a way as to make it appear as though something far, far off in the distance is actually much nearer than it appears. McGee's work is just incredible, making it appear that downtown is surrounded by a forest of turbines.
So is it a digital manipulation of reality? Nope. Is it "trick photography"? About as tricky as it gets.