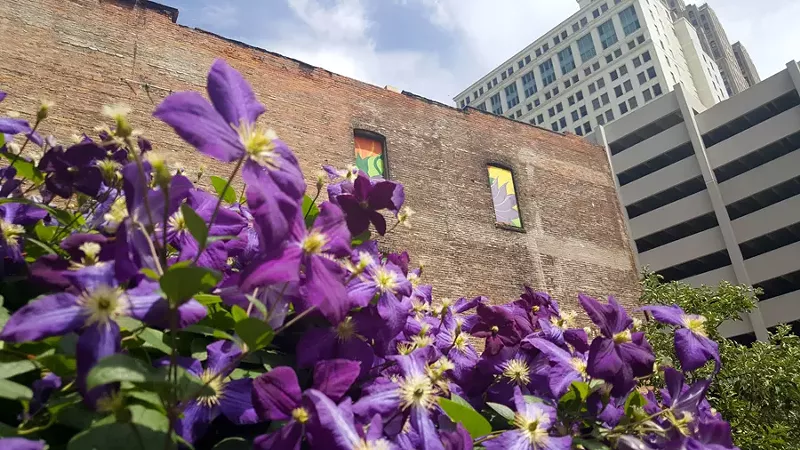 Amid the concrete and cityscape of downtown Detroit lies Lafayette Greens, an urban garden nestled in a plot where the Lafayette Building once stood. The urban garden positions itself as a focal point in a conversation about the burgeoning urban food movement and its potential to enhance city living, change a globalized food system, and address urban sustainability and food security.
It's also one of 30 sites in metro Detroit chosen for a study researching some at-risk pollinators: bumblebees.
Native bees are some of the most important pollinators in our ecosystem. According to a report by the Center for Biological Diversity, native bee pollination accounts for more than $3 billion in fruit-pollination services in the U.S. annually, and 90 percent of our wild plants depend on them. But native bees are in trouble.
Green Toe Detroit is one of the largest beehouses in the city, and where Joan Mandell is a beekeeper and co-owner. She's concerned about the disappearance of bees, noting that it's a symptom of a bigger issue.
"The decline of native species and honeybees alike is a warning that we are living in a time of environmental tragedy," Mandell says.
One-third of our food production depends on bees, according to a report by Greenpeace, but the populations of more than 700 species of North American bees are dipping rapidly. Bee-killing pesticides, land development, and industrial agriculture are all culprits in their demise.
In a study on bumblebee declines in urban development, University of Michigan students explored ways that green city planning can save the bees.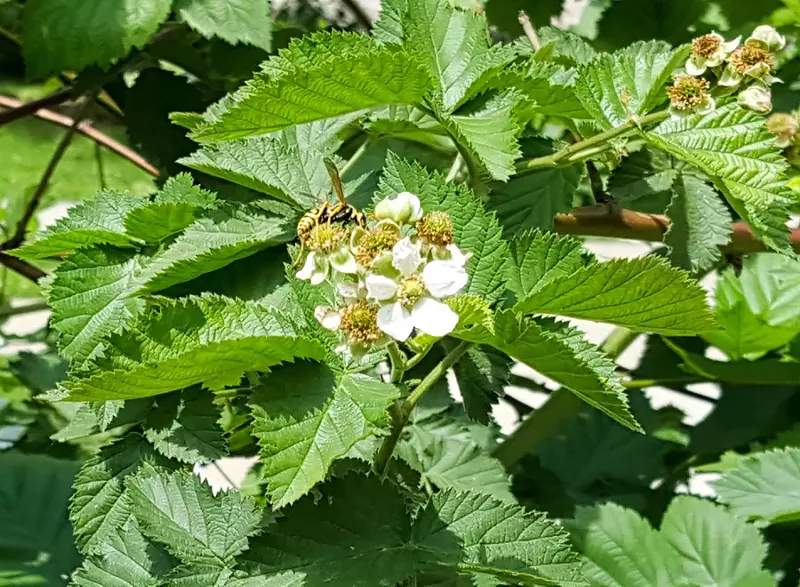 "We are finding that urban environments are spreading," says Paul Glaum, a researcher at U-M's Department of Ecology and Evolutionary Biology. "There's a smattering of studies that have come out that say green cities or green city planning can actually be really beneficial for these at-risk pollinators, so we wanted to see what ... happens when you have an increase of urbanization, yet you create these islands of food resources (urban gardens) for some of these bees that are becoming harder and harder to find."
By analyzing the geographical information across southeast Michigan, Glaum and his team determined the amount of development in an area. Back in their lab, they tried to find the correlation between urbanized sites and the abundance and diversity of bumblebee populations.
It wasn't until the team removed Detroit from their analysis while looking at the differences between each city that they found what they were looking for: The more urbanized and developed a site was, the fewer bumblebees they found.
They weren't seeing this pattern initially because the Detroit sites were more developed, but also showed a higher abundance and diversity of bumblebees.
Researchers suspected the data results were foiled by Detroit's "shrinking city" status, a phenomenon that refers to urban depopulation often caused by economic troubles. As people leave, it becomes harder to maintain the city that was built to support a larger population, thus neglected properties and vacant lots proliferate.
Those vacancies prove to be palatable homes for bumblebees.
"Vacant lots mean there's untended soil that can support wildflowers; that can be helpful for the bees," Glaum says. "They're not going to be covered in pesticides or herbicides and can be readily available open soil. Bees can have an easier time finding a nesting spot."
In the study, the two sites with the most bumblebees were U-M's bountiful nature preserve and Lafayette Greens. In fact, the garden in downtown Detroit had just one fewer bumblebee.
"We have more and more evidence that shows things like vacant lots or small nature preserves with these wildflowers, with these resources, that are allowed to persist in a city, may be helpful," Glaum says.
The results of the study suggest that the unique ecological patterns seen in Detroit could provide avenues for research in sustainable city development.
"Places like Detroit are great examples of how we can rethink the form and function of urban environments and
how we can integrate conservation into our everyday lives," Glaum says. "This is beneficial for everybody."
And as the urban food movement takes hold in the city, the green spaces will provide a home for the bees, who will pollinate them, and resources for residents.
"In places like Detroit where there is such a fascinating urban food movement there to fill in the gaps existing between ... food deserts and places that have been hit hard economically — integrating a purely public good like pollination services into a conservation effort that's happening in an urban environment is a fascinating new way to rethink the form and function of urbanization," Glaum says.
Back at her garden, beekeeper Mandell she says she hopes the study will steer city planners to utilize the city's vacant lots for urban gardens and farms that everyone and every bee can benefit from.
Skyler Murry is a summer intern at Metro Times.