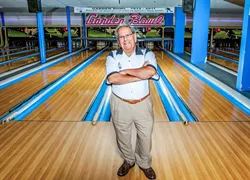 Read the full list of Best of Detroit 2017 Sports and Rec winners here.

With Little Caesars Arena on the brink of opening, bringing the formerly Auburn Hills-based Pistons to Detroit, soon all of Detroit's major league teams will be housed within city limits. Oh, and Dan Gilbert's proposing a major league soccer stadium too. But, as evidenced by our Best of Detroit Sports and Rec section, Detroiters are so much more than just fans of televised feats of athleticism.
Detroit's home to Detroit City Football Club, and their rabid fan base has proved that Americans really can care about soccer. The Detroit Lions had a guerilla cheerleading team before it had a league-sanctioned squad. We just do things different here.
We go bowling differently, that's for sure. While many of the nation's independently owned bowling alleys are seeing a downturn in league participation and overall patronage, Garden Bowl continues to thrive, maybe only slightly due to the fact that Lady Gaga bowls there while she's in town.
Detroit's favorite place to relax on a warm summer afternoon, Belle Isle, is certainly a treasure — with people flocking to its grassy fields, casino and beautiful conservatory to say their vows. The island park is filled with historic structures, including the Albert Kahn-designed Belle Isle Aquarium. The once shuttered building offers a cool respite from the sun on weekend morning. The green glass tiled ceiling making the interior appear to be a fresh water tank all its own. Inside you'll find turtles, electric eels, and other aquatic creatures available for close inspection.
But we're not all about leisure in Detroit, although we do seem to be constantly searching for our breath and our center, which is why we love the vinyasa and chaturanga of a good yoga class. Detroit and her suburbs are home to a slew of yoga studios including Citizen Yoga, Bikram Yoga, Yoga Shelter, 359° Yoga, and many more. And when we throw our back out from trying too hard at wild child pose, we can visit great chiropractors like Dr. Zachary Ward.
Detroit is home to beautiful, historic buildings like the Guardian Building, the Fisher Building, the Masonic Temple, Inn on Ferry Street, and the Inn at St. Johns. Some of these places are great for a wedding reception, some are just a great place to stroll around on a Saturday morning — all of them are beautiful in their own way and add to this rich architecture of the city.

Best Aquarium
Belle Isle Aquarium
900 Inselruhe Ave., Detroit;
313-402-0466; belleisleconservancy.org

Best Bed & Breakfast
The Inn on Ferry Street
84 E. Ferry St., Detroit; 313-871-6000; innonferrystreet.com

Best Bowling Alley
Garden Bowl
4120 Woodward Ave., Detroit; 313-833-9700 ext. 205; majesticdetroit.com

Best Chiropractor
Dr. Zachary Ward, Life in Alignment Chiropractic
2757 University Dr., Auburn Hills; 248-598-4002; liachiro.com

Best Cider Mill
Yates Cider Mill
1990 E. Avon Rd., Rochester Hills; 248-651-8300; yatescidermill.com

Best Outdoor Wedding Venue
Belle Isle Park
Multiple venues; 313-821-9844

Best Skatepark
Modern Skate & Surf
1500 N. Stephenson Hwy., Royal Oak; 248-546-7275; modernskate.com

Best Visitor Experience
The Henry Ford
20900 Oakwood Blvd., Dearborn; 313-982-6001; thehenryford.org

Best Wedding Banquet Hall
The Inn at St. John's
44045 5 Mile Rd., Plymouth; 734-414-0600; stjohnsgolfconference.com

Best Yoga
Citizen Yoga
500 S. Washington Ave., Royal Oak; 248-268-2160; citizenyogastudio.com