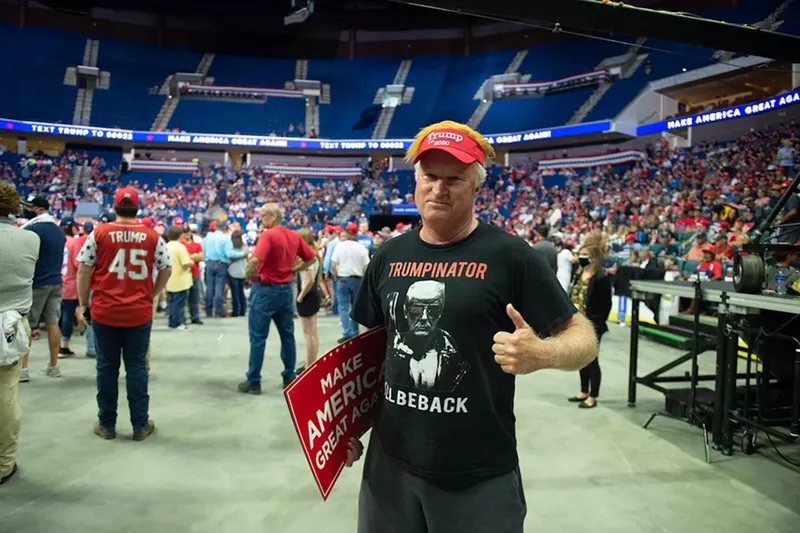 President Donald Trump and his merry band of red-cap wearing,
guitar-brandishing
, "
look he can drink water with one hand!
" devotees may face some pushback should they attempt to assemble in Michigan, a key battleground state in the upcoming and incredibly dystopian 2020 election.
Ahead of Trump's wildly under-attended Tulsa, Oklahoma rally on Saturday (where only
6,200 people reportedly filled the 19,000-seat BOK Center
, forcing Trump and Vice President Mike Pence to cancel appearances at an outdoor event for anticipated guest overflow), Gov. Gretchen Whitmer said she would seriously consider putting the kibosh on a similar Trump gathering in Michigan, though she's not entirely sure if she would legally be allowed to do so,
reports the Associated Press
.
No such campaign events are currently scheduled. However, Pence prayed over hamburgers with elusive Senate hopeful John James in Mount Clemens last week, where social distancing and mask-wearing seemed to be completely ignored.
"We know that congregating without masks, especially at an indoor facility, is the worst thing to do in the midst of a global pandemic," Whitmer said. "I just know we have limitations on the number of people that can gather and that we're taking this seriously."
Almost One Million people request tickets for the Saturday Night Rally in Tulsa, Oklahoma!

— Donald J. Trump (@realDonaldTrump) June 15, 2020
Whitmer — despite being criticized and threatened for her coronavirus shutdown by some of her constituents, as well as Trump — led Michigan
to be one of only three states on track to successfully contain
the virus.
Last month, Whitmer
lifted parts of her statewide stay-at-home order
, allowing outdoor gatherings of up to 250 people and indoor gatherings of no more than 50.
The free Tulsa event required attendees to waive liability should they contract COVID-19 at the rally, which prevented them from seeking legal action against Trump, the campaign, or the BOK Center. The campaign also said it would distribute masks upon entry and would supply hand sanitizer, though reports suggest that those who wore masks inside the rally were "
vastly outnumbered
" by those who chose not to cover their faces. Seating was not spaced out to accommodate social distancing.
"You know, there was a time when people thought it was worse wearing a mask," Trump told
Axios
on Friday,
conflating early messages from the Centers for Disease Control and Prevention
that suggested the general public may put health care workers at risk by buying up masks, which even in March were in short supply. "I let people make up their own decision."
During the rally, Trump drank a glass of water (this is now a thing for Trump for some reason that we will not get into here); doubled-down on threats to Black Lives Matter protesters ("When you see those lunatics all over the streets, it's damn nice to have arms");
spent three minutes defending and reenacting his geriatric ramp walk
from a week ago; and suggested that he was slowing coronavirus testing to make it look like the U.S. had fewer cases.
"When you do testing to that extent, you're going to find more people, you're going to find more cases," Trump said. "So I said to my people, 'Slow the testing down, please.' They test and they test."
White House trade adviser Peter Navarro later claimed the testing comment was "
tongue in cheek.
"
Trump visited Michigan last month when he toured a Ford ventilator assembly plant in Ypsilanti. Ahead of his visit, Michigan Attorney General Dana Nessel penned an open letter to the president, warning him of his legal responsibility to wear a mask while touring the facility. At the time, nonessential visits to manufacturing facilities had been suspended under Whitmer's executive order. Trump reportedly wore a mask, though only briefly, before taking it off so as not to give "the press the pleasure of seeing it." Nessel later described his negligence as "
extremely disappointing yet totally predictable.
"
On Monday,
Michigan reported 179 new confirmed coronavirus cases
, bringing the statewide total to 61,409. Since March, 5,853 have died. More than 122,000 people have died from the virus nationwide.


Stay on top of Detroit news and views. Sign up for our weekly issue newsletter delivered each Wednesday.