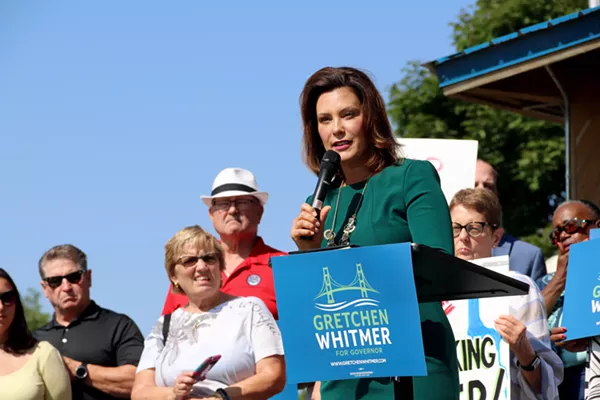 Governor-elect Gretchen Whitmer says she will bring back free water bottle delivery to Flint when she takes office next month.
Gov. Rick Snyder cut the state-funded program
in April
, citing decreasing lead levels in city tap water. In recent months, 90 percent of Flint water samples have tested
at or below 6 parts per billion of lead
. Under the Federal Lead and Copper Rule, the action level for lead tests is 15 ppb, while Food and Drug Administration regulations allow up to 5 ppb of lead in bottled water. However,
experts warn
there is no level of lead exposure that is considered safe for children.
Whitmer told
Michigan Advance
in
an interview
published Wednesday that she will reinstate the program until all lead pipes are replaced, saying:
"Well, the bottled water has to continue until the pipes are replaced. Dr. Mona [Hanna-Attisha] is someone that has been such a leader and has the confidence and trust of the people of Flint, so I'm going to work with her to make sure that the wraparound services for children are easy to navigate and are there in the robust way that they need to be. So I think that there are gonna be a lot of opportunities here. But when you look at incentives for investment, we really should be trying to make sure that our inner cities, especially ones that were so devastated by state oversight, are prioritized."
Whitmer has appointed Dr. Mona Hanna-Attisha — the Flint pediatrician-turned-whistleblower who alerted officials to the water crisis after discovering elevated lead levels in children blood — to serve on her transition team. She also told
Michigan Advance
that she will work with Flint Mayor Karen Weaver, Congressman Dan Kildee, and local leaders to make Flint's recovery a priority.
Beyond that, Whitmer says she plans to find other ways to invest in Flint in other ways as well.
"But also I think having a
longer term
view in terms of how do we get greater investment into Flint?" she said. "How do we get great employers to come to Flint and make sure that there is
opportunity
for the people of Flint?"
Mayor Weaver says she hopes to have all of the city's pipes replaced by
mid-2019
.
Stay on top of Detroit news and views.
Sign up
for our weekly issue newsletter delivered each Wednesday.