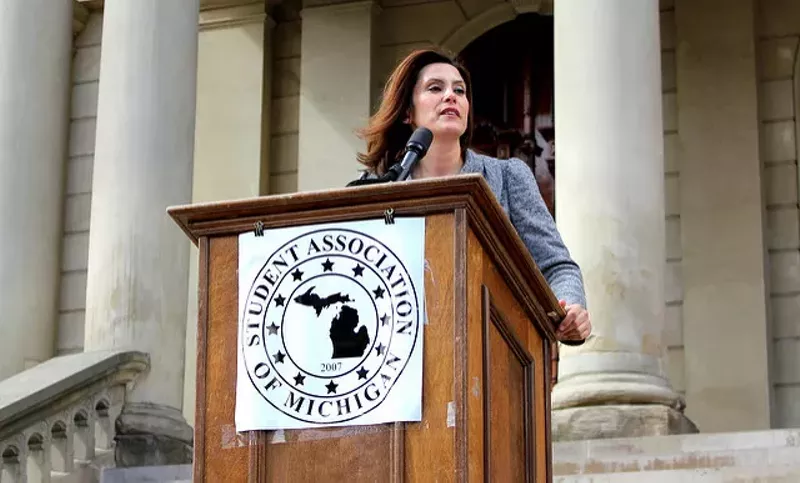 Across the country, a record number of women are running for governor — including Michigan Democratic candidate Gretchen Whitmer, who is the focus of
a Washington Post report
on the phenomenon published Monday. According to the report, at least 79 women are running or considering running nationwide, including 49 Democrats and 30 Republicans.
Yet Whitmer has tended to downplay her gender on the campaign trail, telling the
Post
:
"I talk about jobs," former state Senate minority leader Gretchen Whitmer says. "I talk about education. I talk about making government work for people. That's really the dinner-table issues that I hear from Michiganders in every part of our state."
That's not to say that Whitmer has avoided the topic of gender entirely. Shortly after announcing her campaign, Whitmer was a keynote speaker at
the Women's March on Lansing
last year. And Whitmer acknowledged the role women have had in organizing and inspiring since President Donald Trump's stunning defeat of Hillary Clinton in 2016. She told the
Post
:
"In this cycle, the most surprising thing is how sustained the energy is, and the enthusiasm," Whitmer said. "I was always a little concerned that maybe we'd get numbed to everything that's happening, the enthusiasm would wane, and it hasn't for a second. A lot of it is being organized by and sustained by women."
Four years before the #MeToo movement, the then-Senator
made headlines
while arguing against the "rape insurance" bill by revealing she had been sexually assaulted as a freshman at Michigan State University.
Current polls find Whitmer and top GOP gubernatorial candidate Bill Schuette to be essentially tied, with Schuette garnering a
statistically insignificant three-point edge
in the most recent poll. Whitmer's biggest problem might not have anything to do with gender, but rather name recognition: the same poll found 57 percent said they did not recognize her name, while only 24 percent said they did not recognize Schuette's.