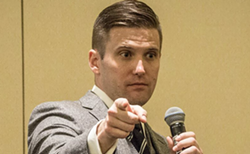 An attorney for white supremacist Richard Spencer says that his client is requesting a speaking engagement sometime during the university's break between Feb. 24 and March 4.


The Ann Arbor News
reports that U-M announced that it would work with Spencer on Nov. 21 and offered to host him on Nov. 29, but that wasn't enough time for his camp to prepare. The university also offered to have him speak after Christmas, but scheduling conflicts prevented that. 


U-M Vice President and General Counsel Timothy Lynch told the U-M Board of Regents at its Thursday meeting that "The university has been in communications with the attorney for supporters of Richard Spencer about time, place, and manner requirements under which the university might permit them to rent space.

 We won't have anything further to share on such discussions until the next year."


Michigan State University recently told Spencer he couldn't speak on its campus, and Spencer subsequently sued. In August, the school said it was concerned about public safety after violence at a white nationalist rally in Charlottesville, Virginia. A mediator
is now involved
in that case. 


U-M President Mark Schlissel told reporters on Nov. 21 that the university is committed to free speech, and that Spencer would likely win in court if they barred him. 


"Those who would use public spaces as venues to promote hate are emboldened by denials they can fight in court. Their formula is clear: Request to use public space. Sue if not allowed to speak," Schlissel said on Nov. 21. "Claim oppression by the state to stoke outrage. Use each moment as a rallying cry for their views."