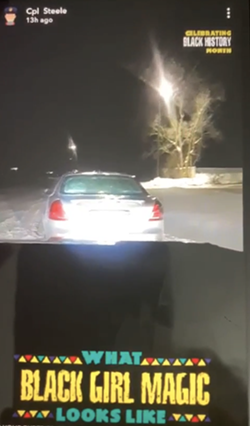 A white Detroit Police officer is under internal investigation following a Snapchat video during which the officer can be heard saying "Bye, Felicia" as he records a young black woman walking home in frigid temperatures.

Corporal Gary Steele of Detroit's sixth precinct stopped driver Ariel Moore for expired registration on Tuesday night, near Stout Street and Joy Road on Detroit's west side.

In a Snapchat video posted to Steele's account and obtained by WXYZ-TV, Moore can be seen walking with her back to the camera as two officers take turns saying "priceless" and "walk of shame" with in-app stickers that read "What black girl magic looks like" and "celebrating Black History Month" posted in the corners. Steele then says "Bye, Felicia" before ending the feed.

"I am angry," Detroit Police Chief James Craig said during a press conference Thursday afternoon. "I'm angry because this was a racially insensitive post."

Chief Craig considers Steele's use of "Bye, Felicia" as being "derogatory" and says the inappropriate nod to Black History Month is even more "problematic."

"He has a troubling history," Craig adds, in reference to Steele's 2008 arrest following a domestic attack on his girlfriend during which he fired a gun at her. "His departmental history predates my appointment. It would have been a different outcome if I had been chief."

Details from the press conference show via bodycam footage that Moore was, in fact, offered a ride home just a block away from the traffic stop and declined, something that was not made clear in previous reports.

Chief Craig also shared with reporters that following the incident he called Moore's mother to personally offer an apology and that the department has waived fees associated with the towing of her daughter's car.

Steele has been reassigned and stripped of his corporal ranking, and will continue to be under investigation.

This is not the first Snapchat-related controversy to come out of DPD. In September 2018, white rookie officer Sean Bostwick was terminated after posting a smug uniformed selfie with the caption: "Another night to Rangel (sic) up these zoo animals."

Watch the full Snapchat video here.

Stay on top of Detroit news and views. Sign up for our weekly issue newsletter delivered each Wednesday.