Video of the incident involving Detroit Mercantile owner Robert Stanzler went viral after it was posted Tuesday on social media by Ibrahim Muhammad, who was recording it with a phone camera. The video appears to show Stanzler flipping off Muhammad before spitting on him.
Witnesses called Stanzler's behavior "vile" and "violent," and have called for a boycott of Detroit Mercantile. The shop sells Detroit-centric clothing, home goods, and other products. It bills itself as "provisions for the urban pioneer," and Stanzler was previously behind the Made In Detroit brand.
The confrontation happened in a parking lot near The Eastern and Detroit Mercantile, which share a building at 3434 Russell St. Three witnesses tell
Metro Times
that Stanzler was upset because event attendees were parking in his part of the lot.
The Eastern was hosting an event organized by the London-based Doc Society called Good Pitch Local, which is "a day-long networking event showcasing new short-form nonfiction media projects and presenting opportunities for organizers to connect with media makers." Its local partners include the Detroit Narrative Agency and the Freep Film Festival.
Detroit Narrative Agency's program director ill Weaver (who spells their name with a lowercase "i"), event attendee Michelle Martinez, and Doc Society founding director
Maxyne
Franklin spoke with
Metro Times
about the incident, most of which they witnessed.
They say around 200 people attended the event, and dozens had gathered by around 9:30 a.m. Tuesday. Muhammad was working as security and manager for the venue.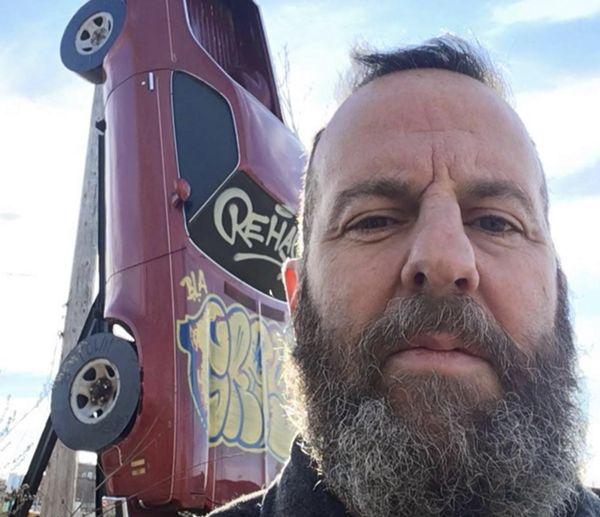 Witnesses say that at some point around that time Stanzler — who didn't immediately respond to a request for comment — began loudly yelling at people who were outside the building, including Muhammad, for parking in his part of the lot.
People moved their cars out of Stanzler's portion of the lot, then Stanzler aggressively drove his truck into the lot to block off his area, witnesses say. He then allegedly got out of his truck and continued to confront Muhammad.
Witnesses say Muhammad remained calm, but pulled out his camera at some point during the exchange and asked Stanzler to repeat for the camera what he had been yelling. That's the point at which the circulating video begins. The video shows Stanzler spitting in the direction of the phone; witnesses say Stanzler also spit in Muhammad's face.
Muhammad then called the police, at which point Stanzler began "aggressively apologizing," witnesses say. Multiple event attendees asked Stanzler to leave, but he wouldn't, and continued to attempt to apologize.
Around six officers showed up, and witnesses say Stanzler was arrested, taken from the scene, and charged with assault. The Detroit Police Department didn't immediately return a request for comment.
Weaver believes race is a factor in how the incident played out.
"To have anybody spit in your face — you have the racial component of an older white man spitting in a younger black man's face, which is very loaded. That still means a lot," Weaver said.
They added, "It took a lot of restraint for Muhammad to stay that composed."
Franklin also praised Muhammad, and said he "performed with utter dignity" and "professionalism." Franklin also praised the event's local organizers and the city. "Aside from that, Detroit was very wonderful," she told
Metro Times
.
Weaver said that they told Stanzler at one point during the incident that the community would boycott Detroit Mercantile, but Stanzler brushed off the threat.
"... he is white, toxic masculinity embodied."

tweet this
Weaver said, "I told him, 'You need to leave. There's going to be consequences for your actions. We're going to boycott your business because our community doesn't put up with that kind of disrespect.' He said, 'There's nothing you could do to boycott me because you don't know anybody.'"
Weaver added, "I think that a boycott is a necessity — Ibrahim and I talked about it. It doesn't make sense that this business should be successful if this is how [Stanzler] behaves. I think he owes Ibrahim an apology, I think he owes our community an apology ... but apologies are just apologies. He needs to really commit to a much longer process for how he and his business are going to undo his racist actions, which are violent, disrespectful actions ... and he is white, toxic masculinity embodied."
Weaver and other sources who spoke with
Metro Times
say Stanzler has a reputation for being a "bully."
"This person seems to be a repeated bully and aggressor who wields his power over people," Weaver said. Maybe those who are friends of his can sit down and get him therapy and anger management, training about racism and patriarchy, and conflict resolution. That is not Ibrahim's job, or any of us whose event we worked on for over six months, which he completely disrespected.
"I don't think people are beyond redemption, but that sometimes requires reparations and work by the people around a person who caused harm. That's not the job of the people who were harmed."
Stanzler
responded with an apology
on Wednesday.
So many restaurants, so little time. Find out the latest Detroit dining news with our weekly food newsletter delivered every Friday morning.