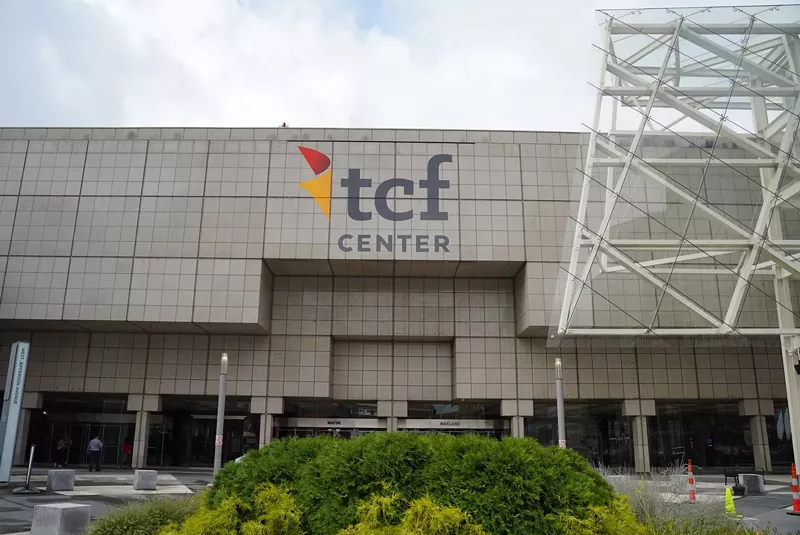 On Tuesday,
after months of teasing
, Detroit's Cobo Center was finally, officially renamed. The convention center is now the TCF Center, named after TCF Bank, which bought the 22-year naming rights for $33 million.
Though a press release from TCF might suggest the name change was merely about a
"unique opportunity to support our hometown and state,"
there was another reason officials were eager to take those four red letters off the side of the building (aside from the Benjamins, of course): Albert Cobo, Detroit's mayor from 1950 to 1957,
campaigned on racial segregation, and his policies destroyed African-American neighborhoods
.
Maybe those four red letters didn't serve as the best first impression for out-of-state visitors descending upon the Motor City to attend the North American International Auto Show, or the
National Association of the Advancement of Colored People's 110th National Convention.
But now that that's out of the way, what should get renamed next?
A lot of people are probably going to hop in the comments and say that Mayor Coleman Young, Detroit's first Black mayor, was equally if not more divisive due to his blunt tone.
A common misconception
is that he told white people to leave the city.
In fact, Young was saying nothing of the sort. He was telling criminals to leave.
"I issue a warning to all those pushers, to all rip-off artists, to all muggers: It's time to leave Detroit; hit Eight Mile Road!" he said. "And I don't give a damn if they are black or white, or if they wear
Superfly
suits or blue uniforms with silver badges. Hit the road."
In that same speech, Young called for racial unity:
"We can no longer afford the luxury of hatred and racial division," Young said in his speech. "What is good for the Black people of this city is good for the white people of this city. What is good for the rich people in this city is good for the poor people in this city. What is good for those who live in the suburbs is good for those of us who live in the central city."
OK, so what else? In
a 2017 New York Times op-ed
, University of Michigan professor of American culture and history Tiya Miles pointed out how monuments to slavery aren't just limited to the controversial statues of Confederate generals in the South. We actually have plenty right here in Detroit, too.
That list includes names like Macomb (the Macomb brothers, two merchants from New York, were the largest slaveholders in Detroit at the time). Other slaveholding families memorialized with names we still use today include Abbott, Beaubien, Beaufait, Brush, Cass, Campau, Chene, Groesbeck, Gouin, Hamtramck, Livernois, McDougall, Meldrum, Rivard, and Williams, among others.
By that token,
perhaps Jefferson Avenue should be renamed, too
.
Chene Park, named after the Chene family,
was recently renamed the Aretha Franklin Amphitheater
after a music icon and a civil rights hero in her own right. Maybe we should follow suit in renaming our other streets. I don't mean renaming everything after the Queen of Soul — aside from "the Aretha," as the former Chene Park is now dubbed, she's also had
Music Hall's Jazz Cafe
,
a stretch of the Lodge Freeway
, and possibly
a post office
named after her as well.
Aside from slaveowners, there's also the downtown statue of Christopher Columbus, that was vandalized in 2015
to look like he took a hatchet to the head
. And who can forget
Henry Ford's anti-Semitism
?
Actually, maybe we should just rename everything after the Queen of Soul.
Stay on top of Detroit news and views. Sign up for our weekly issue newsletter delivered each Wednesday.