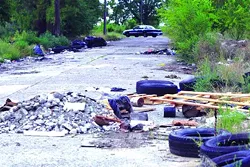 I've been paying attention to a pile of several tires on the corner of Norfolk off Livernois in my Greenacres neighborhood. When a pile like this shows up in what is considered an upscale area of the city, I wonder what's going on elsewhere. Illegally dumped tires seem to be everywhere in Detroit.
"The tires are a form of hazardous waste due to their composition; as they break down they leach chemicals into the soil," says Audra Carson, CEO of De-Tread, a new company seeking solutions to the blight of illegally dumped tires. "They are extremely flammable and are virtually impossible to extinguish once they start burning. And they house mosquitoes and rodents. Once water gets into the rings it stays there. It's a breeding ground for West Nile virus."
There is no official estimate of how many tires are out there. The city says there are 78,000 abandoned structures within Detroit's city limits.
Data Driven Detroit says there are 100,000 vacant lots. Most of them are potential illegal dumps where tires are among the biggest issues for cleanups. We've been dumping them probably since cars started rolling down our roads.
Carson, 48, grew up in the community near Schoolcraft and Wyoming avenues. Although she now lives in another Detroit neighborhood, several years ago she became concerned about blight in the area where she grew up. She found the tires particularly insidious and started thinking about what to do about them.
"It was something that chose me; I didn't necessarily choose it," Carson says. "I was deeply impacted by what I was seeing in the neighborhood I grew up in. I felt I needed to do something about it. I asked a couple of people to partner with me to do something about this tire issue in Detroit."
Although she already works full-time in the health care industry, she kept at it. The problem is large. Carson estimates there are a million illegally dumped tires in the city; and the problem is difficult to address. As time passed, her partners lost heart for the effort, but Carson had an idea she wouldn't let go of. She went to Tech Town, a business incubator in the Midtown area, and entered its Start Smart program.
"De-Tread was only an idea in my head," Carson says. "Going through that two-year program allowed me to gain confidence and learn how to solidify the idea from a traditional business perspective, the business school model of how you grow a business."
The tire recycling industry is huge. When a shop sells you new tires, it charges you a specific fee for disposal of your old tires. They then pay a tire recycler to take them. The recycler strips the metal and grinds the tires into small pieces to be used as fuel. It costs tens of millions of dollars to set up a facility to do that. But it works if you consider burning rubber a desirable practice. Unfortunately, all too many local tire sellers find it more profitable to pocket the fee and dump the tires in Detroit's vacant lots and buildings.
There are obstacles in every enterprise and as Carson dug into tire recycling, she ran into hers.
"It requires a huge capital investment and I had a lack of industry experience," Carson says. "I encountered a great deal of negativity. I'm sure gender had something to do with it. It's dominated by men and they're used to doing things the way that they've always done."
Still, Carson has sought to find a way to fight the tire blight. As she learned more at Tech Town, her vision evolved. It was going to cost too much to become a full-fledged recycler, but she looked for where her niche might be. Rather than just sending tires out to some recycler, she thought about what else could be done with them.
Carson finished the program at Tech Town and, shortly thereafter, De-Tread was accepted at the Green Garage. Housed in a historic building on Second Avenue, south of Wayne State University, the Green Garage is a community of entrepreneurs working to build businesses that are environmentally, socially and financially successful.
"It was love at first encounter," Carson says. "They've been assisting me with the development of my business. I had the huge idea of facilities and being able to hire hundreds of Detroiters. Now my platform for De-Tread is one block at a time, one neighborhood at a time, being able to foster engagement and empowerment in these neighborhoods that have been forgotten. Green Garage provided me with total validation to the idea of the triple-bottom-line business. It gave me support, a team of metro Detroiters who brainstormed with me to crystallize the De-Tread approach to tire blight."
The first manifestation of that came last fall in the Osborn neighborhood. De-Tread worked with the Man Network, a sort of community patrol group, to identify illegal tire dumpsites and prioritize which would be addressed. They found 117 sites in that neighborhood alone.
They then ran a fundraising campaign with Patronicity, another Green Garage business that is similar to Kickstarter, but focused on neighborhood-related projects. Then the Skillman foundation matched what they raised dollar for dollar.
In October, a group of community volunteers and cleanup professionals cleared about 1,500 tires in one day and paid to have them hauled away to a recycler. De-Tread is working toward a similar project in the Brightmoor neighborhood.
Even though she has had to scale back her vision for now, Carson still seeks to complete the circle of creating consumer goods with the tires. She's working with local artists to try to create products.
"The focus for rest of 2013 and first quarter of 2014 is product development, so the product side can support the collection side of the business," says Carson. "For example, Detroit-themed floor mats for an eco-friendly car. That idea has been bounced around. I would love to do something that relates to fashion. We're talking about a men's shoe that looks like Italian leather … We're thinking about uses in garden that are not a round planter to improve the esthetic of outdoor places. The goal is to narrow that down and laser focus on making that two- or three-product line. Money is a very real issue for a social entrepreneur. Our enterprises tend to be low-profit. I'm looking for collaborations that make sense, that are mutually rewarding."
This is an unfinished story. Maybe it's the story of someone who has stood up to tough obstacles and persevered. We don't know yet. However, her five-year struggle to fight blight in the city has shown Audra Carson to be a Detroiter who seeks a solution when she sees a problem. Maybe someday she can quit her job and hire others to work with her. That would be a great ending.
Larry Gabriel is a writer, musician and former editor of Metro Times. Send comments to [email protected]