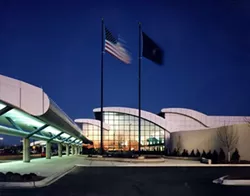 A police officer at Bishop International Airport was stabbed in the back and the neck this Wednesday.
A suspect is currently in custody for questioning and
NBC News
reports the suspect yelled "Allah Akbar" before the attack.
The officer was identified by locals news outlets as Lt. Jeff Neville, who is in stable condition according to a spokesman for the Michigan State Police, Lt. David Kaiser.
After the attack, the airport was evacuated and the FBI is currently investigating the motive behind the attack.
"We are aware of reports that the attacker made statements immediately prior to or while attacking the officer, but it is too early to determine the nature of these alleged statements or whether or not this was an act of terrorism," said the FBI in a released statement.
The FBI added that they have yet to find information about the stabbing that suggests this was not a singular attack.
"We believe this to be an isolated incident," the FBI added. "We currently have no specific, credible information that there is a threat to the Flint community."
The Flint Journal reported a witness, Ken Brown was dropping off his daughter when he saw the injured, bleeding officer and the suspect being held by police.
"The cop was on his hands and knees bleeding from his neck," Brown said. "I said they need to get him a towel."
Kayla Cockrel is an editorial intern at the Detroit Metro Times. She studies online journalism, media production and global studies at Wayne State University. She's often following music, urban planning, arts and culture.