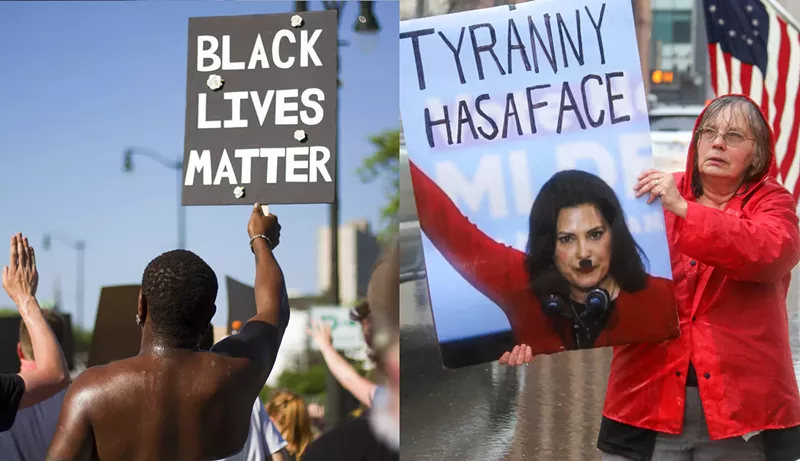 In April, as heavily-armed right-wing protesters began gathering in Lansing in opposition of Gov. Gretchen Whitmer's stay-at-home order, I was concerned.
We laughed at them, calling them "COVIDiots," and made fun of their urgent desire for haircuts. But I was also afraid.
It looked like the double-whammy of the coronavirus pandemic and its subsequent economic crash could lead to violence. I was afraid
that the angry white mob could grow
and continue to threaten democratically elected lawmakers, which
President Donald Trump gleefully egged on
. And most of all, I was worried that the protesters, many of whom couldn't be bothered to wear face masks or practice social distancing,
could spread the coronavirus
to the rest of Michigan.
So now, mere weeks later, I watch as an even bigger Black Lives Matter movement grows in the streets of cities in all 50 states, with occasional violent clashes between police and protesters. In Detroit, the protests have raged on for a solid week, though tensions between police and protesters seems to have lowered in recent days, with police no longer enforcing a protest-busting curfew.
To be clear, I support the Black Lives Matter protests.
The image of Minneapolis police officer Derek Chauvin kneeling on the neck of George Floyd that was shared across the world last month was for many, the final straw — an unmistakable image of police brutality. It even felt self-referential to the movement, with Chauvin's kneeling calling back to Colin Kaepernick's 2016 act of protest in the NFL, and George Floyd's final words "I can't breathe" harking back to the 2014 death of Eric Garner, another unarmed Black man who was senselessly killed by police for allegedly committing a petty crime. It was impossible to ignore.
But I have to admit I feel a bit of cognitive dissonance here. What makes the anti-lockdown protests different than the Black Lives Matter ones?
Well, to start, it's helpful to view things through the lens of privilege. Many of the anti-Whitmer protesters are clearly from a privileged class, and in fact, the protests were promoted by the billionaire far-right DeVos family. One man in west Michigan even hopped in his own personal airplane and
spent an hour spelling the letters "F U"
as a message to Whitmer. Riots might be
"the language of the unheard,"
but writing letters in the sky to attack a woman in power? That's the language of the privileged few.
"Operation Gridlock," the first of the Lansing protests, came just a month into Whitmer's stay-at-home order — just a month under what they called "tyranny." To be sure, that was a horrible month, with
a record number of Michiganders filing for unemployment
. The Black Lives Matter struggle, however,
arguably traces back to 1619
, when the first African slaves were brought to the New World.
The anti-Whitmer protesters people protested because Whitmer set them back a few months. The Black Lives Matter people protest because the system has set Black people back for generations.
I'm still concerned about the coronavirus at these Black Lives Matter protests. Despite the fact that Whitmer has begun to reopen the economy and many people are acting like the crisis is over, people still need to be careful out there. Whitmer, who
chided the anti-lockdown protesters for possibly spreading the coronavirus
, was even spotted not social distancing at a recent Black Lives Matter protest in Detroit — a fact that was
readily pointed out by The Detroit News
, though it's worth noting almost everyone in the photos appears to at least be wearing a mask.
Fortunately, coronavirus cases are going down. When Operation Gridlock happened, Michigan was averaging about 1,000 new coronavirus cases a day. These days, that number has dropped to a few hundred. Again, the crisis is not over, and by the looks of how many Black Lives Matter protesters can be seen in photos wearing masks, I think the majority of them know this, too.
I think that many BLM protesters, seeing what's at stake, decided it was worth the risk. The movement only has momentum if people turn out. Whitmer could have locked herself up in the governor's mansion in Lansing (as Trump has done in the White House,
building a wall around it
and
hiding in its bunker
, leaving
only to have protesters tear-gassed for a photo op
) or she could lend her presence to the movement that is happening right now.
If you truly care about "tyranny," I don't think she should be faulted for that.
Many of the BLM protesters faced an even simpler calculation. The economic toll of the coronavirus shutdown
has hit Black people the hardest
. And sure the coronavirus is killing people, but racism is too. So with nothing left to lose, people decided to march — coronavirus be damned. The country is at a breaking point — massive civil unrest is what happens when you treat people this way for this long.
I don't doubt that many of the anti-lockdown protesters are indeed economically fucked. I do regret not taking their concerns more seriously, and I do regret not taking their right to peaceably assemble more seriously, too, because both of those issues drive my support for Black Lives Matter. (In fact, it should be noted that the anti-Whitmer protesters were largely peaceful, though police have responded to the Black Lives Matter protests with disproportionate brutality,
and in many cases, initiated it
.)
In an ideal world, if these anti-Whitmer protesters were truly concerned about a tyrannical government, they would join the Black Lives Matter protesters. But we all know why that will never happen. It's not tyranny in principle that they're so concerned with so much as it is being inconvenienced. At the end of the day, Trump's "Make America Great Again" and "Black Lives Matter" are two diametrically opposed calls to arms.
Stay on top of Detroit news and views. Sign up for our weekly issue newsletter delivered each Wednesday.